A very warm welcome to my personal website. Many of you will know me as the former editor of Maverick magazine, but my involvement with music, and more specifically country music goes back a lot further than that … I've been involved in music, one way or another, for almost 50 years. For more than 30 of those years I held down a full-time position at the Kent Messenger, working in the production department. My involvement in music, whether it be as a magazine publisher/editor, freelance journalist, compiling CD tracklistings, writing liner notes, writing and compiling two encyclopaedias, concert and gig promoter, festival organiser, artist manager, radio presenter, tour organiser/agent and in PR, was strictly a part-time vocation. It has only been during the past 18 years that I've been involved on a full-time basis.
This site will include regular features, reviews, my personal musings and recommendations along with the first online publication of my biographies of all major performers, singers, writers and musicians involved in country music over the past eighty-odd years. I am also intending to add all the features that I contributed to Country Music People, Country Music Review, Country Music Round-up and Country Music International and various other publications including Record Mirror Sounds, Kent Evening Post, Kent Messenger and many others to the site.
I hope as the site builds and builds that it will grow into a first choice reference library for fellow passionate music lovers and will be of great value and interest to country, roots, bluegrass and Americana music lovers the world over…
read more
Alan Cackett 47th Member of the British Country Music Hall of Fame
Each year the BCMA honours those musicians, radio presenters, performers and industry figures who have or still are playing a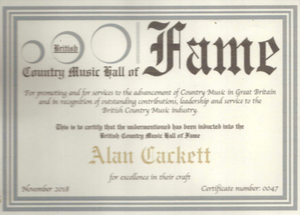 major role in supporting and advancing the fortunes of country music in the UK.
Maidstone-born Alan Cackett has always been at the forefront of country music, both locally and internationally. Especially in association with most of the major Country artists from around the world when they visit the UK, both advising them and arranging publicity for their tours. Read more
Alan Cackett's 50th Anniversary in Music Celebration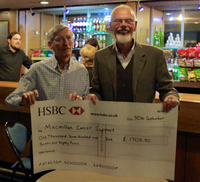 Alan Cackett's 50th Anniversary in Music CelebrationExchange Studio, Maidstone, Friday September 30, 2016
There was a packed auditorium at the Exchange Studio, Maidstone on Friday evening September 30, 2016 to celebrate my 50
th
Anniversary in Music. The charity evening in aid of Macmillan Cancer Support has so far raised £1,745.80…
read more
The Country Music Archive

The Country Music Archive (incorporating the British Archive of Country Music) is a UK-based organisation run by passionate lovers of country music. It is probably the largest collection of recordings, magazines, books, photographs and other items relating to country music outside of America. The Country Music Archive (incorporating the British Archive of Country Music) is a UK-based organisation run by passionate lovers of country music. It is probably the largest collection of recordings, magazines, books, photographs and other items relating to country music outside of America…
read more