Alan Cackett 47th Member of the British Country Music Hall of Fame
Each year the BCMA honours those musicians, radio presenters, performers and industry figures who have or still are playing a major role in supporting and advancing the fortunes of country music in the UK.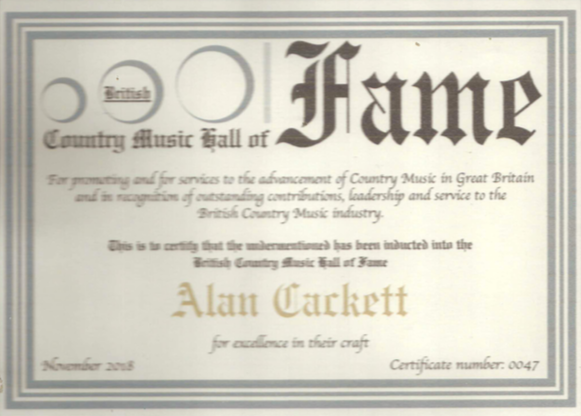 Maidstone-born Alan Cackett has always been at the forefront of country music, both locally and internationally. Especially in association with most of the major Country artists from around the world when they visit the UK, both advising them and arranging publicity for their tours.
The veteran journalist, broadcaster and promoter joined the original committee of the British Country Music Association back in the 1960s. His contribution was the instigation and compilation of the famed BCMA Year Book publication, which listed most of the performing artists of the time, categorising them as solo, duo, trio and bands, together with contact details and the style of Country music performed. Also listed were all the details of every radio station with a Country show and in addition all the promoters and agents.
Alan Cackett began his career in music editing and publishing Country Record Exchange in 1966, which then became Country Music Monthly and simply Country Music before being absorbed into Country Music People in 1970, for which he was one of the main feature writers until 1992. From 1970 through to 2003 he wrote a weekly country music column for Kent Messenger Newspapers (Kent Evening Post, Kentish Express, etc). From 1994 until 2001 he was a features writer and reviews editor for Country Music International. Then in 2002 he was the founding editor of Maverick magazine. He has also contributed to such national papers as Record Mirror, Sounds, the Times, the Independent and the Telegraph, after spells as a journalist contributing to most of the other country music publications. Alan is also the author of the Illustrated Encyclopaedia of Country Music and also contributes the country music entries to the Penguin Encyclopaedia of Popular Music
A regular broadcaster of country music on BBC Radio Kent, he has organised and promoted some very good singer/songwriter festivals over the years.
In 1969 Alan began promoting concerts and gigs, initially in Maidstone at the Hazlitt Theatre, where he has since promoted more than 400 shows featuring British, American, Canadian and Australian country acts. He has also promoted concerts in every major theatre in Kent (Dartford, Gravesend, Folkestone, Sevenoaks, Chatham, Tunbridge Wells, Ramsgate, Tenterden, etc). Not to mention village hall dances, Oakwood Park College, Soul Café, Breeze Bar, Zebra Bar, etc. In 1988 he staged the first Good'n'Country Festival at the Whitbread Hop Farm with the Festival attracting some 10,000 people each year until 1992.
In 2007, Alan was presented with the Wesley Rose International Media Award for services to country music by the CMA. Latterly he has been working for a major label producing some excellent compilations of country performers. So far there are more than 200 (everyone from Jimmie Rodgers to Joe Ely, Bill Anderson to George Strait). Alan also has his own acclaimed website – www.alancackett.com – the first port of call if you want to know anything about country music and its rich history.