Alan Cackett's 50th Anniversary in Music Celebration Exchange Studio, Maidstone, Friday September 30, 2016
There was a packed auditorium at the Exchange Studio, Maidstone on Friday evening September 30, 2016 to celebrate my 50
th
Anniversary in Music. The charity evening in aid of Macmillan Cancer Support has so far raised £1,745.80.
The event was co-hosted by the legendary Whispering Bob Harris and Roger 'Twiggy' Day. The evening began promptly at 7pm and ran without a hitch with performances by singers and bands that I had especially invited for the evening and also included a video screening of messages from artists unable to attend.
Roger and Bob took to the stage, shared anecdotes and reminisced about their own careers, which like mine, came from their passion of collecting records back in the late 1950s and early 1960s. The Kevin Duffy Band from Peterborough kicked off the evening's entertainment with a smoothly executed programme of well-known country numbers. They also brought on special guest Ray Duffy on banjo for a couple of songs. Back in the early 1970s, I was one of the first champions of the Duffy Brothers, one of my all-time favourite comedy/bluegrass acts, who went on to international acclaim. It was a great thrill for me to see Ray and his wife Carla.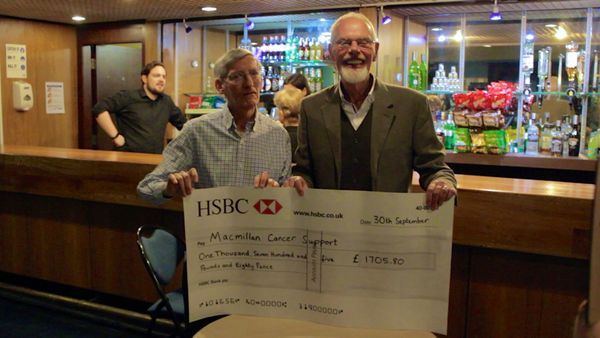 A quick changeover saw Sarah Lucy Dole with daughter Chloe and guitarist Anthony Coote perform an all-too-short three song set. The highlight, for me at least, was
My Life
, a highly personal and empowering song about escaping from spousal abuse. It was now time for some acoustic country and bluegrass from Rich Pickin's. This family band comprising John and Ed Paine and their wives Sandie and Bev, delivered their usual high quality musical blend with
The Lucky One
particularly memorable.
During the band changeovers, Bob and Roger read out some of the messages that people had sent from around the world. I was touched and very humbled by the respect shown to me by friends and colleagues in the industry and for that I thank them.
Jo-Ann and Becky Haley, with the amazing Brian Smith on guitar, took to the stage next and as always their harmonies were spot-on. It was some 26 or 27 years ago that I first worked with the Haley Sisters, and I've lost count of how many shows I've promoted with them over the years. I have fond memories of trips to Holland and Germany in the late 1990s for some festival appearances. This trio are very special to me, and I love it that they've remained the same down-to-earth friendly folks as when I first met them. They deserve to be internationally acclaimed stars.
Next up video messages from Gretchen Peters, Suzy Bogguss, Matraca Berg, Sally Barris, Rod Picot, Tamara Stewart, Nick Barraclough, Barbara Nesbitt, Sid Griffin, Mary Gauthier and Kimmie Rhodes. That they all took time out of their busy lives to sit down and film the messages for me was somewhat overwhelming. I'd like to pass on my heartfelt thanks to Laura Baldwin for not only putting the video together but also for her invaluable input both on the day and in the weeks leading up to this special evening.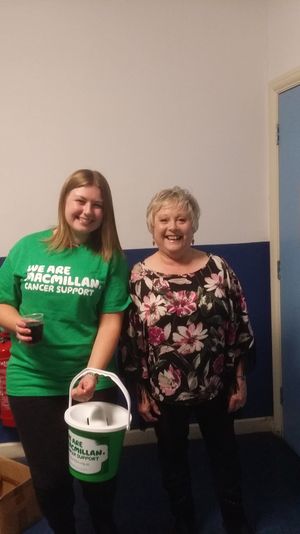 Gail Davies, one of the world's finest singer-songwriters, flew in from Nashville especially for this evening. Gail was accompanied by Dave Luke (originally from Eynsford, Kent) on mandolin and acoustic guitar, Clovis on bass and special guest BJ Cole on steel guitar. With little time for rehearsal—she had met Clovis the day before and BJ in the late afternoon—Gail put on a spirited performance full of her hits including
Jagged Edge Of A Broken Heart
, on which she invited Sandie Paine to join in on harmonies.
BJ Cole was able to stay on stage to augment Jonny Young and his band. The Jonny Young Four starred in the very first concert that I promoted at the Hazlitt Theatre, Maidstone in 1969 and over the years JY has played literally dozens of shows for me. He retired from playing some 8 or 9 years ago, but I managed to persuade him to play one last gig.
This was a particularly emotional and poignant performance for me. JY was obviously not in the best of health, looking very frail, yet on stage his voice was just like yesteryear and his band sounded really great. For me the years rolled back as I sat in the audience with tears rolling down my face.
As an aside, I attended both primary and senior school with Rick Foster, JY's lead guitarist for tonight's show. Rick is a founder member of Chicory Tip, the Maidstone band that had worldwide hits with Son Of My Father in 1972. Fellow Chicory Tip members Peter Hewson and Barry Mayger were also in my class throughout senior school.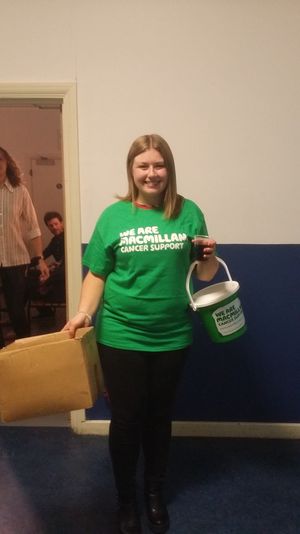 Alan West & Steve Black were next to take to the stage. My association with Alan goes back over 25 years and in my humble opinion he is the possessor of the finest male voice in British country music. When you add Steve's excellent songwriting talent along with Adam Sweet's guitar and the pair's superb vocal harmonies, you have one of finest musical blends to be heard anywhere. They are so relaxed on stage they make it look easy, but it takes years of experience, dedication and hard work to get this good.
Next came the cheque presentation. On the night we raised £1,705.80 and that total has increased due to further donations. You can still donate to my 50
th
Anniversary fundraising – just go to
http://www.justgiving.com/Alan-Cackett
It was left to the Porridge Band to close the evening. Returning to the stage were the Paine family that we'd seen earlier as Rich Pickin's, but this time as a fully electric band. John on drums, Ed on pedal steel, Bev on bass and Sandie on guitar and lead vocals, joined by guest 'porridger' Shaun Murray (lead guitar). After a set that included many of the tunes that they used to play back in the 1970s, including a dynamic
When Will I Be Loved
, they invited all of those from earlier in the evening on to the stage for a hand-clapping finale of
Will The Circle Be Unbroken
.
I would like to single out a few people for their help and assistance in making this celebration so enjoyable. Dan Turner for the amazing sound (without doubt the best sound engineer I've worked with in over 45 years of promoting shows), Laura Baldwin, Amy Wallington (who undertook work experience for me on Maverick magazine eight years ago, and is now a magazine editor herself), Dee and Eric Hallett, my wife Frances, children Karen and Paul, grandchildren Freya, Oliver and Cameron, nieces Sam and Becca, Bob Harris and Roger 'Twiggy' Day for holding it all together on stage, Sam Millar and his team for the filming, the staff at the Exchange Studio, all the singers and musicians who graciously provided their talent and time free of charge, and finally all of you who came along on the night (some of whom have been attending concerts I've promoted for years and years) and donated so handsomely to Macmillan Cancer Support.