Glorious Technicolour Records
GTR002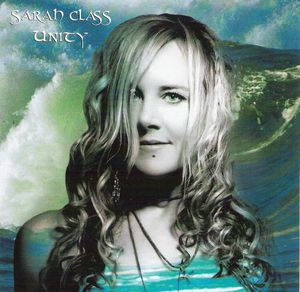 Sarah Class, a new name to me when this album found its way to my CD player, is a
beautiful, elegant singer-songwriter from Bristol, who has a rather interesting career resume.
A protégé of legendary producer Sir George Martin, a Classical Brit Award nominee and highly respected and successful film and television composer, Sarah has come to a singing career rather later in life than most. UNITY, her debut album, embraces a surprising, unconventional, sophisticated style of folk-pop. The self-penned songs touch on intimate subjects and universal sentiments like finding your way in the world after leaving the sanctity of home and the often futile feeling of grappling with depression.
Several of the songs confront themes of optimism tinted with sadness presenting a mixture of lyrical darkness and observation, with bright, instrumentation. The lyrics are thoughtful and well-written, with the melodies reflecting the mood of each song. Combining mellow voices and a variety of instruments, Sarah delivers mesmerising performances that possess a mystique and style that defy musical formula.
Northern Shore,
the opening track, springs out of creative resourcefulness and the search for escapism. When Sarah sings she becomes a part of the natural world the song inhabits, carving a line between joy and pathos with uncanny precision and power. The casual sway of
Make Me Free
is riveting, emotive and beauty-filled … a life affirming and memorable performance. She explores the rough terrain of the heart—from the value of sad experiences (
Why My Sweetest Darling
) to how determination helps weather the wounds of love (
New Dawn
).
Paradise
is a song that should not only connect with listeners, but also inspire each and every person to let go of the weight everyday life can bring and get back to the basics of what really matters. There's a more light-hearted approach with
Suits You Fine
, with some muscular electric guitar by Adam Levy. Then she leans into a delightful country-pop styling for the jaunty
Too Folk For Pop
. The one outside song is James Taylor's
Fire And Rain
, which she handles confidently as her voice rises and falls like a gentle waterfall.
With this album Sarah Class establishes herself as a serious singer. Her vocals across the tracks stand out as something special. The blend of harmonies lift the songs to another level … acoustic mood music of the highest order, this is a very honest record created out of a genuine passion for music. One of the most beautifully entrancing records I've listened to this year.
www.sarahclass.com