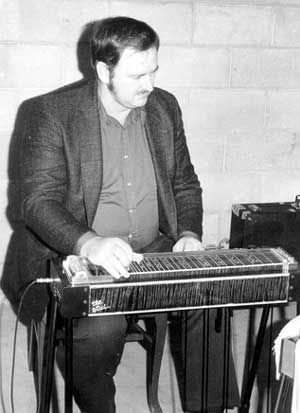 Weldon Myrick, one of the most distinctive and creative pedal steel guitarists, passed away on June 2, 2014 at Saint Thomas Hospital, Nashville after suffering a stroke. He was 76. A member of the Steel Guitar Hall of Fame, he had played on recording sessions for such diverse acts as Jerry Jeff Walker, George Strait, Bill Anderson, the Everly Brothers, Alan Jackson, Dolly Parton, Elvis Presley, Willie Nelson, Gary Stewart, Linda Ronstadt and Connie Smith in a career that stretched back over 50 years.
The first time I recall hearing Weldon's unique steel playing was back in 1964 on Connie Smith's
Once A Day
, a massive debut hit that spent eight weeks at the top of the American country charts. At the time I didn't realise who it was playing the steel guitar. I just knew that it sounded about as perfect as could be as it matched Connie's driving emotional voice note-for-note. That single was possibly the best and most exciting country record of the time and completely at odds with the then prevalent string-laden 'Nashville Sound' recordings that were dominating the charts.
Weldon Myrick was born on April 10, 1938 in the small Texas town of Jayton, about 100 miles east of Lubbock. Fascinated by music from a young age, Weldon was around eight years old when he first started playing the steel guitar. Tex, his older brother by 12 years, had a steel guitar and was taking lessons in Lubbock where he lived. When he joined the Air Force, he brought his single neck steel guitar and amp and left it at the family home in Jayton for safekeeping. Young Weldon started trying to play it using the music his brother had left and got to where he could play some recognisable tunes.
His father bought him a Rickenbacker Bakelite steel guitar, and soon the teenage musician was playing with fellow budding musicians. They would sit and play for hours and record themselves on a rec-o-cut machine to make themselves cheap plastic records. When he was 13 he joined Henley Diggs and The Double Mountain Boys and appeared with them on their 30-minute Saturday afternoon radio show in Stanford, Texas. He worked with Bill Mack in Wichita Falls, Texas on his television show in 1955 and also got to know Waylon Jennings. That same year he made his first trip to Nashville with Jennings and a young girl singer, Hope Griffith, who had her own television show in Lubbock. They made the trip to Nashville to cut a demo disc with her.
After graduating from Girard High School in 1956, Weldon moved to Big Spring, Texas, where he joined the local police force. Well-known local musician Ben Hall and his wife, Dena lived there then and had a television show and Weldon joined The Ben Hall Trio playing a Saturday night jamboree in Breckenridge, Texas. Hall had a studio and they'd record regularly. They'd also started to write some songs and got several placed with Cliffie Stone at Central Songs in California. The Ben Hall Trio (including Weldon), made a trip to Nashville in 1958 to record for Ken Nelson at Capitol Records.
Later that year Hall moved to Lubbock to work as a DJ as well as still playing regular gigs. Weldon would visit him and sit in at shows, and got to know Buddy Holly, Sonny Curtis and Johnny Duncan. Honing his musical skills, Weldon backed up Grand Ole Opry stars Minnie Pearl, Jim Reeves and Ferlin Husky at a Lubbock show. In 1963 Weldon and his family moved to Nashville in the hope of furthering his musical ambitions. He worked with comedian Pap Wilson for several months as he looked for more regular work as a band member. Bill Anderson, who had recently scored a massive pop-country hit with
Still
was forming a band, heard Weldon play and hired him.
  In 1964 Anderson discovered budding country singer Connie Smith performing at a country music park in Ohio and encouraged her to move to Nashville. Anderson arranged for an audition for Smith with RCA and not only wrote her first hit
Once A Day
, but also provided several of his Po' Boys band members, including Weldon Myrick, for her first recording sessions.
Bob Ferguson, a new staff producer at RCA, was partly responsible for the distinctive, up-front pedal steel sound on
Once A Day
. He asked Weldon if he could adjust the settings on his steel guitar amp to give the steel a sharper sound. It was a sound that became synonymous with Connie Smith as Weldon played on the majority of her recording sessions throughout the 1960s. For a time, Weldon joined Connie Smith's touring band helping to recreate the sound of her records on stage. But following the success of Connie's recordings, most of which prominently featured Weldon's steel guitar, he became a much sought after session player and eventually he came off the road to concentrate on the more lucrative session work.
A chance conversation with fellow steel guitarist Hal Rugg backstage at the Grand Ole Opry led to him joining Rugg as a steel guitarist in the Opry staff band. That gig lasted from 1968 for 32 years for Weldon. It meant that he was now in Nashville earning regular money and he was available for sessions in town. Along with a group of fellow session musicians that included Norbert Putnam, Mac Gayden, Charlie McCoy and Wayne Moss, he played with the acclaimed band Area Code 615, contributing typically eloquent parts to recordings such as
Southern Comfort
and
Welephant Walk
, a tune he wrote.
Weldon also recorded several steel guitar albums including 1979's PEDALMAN, the aptly titled TEXAS TO TENNESSEE (2000) and THE OTHER SIDE OF ME in 2007. The latter album featured Weldon as a vocalist. Previously he had recorded as a singer for Capitol, Dot, Mega, Gaylo and Prize whilst also recording steel guitar instrumentals for RCA, Decca, Hilltop, First Generation and Mega. He also enjoyed some success as a songwriter with
It's Not My Fault
(Buddy Holly),
He's My Baby
(Jean Shepard),
The Skin's Getting Closer To The Bone
(Penny DeHaven) and
Hangin' Around
(The Wilburn Brothers).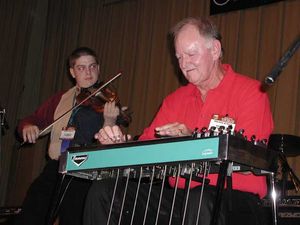 But his real forte was the way that he creatively accompanied great vocalists, almost matchingtheir vocal tyles with his sometimes graceful, but always incisive playing. There are dozens of great examples of his playing. A few that spring to mind include Connie Smith's 1965 recording of
Nobody But A Fool (Would Love You)
, a Bill Anderson song that is enhanced by Weldon's beautifully phrased solo, or Linda Ronstadt's
Long Long Time
, from 1970 with the most delicate and sensitive steel guitar complementing Linda's emotional vocal or Gary Stewart's dynamic
Out Of Hand
, from 1974. 
Though Weldon retired from the Opry in February 1998, he still continued playing sessions and accompanied some of his favourite Opry stars when they performed shows in Nashville. He also travelled around America performing steel guitar shows and even ventured out to Japan and Sweden for similar shows where he was regarded as something of a minor celebrity.
In recent years, health problems slowed him down, but he continued to play golf and exercise despite a 2010 stroke that affected his eyesight and limited his ability to play his instrument. Throughout his life and his music career, Weldon Myrick never deviated from country music. Whereas several of his contemporaries experimented with jazz, rock and even classical styles, his technique was deeply rooted in the traditional country sounds he heard growing up in Texas in the 1940s and 1950s. He was unique in the way that he used the steel guitar almost like a second vocalist. He really listened to the lyrics of a song and the vocal intonations of the singer that he was accompanying, and then ensured that his playing enhanced both the song and singer. Like any great musician, he perfected a sound and style that was very much his own. In my book, Weldon Myrick is up there with such legendary steel guitarists as Jerry Byrd, Buddy Emmons, Pete Drake, Ralph Mooney and Lloyd Green—all of whom you could recognise instantly from their playing.