Vincent Neil Emerson - Vincent Neil Emerson
La Honda Records/Thirty Tigers
*****
This guy's a master songwriter … his muse is an earth-bound one—full of scruffy moments and care-worn emotional truths. His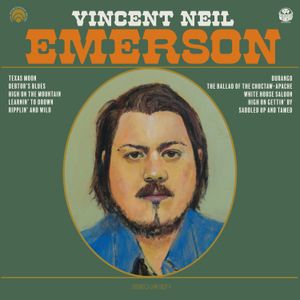 development will be one of the most intriguing story strands of the next few years. Vincent Neil Emerson is an artist of distinction, a trailblazer rooted in country music's near-forgotten rich tradition, blending together the winking humour of John Prine, the wit and jaunty melodies of Guy Clark and the immersive storytelling narratives of the best of fellow Texas songwriters such as Townes Van Zandt, Bob McDill, Steve Earle and Rodney Crowell. And as you would expect from an artist whose sound and style takes in such references, his sophomore album is a record of hard-strumming tales of heartbreak, disappointments, small towns, barrooms, good ol' boys and boots that are far from spotless. He has an honesty to his voice, a been-there, lived-it nous that lends his tales credibility and raises his music up a notch or three. An extremely poetic and thoughtful record, his kind of rootsy and mostly diverse strands of the country music canon just might make him your new favourite singer-songwriter. For modern 'outlaw country' music, this album is the complete package.  
A genuine Texas troubadour, he was raised in the small East Texas community of Myrtle Springs by his single mother, whose heritage was rooted in the Choctaw-Apache Tribe of Ebarb, Louisiana. Vincent set out on his own highway when barely 16, eventually landing in Fort Worth, where he steadily built up a reputation as a rootsy singer-songwriter. He self-released FRIED CHICKEN AND EVIL WOMEN, two years ago and has seen his following explode. He came to the attention of Rodney Crowell, who, suitably impressed, offered to produce, this second, self-titled album. It is a much more personal collection of songs, hence the simple title, as he opens up his heart and soul with gripping stories: stories that are painful, beautiful, heartbreaking and life-affirming, sometimes all in the span of a single song. With this collection of ten songs, he has presented the holy trinity of brilliant and affecting songwriting, divine vocals that crackle with emotion and high class backing and accompaniment. That the result is a beautifully produced album that is a joy to listen to, perhaps shouldn't be a surprise' yet it still amazes me, with each and every play.
Opener, Texas Moon, is a master class in songwriting. An ode to the traveling musician's life, it perfectly captures the quandary between needing to get home and the draw of being out there on the road. With a catchy, insidious rhythm driven by rippling acoustic guitars coloured in by accordion, fiddle and banjo to create a fine twanging country sound, this is a glorious stunner. He rings the changes with the upbeat break-up song High On The Mountain, with a traditional high-energy bluegrass arrangement that again ear-worms its way deep into your brain. The toe-tapping tune is full of fine picking developing into an almost unrestrained jam session to cleverly disguise the heartbreak of the well-written lyrics. There's a western cowboy feel to the sepia tinged Ripplin' And Wild, a travelling song full of vivid imagery of a rambler unable to settle down, dressed in a reflective arrangement of haunting harmonica and accordion. The western feel is retained for Durango, this time the rambler's heading home, dreams set aside following yet another break-up, this time paying closer attention to his own wants and needs.
He bares his soul with Learnin' To Drown, a song that confronts head-on how his father's suicide affected him. With a simple acoustic arrangement, this is uncompromisingly stark and chilling. At the same time, as grief stricken as it is, as sad as it is, hope floats through like a passing breeze. He digs back further into his family background with the hard-hitting The Ballad of the Choctaw-Apache. This song turns the spotlight on the flooding of the Louisiana Tribe's ancestral lands in 1963 to create the Toledo Bend Reservoir, forcing dozens of families to move from their homes. With simple acoustic guitar accompaniment, this is retold in proud and passionate tones, with the haunting arrangement adding to the pathos. There are several more highlights that I need to mention. Wildhorse Saloon, is a gutsy barroom waltz; Saddled Up And Tamed, a tongue-in-cheek, good-hearted western swing tune; and High On Gettin' By, a reflective song about the struggles of just getting by with lyrics that sound both stoic and celebratory, all at the same time.
Vincent Neil Emerson is a prodigious talent, both an imaginative, original songwriter and a singer with a gift for wrapping his voice around a song. It is his songs that are the star of this album—which are brought to life by the great music and vocals. Opening the gates to a new wave of singer-songwriters that are emerging from the dumbing down of Nashville's country mainstream, they are going to need be on the ball to keep up with this unassuming Texan. Count this as a hard-core winner throughout, packed with simple truths—which are the best kind—and immensely easy to fall in love with.
June 2021