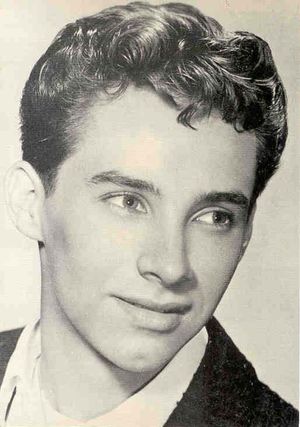 Troy Shondell, 'a one-hit wonder,' who sold more than three million copies of This Time in 1961-62, passed away on January 7, 2016, from complications of Alzheimer's and Parkinson's disease.  He was 76. In 1961 I was only just beginning to buy my own records and This Time was one of the first singles I bought. Released on the old London label in the UK, it made a huge impact on me and I recall fondly playing it over and over again. The whole song, arrangement and Troy's vocal was unlike any other record I heard at the time and for some inexplicable reason it connected with me in a big way. Even today, that record sends shivers up and down my spine and excites me.
Though This Time was Troy Shondell's debut record, it wasn't the singer's first recording. He had released half-a-dozen singles for various labels over the previous four years, all under the name of Gary Shelton. They mainly fell in the rockabilly style and over the years became highly sought after collector's items.

He was born Gary Wayne Schelton on May 14, 1939 in Fort Wayne, Indiana. He grew up in a musical family and early on learnt to play trumpet, piano and guitar. Like so many teenagers growing up in the 1950s, Gary came under the influence of rock'n'roll. Inspired by Buddy Holly, Elvis Presley, Little Richard and many more of the early rock'n'rollers, he started writing songs and one his first efforts was recorded by Little Anthony & the Imperials when he was 14.
He began his singing career while still in high school in Fort Wayne, Indiana fronting local bands and performing at high school hops and in clubs and bars. His first recordings were made at the Boulevard Studios in Chicago in the spring of 1957 for Mercury Records and released on their subsidiary Smash label under the name Gary Shelton. Though he recorded some 14 songs for the label over the next year, only two singles were released—My Hero (From The Chocolate Soldier) and Kissin' At The Drive-In. The latter rockabilly song, released in the summer of 1958, became a sizeable regional hit and went on to become a drive-in cinema standard.
Still performing as Gary Shelton, he seemed to be on his way, at least in the Midwest. Chicago's Brass Rail, a major night club that usually hosted jazz and blues acts, brought him in for its first foray into rock'n' roll. The successful gig stretched to 16 weeks. Despite this success, Mercury dropped him, but he was soon back in the Boulevard studios and in 1959, Mark Records released The Trance and Goodbye Little Darlin'. These sold well in the Midwest and a few other areas, but neither made it into the national radio and sales chart.
That same year Gary and his band were invited to join the Shower of Stars tour, when they got to back the stars and to open the show. This proved to be a big break for him as among the stars on the show were Chuck Berry, Frankie Ford, Rod Bernard, The Skyliners, The Impalas, and Frankie Avalon. He gained great reviews, which helped draw more attention to his growing career.
He travelled to New York in June 1959 to record at the Columbia Recording Studio. Though Gary had always played piano on his sessions, this time the famous Bert Keyes was on the keyboards for his next single, Honey Bee, released on the small Alpine label. A guiding light and huge influence on Gary's musical ambitions had been his father, but in 1960 he was taken ill and died of a heart attack. Gary disbanded his group, and returned home to help his mother run the family business and put his music career on hold.
In February 1961 he was encouraged by his mother to audition for an extra part in a movie being filmed locally after seeing an ad in the local paper. At the audition a man familiar with his music, said he would finance the session, if he would consider recording again. Gary already had a song that he'd been hoping to record. He decided on a fresh start with a new name. He chose Troy Shondell, partly because of the popularity of actor Troy Donahue. The song he had in mind was This Time, written by the then relatively-unknown Chips Moman and recorded by Memphis-based singer Thomas Wayne for the B-side of his debut single.
Due to a snowstorm in Chicago on April 1, 1961, the day of the session, only three musicians were able to make it—a guitar player, sax player, and drummer. Troy played piano, vibes and tried to get a bass type sound out of his guitar, helping to give the record its distinctive sound. Every record label in Chicago turned it down, so Troy and his new partner started their own Gaye label. Following extensive local radio play, the record was picked up by the small Los Angeles Goldcrest label, selling ten thousand copies during the first week.
That led in turn to Troy being signed to the much larger Liberty Records and with their extensive marketing and promotion machinery, boosted the record into the American top ten peaking at number six that autumn. In those days, Liberty Records were released in the UK on the London label, and following extensive plays on Radio Luxembourg, This Time reached number 22 on the British pop charts, though total sales indicated it should have peaked much higher.
Liberty's legendary staff producer Snuffy Garrett took over Troy's recordings in Los Angeles,  where he recorded Tears From An Angel and Island In the Sky a double A-side single which made the lower reaches of the American pop charts in early 1962 and completed thde tracks for THE MANY SIDE S OF TROY SHONDELL, his first album.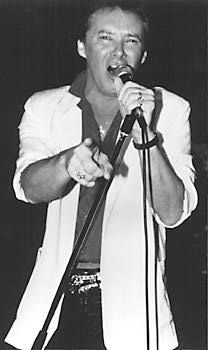 Despite being a seasoned performer, an excellent multi-instrumentalist and superb songwriter, Troy Shondell didn't score any more pop hits. However, in 1963, Tommy Jackson changed the name of his high school band from Tom and the Tornados to The Shondells in honour of Troy Shondell (one of his musical idols). Jackson became Tommy James and international fame followed for the act with a string of American pop hits including Hanky Panky and Mony Mony. Further recognition of Troy Shondell's impact came from Chicago band the Ides of March, who originally named themselves the Shon-dells, in tribute to Troy. Shortly before their debut single, You Wouldn't Listen, was released, the label found out that James had been using the name first, so they were forced to change it.
Troy Shondell remained within the music business for the rest of his working life. He moved to Nashville in 1964 and self-produced the recordings of Walkin' In A Memory and You Can't Catch Me that were released on Decca Records. Signed to various publishing companies he worked as a songwriter, session musician and played the occasional rock'n'roll package show. He continued to record throughout the 1960s for various small labels. Future RCA boss Jerry Bradley produced Big Windy City released on Ric Records in 1965. That was followed by a series of singles for Brite Star, including the first version of his self-penned Still Loving You. Written about his mother's feelings after his father's death, the emotive song became a number seven country hit for Bob Luman in early 1974.
With his band The 69ers, Troy recorded a couple of singles for Three Rivers Records, but like his previous singles, they all sunk without trace. In 1968, Troy became a songwriter for Acuff-Rose Music in Nashville, and the first recording artist for TRX Records, a branch of Hickory Records. Working with producer Don Gant, who would later gain widespread recognition producing Jimmy Buffett, Troy released four singles, including a revival of A Rose & A Baby Ruth and the self-penned Something Wrong In Indiana. There was one more single for ITC Records at the end of 1969, when Troy moved into an executive position as Assistant Regional Director for ASCAP's Southern Regional Office in Nashville.
He continued in various executive positions, mainly within music publishing and concentrated on songwriting, gaining the odd album cut or independent artist singles. Occasionally, he would venture back into the studios and during the 1970s he released some more singles for various small labels. These include Your Love Keeps Coming On for W.A.R. Inc (Writers & Artists) in 1973 and Angel for the Cloud 9 label in 1975. Four years later he finally made the country charts with a pair of singles. The first was his own Still Loving You on Star-Fox in 1979 followed a year later by (Sittin' Here) Lovin' You for TeleSonic.
These minor successes led to the release of a pair of albums—WANTED DEAD OR ALIVE on Churchill and STILL LOVING YOU on Star Fox. He returned to the country charts again in 1988 with (I'm Looking For Some) New Blue Jeans on AVM Records and performed regularly on rock'n'roll revival shows and in casinos and small night clubs across America, During the 1990s several compilation albums featuring a mixture of old tracks and new recordings were released including THE TRANCE Dunhill 1994), ROCK AND ROLL REBEL (Goldcrest 1997) and KISSIN'AT THE DRIVE (Germany's Bear Family 1999)
Troy's popularity had started to flourish with the renewed interest in fading rock'n'roll stars. Joined by close friends Ray Peterson, Ronnie Dove and Jimmy Clanton, he became part of a group called The Masters of Rock'n'Roll and toured regularly into 2003 and also worked in the studio on new recordings and producing other acts.
During his 45-year career in music Troy Shondell released six albums and sold several million records around the world. Not a bad career resume for a singer that has all too often been unfairly dubbed as just 'a one-hit wonder.'