Vault Records VR017
*****
Tim Grimm is a songwriter's songwriter and the truth of it is borne out utterly by his newest album. It's the sort of record that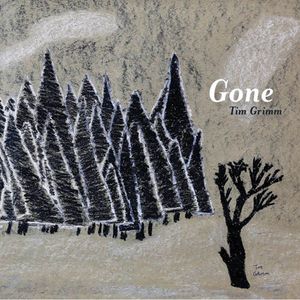 only a veteran artist could make—the finishes and flourishes of an expert craftsman who knows how to properly and painfully edit, perhaps the most agonising part of the creative process. He crafts cinematic moments that play out vividly as he illustrates the little struggles and glories that live in our mundane activities and they illumine our experiences of loss. When reviewing Tim Grimm's oeuvre, one doesn't witness radical stylistic leaps or chameleonic transformations. Rather, one observes a gifted artist operating ambitiously within his own niche. He's been making his own way as a musician on the Americana landscape for close on 25 years as an artist who does it his own way. The rest be damned. He has that spark in him that all the great songwriters have. He's the real deal.
GONE is a bit of Americana alchemy, a concoction that can only be served up by someone who knows the rules inside and out—enough to break them when needed. The songs are eclectic but united by Tim's bold vocal range and themes of perseverance, redemption and humanity. With a simple, but very effective, finger-picked guitar, Carry Us Away is an intoxicating slow-motion, bitter-sweet love song that drips like golden amber in the morning sun. The four-minute composition feels more like a journey than a song. with its desperation and confirmation that we're all waiting for some vehicle to take us someplace far away. The panoramic 25 Trees is lush with detail that draws you in and insists you listen with a keen ear. Rich with little touchstones overlooked by outsiders that hold meaningful memories to those who grew beneath them, it's a devastatingly universal concept. Laurel Pearl is a different take on the heartbreak of losing a child, sharing the pain of a father who recalls the brightness and joy she brought to the family with Jan Lucas Grimm providing the eerie background vocals. Listening to it feels like digging up a beloved old photograph you thought had been lost forever, one that puts you right back in that exact place you want to be, with everything still just as it was. He brings a light-hearted touch with the 1960s set yarn about a new life brought into the world in Cadillac Hearse. It is clever, fascinating, and highly entertaining. Dare I say, exciting and you just cannot help but be caught up in the hilarious re-telling.
In some ways, Dreaming Of King Lear is a perfect song. The culmination of everything I've long loved about Tim Grimm, complete with a woodsy acoustic guitar riff, his calming whispered vocal and longing lyrics about a trio of much treasured singer-songwriters no longer with us—Eric Taylor, Michael Smith and David Olney. As he sung the line 'let's go to the banks of the ocean' I choked up as my own memories of Steve Goodman floated into view. His was the first version that I heard—and loved—of The Dutchman. Those three songwriters were the very best around until they all passed away last year. They left behind a treasure trove of amazing and meaningful songs, Tim Grimm is carrying on their legacy and deserves to be mentioned in the same breath. He pays further tribute to Eric Taylor by turning in a superb rendition of the late songwriter's moving tale of the dying Native American Joseph Cross. The title song kind of wraps up the whole concept of the loss and change that reverberates as we all come to terms with living different kinds of lives due to the pandemic.  The album's longest track is also its most compelling and provides a warm and welcome presence while tackling a difficult subject of loss and discontent yet somehow, this song worms its way into the ears.
GONE isn't all doom and gloom about the future, or even the current state of life. Tim Grimm remains hopeful and keeps his faith in people intact, even when it feels like it's more worthwhile to just give up. In terms of songcraft and economy of language, he has built a conceptually complex (though accessible) album. Taken as a whole, this is a balanced document, which allows him to tangle with heavy, hard-to-resolve themes without overwhelming the listener. Tim Grimm has never wasted any time with empty thoughts or meaningless words, and that accolade couldn't be truer than here as he casts paradigm-shifting truths for listeners to hear and come to grips with.
March 2021