The Nitty Gritty Dirt Band - Dirt Does Dylan
NGDB Records
****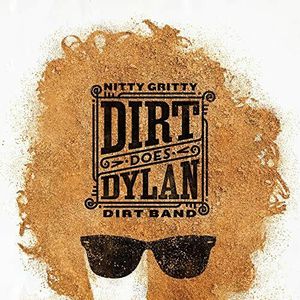 As trailblazers in the Americana, country-rock, and roots music traditions, the Nitty Gritty Dirt Band dedicating an album to Bob Dylan songs seems somewhat inevitable. In keeping with so many of their previous albums, this latest set is also something of an all-star collaborative affair with such guests as Rosanne Cash, Larkin Poe, Steve Earle, Jason Isbell, Matraca Berg and The War & Treaty adding their talents. It's a tack they've taken since they first began performing together in the mid-1960s. Long-time band members Jeff Hanna (vocals, acoustic, electric National slide guitar), Jimmie Fadden (vocals, drums, harmonica) and Bob Carpenter (vocals, Wurlitzer, Grand piano, accordion, Hammond organ) are joined by three new band members—Ross Holmes (fiddle, mandolin, vocals), hit singer-songwriter Jim Photoglo (bass, vocals) and Jeff's son Jaime Hanna (electric, acoustic guitars, drums, percussion, vocals). Produced by Ray Kennedy at Room & Borad Studio in East Nashville, each track is given a unique arrangement, seemingly allowing the musicians to guide each song through whatever mood they're in—wild and free, hard and foreboding, airy and trippy. The band distills warm breeze vocals and ripple country-rock guitars into the kind of songs that seem to hang in the air like slight humidity; affecting and strangely comfortable.
This is so apparent as Dylan's songs gradually find footing in freer, more nurturing spaces. The meticulous performances and steady resolve that shine through such selections as the opening Tonight I'll Be Staying Here With You, the sprightly pacing of She Belongs To Me, the easy embrace of Girl From The North Country,  the strident It Takes A Lot To Laugh, It Takes A Train To Cry and the sheer joy of the jug-band rendition of Country Pie, reflect a dedication to delivery that realises its scholarly intent. A take on Don't Think Twice, It's All Right may feel redundant at this point, but it too offers the outfit a chance to share its interplay as it veers from reserve to revelry. Even more telling is Quinn The Eskimo (The Mighty Quinn), with its harmonica-led musical arrangement and all Dirt Band members joining in on the vocal ensemble. A smooth and elegant presentation of an old chestnut, with lead vocals of true tone and blended harmonies perfectly backed by instrumentation of high calibre.
Their interpretation of I Shall Be Released with Bob Carpenter's plaintive vocal and Megan Lovell's riveting steel guitar licks torches up this classic song, enhanced further by the Lovell sisters' soulful harmony vocals. The guitars and accordion dance in circles like some agent of beautiful chaos in The Times They Are A-Changin', as Jason Isbell, Rosanne Cash, The War & Treaty, and Steve Earle, each take turns in singing a verse. Though written almost 60 years ago during the protest movement of the swingin' sixties, the song has just as much— maybe even more—relevance in these troubled times of 2022.
DIRT DOES DYLAN has that thing that good albums have: the ability to make you forget whether you just started listening or if you're on your fourth time around. Ultimately, it all comes back to the NGDB's ability to vary their template and offer ongoing enjoyment and enticement.
May 2022