First published in Country Music People magazine – August 1973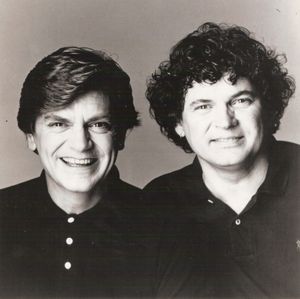 With the advent of rock'n'roll in the mid-1950s the musical world was turned upside down. No phase of American popular music escaped unaffected from the rock'n'roll deluge. The rock'n'roll appeal became so strong that it was a rare entertainer who successfully did not alter his style to conform to its demands. The country musician was no exception. Just as country-orientated performers like Bill Haley and Elvis Presley helped to get the ball rolling with the new beat music, so it was that others helped to sustain the trend.
Although country singers did not forsake the older styles in a wholesale fashion, many of them modified their own styles to a certain extent in an attempt to attract a larger following. As a result, there was a new type of artist who was not entirely pop, because of his country influences and backgrounds. Names like Roy Orbison, Buddy Holly, Webb Pierce and Faron Young were called rockabillies, their roots were deep in the country tradition but their music as aimed at the youthful audiences who were making rock'n'roll such a commercial success.
Don and Phil Everly, two brothers from the Kentucky foothills, who sprung to prominence in 1957, were the most successful rockabillies. Don, the eldest, born in 1937 and Phil, who was born two years later, were the sons of old-time guitarist Ike Everly. They sang songs of the youthful generation, but in style of harmony derived from southern groups like The Louvin Brothers, The Blue Sky Boys and The Wilburn Brothers. Their big pop hits, which began with
Bye Bye Love
in 1957, created a whole new music scene for the teenage audience of both America and Britain for almost five years. The youngsters danced joyfully to the simple rock beat of
Wake Up Little Susie
and
'Til I Kissed You
, and loved the night away to the dreamy ballad harmony of
All I Have To Do
Is Dream
and
Devoted To You
.
Don and Phil Everly were country boys who'd started singing as soon as they could walk and combined pure old country music with 1950s emotional lyrics. Don Everly sang lead, plaintive, straining-nasal almost and Phil sang the harmonies. The reason that the Everlys became such leaders in the pop world was that they took the time and emotions of the era and wrapped them up in songs like
Cathy's Clown, Bird Dog, Walk Right Back, I Wonder If I Care As Much
and
Let It Be Me. 
They were singing just for us—about us. They mirrored—better than any other musicians of the time—the things that were happening to us everyday. To understand the incredible success you have to remember the 1950s. It was an age of jukeboxes and coffee bars and
Wake Up Little Susie
was really very risque. The young thought they were having a lousy time, full of emotional turbulence. But in fact the 1950s was a time of total teenage awareness with anything outside the closeted world of their own emotions.
The Everly Brothers were so steeped in the traditions of country music that they could never shrug off their roots. Even when they recorded the beautiful French song
Let It Be Me
it still sounded like one of their jumped on country ballads. Their harmonies were not New York harmonies, and this is where the imitators fell down.
Don and Phil made their first recordings in Nashville in February 1956 for the American Columbia label. The two sides they cut were
Let The Sun Keep Shining
and
Keep-a-Lovin' Me
. It didn't sell and this turned out to be their only disc for Columbia.
The brothers began to experiment with their musical up-bringing and the rock rhythms that were beginning to influence musical ideas. They began appearing at local shows in Tennessee, and Chet Atkins, a good friend of the Everly family was most impressed by the sounds they were creating. At the time RCA Victor had Elvis Presley signed to them and country recordings were going through a slump period. The Everly Brothers were basically a country group and Chet Atkins wasn't prepard to risk signing a completely unknown country duo to the label. Chet had heard that Cadence Label boss Archie Bleyer was opening up in Nashville having set up a very profitable independent label on the East Coast and was looking for new acts. Chet suggested that Archie signed the Everlys and he even threw in a song as well. The successful country writing team of Boudleaux and Felice Bryant had put forward several songs for Chet to record with Johnnie and Jack, a popular country duo who were going through a slump period. One of these songs,
Bye Bye
Love
was thought to be unsuitable, but Atkins thought it would be ideal for Don and Phil. Archie Bleyer being new to country music and Nashville, listened carefully to Chet Atkins' advice, and in fact it was Atkins who set up the recording session and produced the Everly Brothers first big hit.
Bye Bye Love
reached number one spot on both US pop and country charts and also achieved equal success in Britain.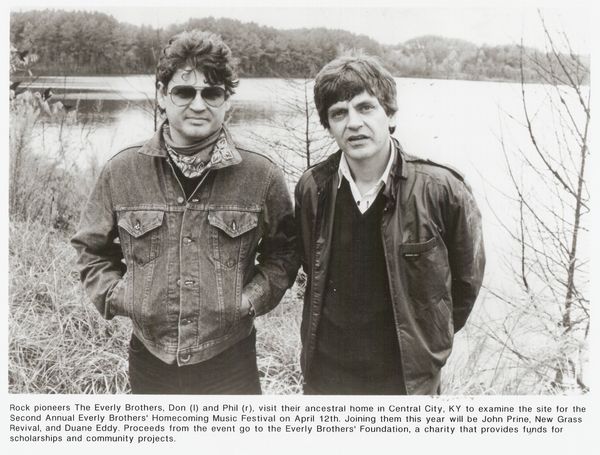 The Bryants continued to provide the Everlys with more big selling compositions which did equally well in the pop and country charts. The Grand Ole Opry invited Don and Phil to join the cast and they made regular appearances on the show. To all in Nashville The Everly Brothers were a country music act who had been lucky enough to crack open the pop market. It was not a case of selling out. Web Pierce and Ray Price cut
Bye Bye Love
, and they were country all the way.
But eventually the Brothers became too big for Nashville. It was evident that although their recordings maintained that basic country feel they had to make sure their recordings appealed to the pop masses. Because they were away from Nashville on personal appearances and tours abroad they were dropped from the Grand Ole Opry, and when in 1960 they signed with the newly formed Warner Brothers label they were completely cut off from Nashville and country music.
While with Cadence they had recorded some really classic material, but none was better than the treasured SONGS OUR DADDY TAUGHT US album. This contained a dozen traditional country music standards, all given a simple, but attractive accompaniment of acoustic guitars with Chet Atkins contribution being immense. Among the tracks was Gene Autry's immortal
Silver Haired Daddy Of Mine
, Karl Harty's
Kentucky
and the stand out
Lightning Express
. The Everly Brothers proved on this album that they were country. They understood the music and knew how to put it down.
The hits continued with Warner Brothers, but gradually the country influence was squeezed out.
Cathy's Clown
, their debut for the West Coast label, was a pop classic, composed by Don Everly it proved to be their biggest hit. Their recordings though lost the simplicity of the earlier Nashville sessions, and though several of the hits like
Walk Right Back
and
Ebony Eyes
were cut in Nashville, there was more of a city flavour about their recordings than ever before.
In the mid-1960s the Everly Brothers run of successes came to an end. No one can ever really say why. The sound was still there, the songs were still good, but even before the advent of the Beatles the Everly Brothers were finding their hits harder to come by. In 1962 the country flavoured
Crying In The Rain
(written by New Yorker Carole King), well up to the Everly's earlier hits only just scraped into the top 20, and from then on the hits were spasmodic, and the relationshop with country music became strained until the boys eventually got into r&b, rock and any other form of music in an effort to get a magical hit record.
Their one attempt at country music on Warner Brothers—THE EVERLY BROTHERS SING GREAT COUNTRY HITS, made in the mid-1960s, was a poor attempt to cash in on a musical style that had at last gained respectability. With heavy strings and plenty of background voices Don and Phil were just not allowed to give the songs the kind of treatment they should have. It was not until 1968 that the Everly Brothers finally paid their dues to country music, and even then the album ROOTS, was not a true reflection of what the title stated. True a few minutes of tapes from early radio broadcasts from the early 1950s were used, but basically it was more of a modern country album, and as such was good. But for those of us who had hoped for another SONGS OUR DADDY TAUGHT US trip, this album was a non-starter.
In the end the Everly Brothers and Warner Brothers didn't work anymore as a partnership. Because of Don and Phil's lack of success they didn't receive any promotional help from the company and in 1971 their contract was not renewed. Rather surprisingly the only company that was interested in signing them up was RCA, the very same company that almost 15 years previously had virtually turned them down.
Their first album STORIES WE COULD TELL was an odd collection, which though I find very enjoyable, still left me wondering just where the Everlys were going. Recorded mainly in the home of John Sebastian, the famous leader of the Lovin' Spoonful, with the assistance of David Crosby, Graham Nash, Delaney Bramlett and Buddy Emmons, Don and Phil tend to get lost amidst the array of guitars, organs, pianos and voices. Much of the material is from contemporary country songwriters with Jess Winchester's
Brand New Tennessee Waltz
being a standout. Denis Linde also provides some great material, but what really stands out is the boys' beautiful harmony work, it's still there after all these years and it still pricks my hair up.
At last Chet Atkins persuaded Don and Phil to return home, and their current album for RCA PASS THE CHICKEN AND LISTEN was not only recorded in Nashville, but also had Chet as producer. The result is not just the best Everly Brothers' album in years, it's also one of the finest country albums to come from Nashville.
There has been no covering up of the boys' basic love for country music. True the album has a more contemporary feel than their early hits, but by employing instrumentation of fiddle, mandolin, steel guitar and the great guitar work of Chet Atkins, Paul Yandell, Pete Wade and Dale Sellers you just cannot shy away from country music. The fiddle work from Johnny Gimble is tremendous, but for my money the highlight of this album is when Chet Atkins takes off on a neat guitar run in the break on
Woman Don't Try To Tie Me Down
. It's the earthiest I've heard Chet play for years, and it proves just why he is regarded as one of the finest guitarists in the world.
What really counts though is the harmonies. That's what made the Everlys famous, and though they are much finer now, they still retain their basic country tinge. A standout is Roger Miller's beautiful
Husbands And Wives
and Mickey Newbury's
Sweet Memories
, two ballad beauties that seem tailor made for the boys. Perhaps the surprise track though is Kristofferson's
Somebody Nobody Knows
. It's a song I've loved for a couple of years, and I consider it's on par with the great country songs written by Hank Williams more than 20 years ago—Kristofferson has somehow recreated that great lonesome feel that Williams did with great, but simple country lyrics. The Everly Brothers sing it straight—and it works. Yes it's welcome back to Nashville for Don and Phil—they haven't forgotten their country roots—and maybe yet again that great harmony sound will be around the country charts.