The Chigger Hill Boys & Terri - Every Good Path
Morning Glory Music
****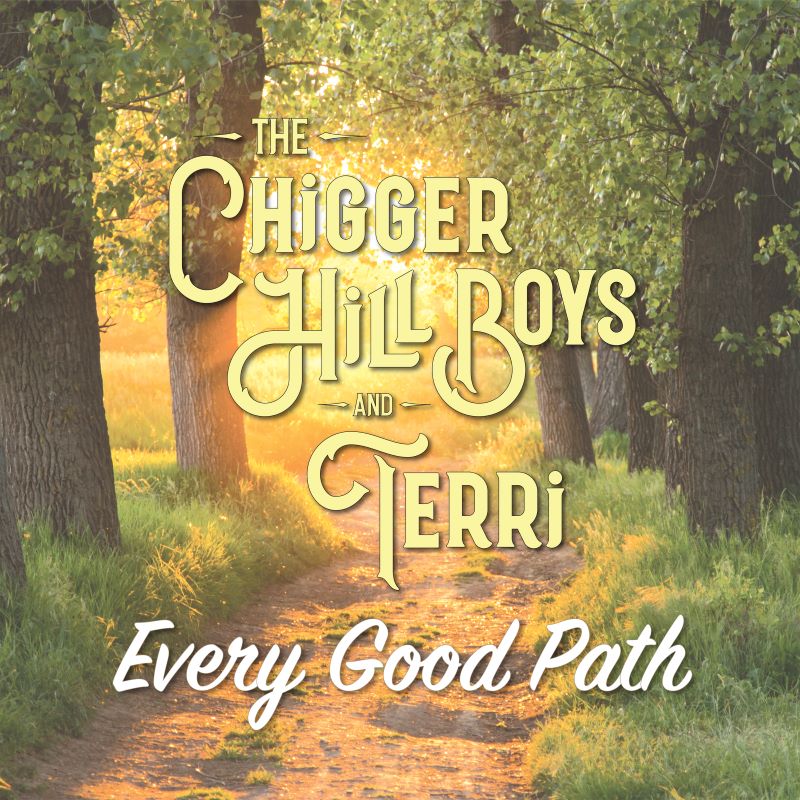 This is the ninth album from this bluegrass-gospel outfit, and the first for their new label. All thirteen songs have been written or co-written by Terri Argot Gore, who also handles the lead vocals. The divide between bluegrass and gospel is often indiscernible, but even so, the Chigger Hill Boys manage to smooth any remaining rough edges. Indeed, they excel at combining skill and sentiment. Unlike some of their contemporaries, they make no attempt to veer from the template or add any unexpected elements to the mix. Rather, they do the opposite by simply adhering to a familiar formula. It works to their advantage; every offering sounds like a standard, one that's practically indistinguishable from any of the music made by past masters. Chances are, even the most ardent advocates of maintaining some sort of stylistic separation won't find any reason to quibble with this combination. Simple, powerful, and instantly magnetic, the blend of heart-wrenching lead vocals and dead-on harmonies backed by impeccable instrumental talent is what you can expect to hear. The overriding theme of these divine contemplations is the pathway to finding and embracing God. Terri's vocals are clearly the star of the show, but she also demonstrates a lyrical depth that shows her level of wisdom as a songwriter. Even those who don't share their fervent beliefs will likely still find the melodies and passionate performances enjoyable and enticing.
Mention should be made of the superb musicianship that lifts this album to the upper echelons of bluegrass mastery. Leading the way is special guest Andy Leftwich, responsible for the arrangements and playing mandolin, fiddle and guitar. Then there's Ricky Gore (bass), Jim Britton (banjo), Ben Rochester (resonator guitar, backing vocals), Rebecca Rochester Matthews (harmonies) and Travis Alltop (guest lead guitar on I Know The One Who Knows). Central to this collection is I Am That I Am; one that's lulling, beautiful, and serene. With just the right amount of passion in Terri's delicate vocal, enhanced by sweet harmonies and gentle mandolin leads with unobtrusive Dobro … regardless of one's beliefs, it's hard not to be moved by the steadfast devotion, and the passion with which they deliver this heartfelt song.
Terri proves herself to be an astute storyteller as she opens her soul to spin the way she's steadfastly followed a pathway to salvation that's been spiritually and personally rewarding. Rags To Riches Story could've been torn from the Dolly Parton songbook, with its simple but colourful lyrics and the gorgeous musical arrangement of fiddle, mandolin and acoustic guitar interplay adding to the overall feel. There's a jaunty rhythm to I Know The One Who Knows, opening with just acoustic guitar and fiddle, the tune is joined by bass, banjo and Travis Allsop's vibrant guitar picking, delivering a rousing treatment with a joyous sound. Similarly filled with unbridled joy, My Path Was Paved By The Blood Of The Lamb infuses the album with a sense of celebratory sentiment and the assured belief that Judgement Day is both divine and predestined. Of course, whether or not this album has any potential or possibility to crossover to a non-Christian audience is merely a matter of conjecture. Yet given the divine delivery found here, moving on and attracting additional devotees is indeed a real possibility.
October 2023