Live at HMV Forum, Kentish Town, London, Monday December 2, 2013
While country music continues its forays into other genres, including pop, rap and even hip-hop—sibling trio the Band Perry showed us their special blend of dark Appalachia, driving rock and radio friendly modern country in their much anticipated return to London. This is the third time that I've seen Kimberly, Neil and Reid Perry play in London. The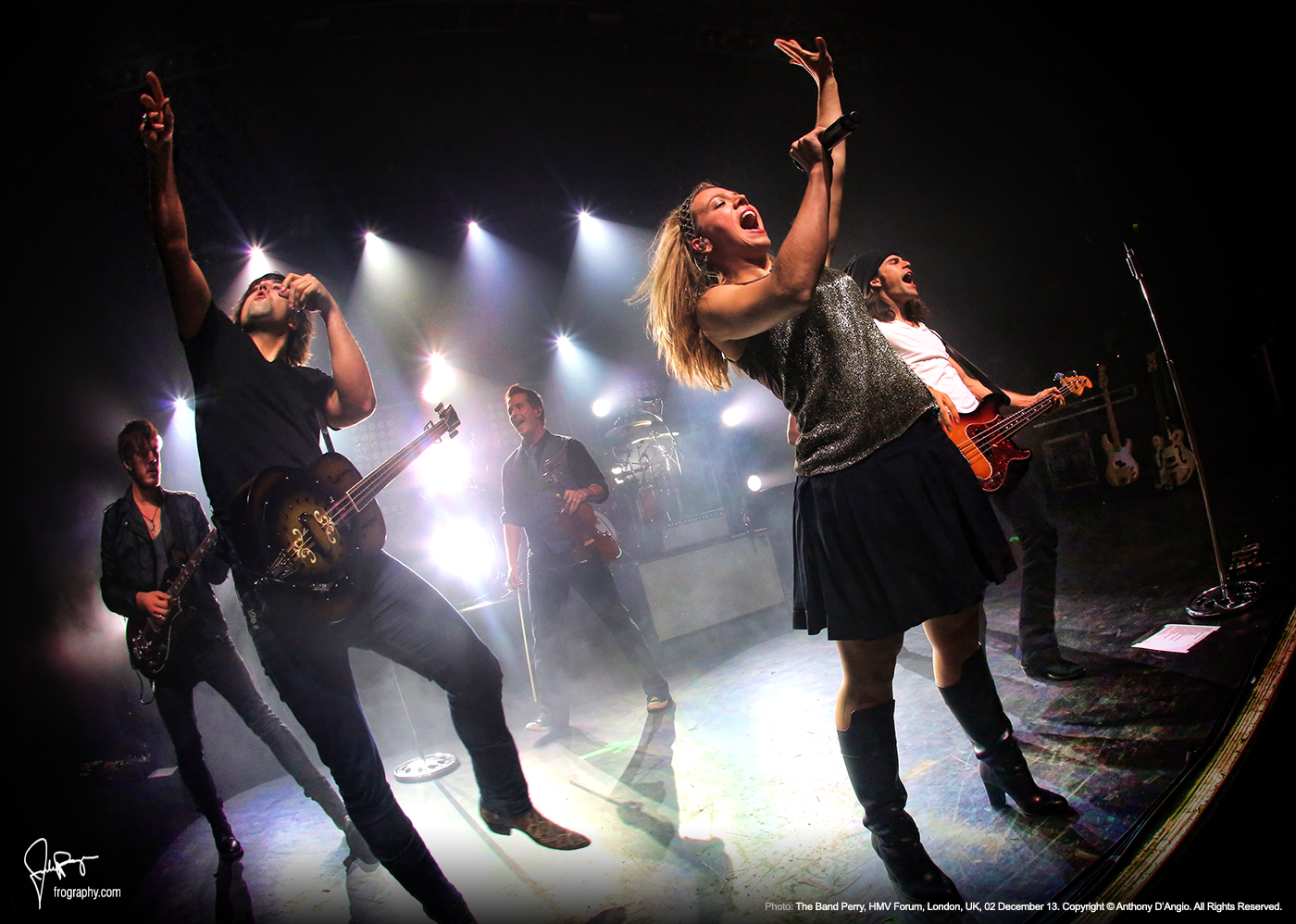 first time was a low-key acoustic set in front of around 200 people. Then came a sold out gig at KoKo with around 600 young fans ecstatically singing along to the songs from their debut platinum album. Moving up the ladder steadily, they packed the Forum with 1500 adoring fans and delivered an electrifying show. It wasn't exactly 'country,' but nobody exactly cared.
Before the Band Perry took to the stage at 8.45pm, young Canadian singer, guitarist and songwriter Lindsay Ell performed an assured short set of mainly her own self-penned songs that were warmly and at times enthusiastically received by the crowd who had all come to see the headliners. It was no mean feat, but this 24year-old from Calgary has a dozen years of performance experience under her belt and it showed in spades. She played solo, but by adding a loop to her guitar, she gave herself a fuller sound and even more impressive was her prowess on that guitar, she virtually made it talk. Now based in Nashville, several of her songs were co-written with established Music Row songwriters and it showed in the quality of them. Possibly too rocky or bluesy for mainstream country radio play, but a girl with a very bright future … this Lindsay Ell.  
Following a relatively short break, the Band Perry bounded on stage and without a mis-step launched straight into
DONE
, much to the audience's delight. Kimberly was stamping up and down like a good ol' modern-day mountain gal whilst her two brothers used the whole stage to their advantage and the band laid down rich and vibrant rock and country licks behind them. This band was cooking and they hardly let up from beginning to end.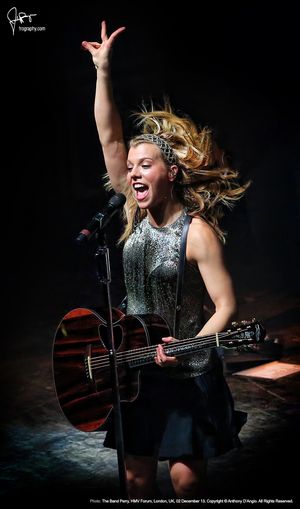 They were very energetic and had the crowd up on their feet and hardly put a foot wrong as they offered dynamic versions of
You Lie, All Your Life
and
Forever Mine Nevermind
. They even offered a neat rendition of Ms Dolly's
I Will Always Love You
, that was different enough that it worked rather well. Unlike too many other singers, Kimberly reined back and kept well within her range without any kind of straining. I particularly enjoyed the way they segued
Hip To My Heart
into
Postcard From Paris
and
Don't Le Me Be Lonely
was simply stunning.
They finished with the million-selling
Better Dig Two
, then returned for their breakthrough single, the gorgeous
If I Die Young
, which everyone in the Forum appeared to be word-perfect from beginning to send, and closed a dynamic show with Queen's
Fat Bottomed Girls
. They had performed at full throttle virtually from beginning to end, with not only the three siblings, but the whole band dancing and prancing around the stage as if they were on something that I wish I had.
The Band Perry played this concert like a group of people who love music, and who want to share that with an audience. And that audience cottoned on to that and absolutely lapped it up.
Photos courtesy of Anthony D'Angio

www.frography.com