Susan Gibson - The Hard Stuff
For The Records
****1/2
Susan Gibson's smart, thoughtful songwriting has been knocking the wind out of listeners since she first came on the scene as the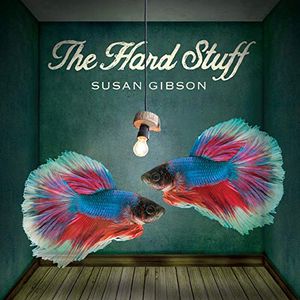 writer of the Dixie Chicks' Wide Open Spaces back in 1998. At the time she was a member of the Texas-based band The Groobees. When the group split-up in 2001 Susan embarked on a solo career and since her acclaimed 2003 CHIN UP debut, she has released six albums and toured extensively. A songwriter of immense talent, this new album is a work of real depth. All of the songs convey her message of surviving tough times and getting much sought-after redemption, all the while keeping an eye on life's positives.
As is often the case with great songwriters, a period of personal grief often leads to a period of equally tremendous creativity. The passing of her mother followed four short years later by her father is very much at the heart of this album. Susan Gibson marks this latest chapter in her recording career as one that will see her songwriting gain new levels of respect because this whole album is a truly wonderful achievement. Throughout, this album has a positive outlook with joyful and memorable melodies adding to the overall irresistible listening experience. The title song is a big, powerful blast of funky soul with horns adding to the dynamic vibe. A riveting, intense, spring-loaded presence comes to the fore on Lookin' For A Fight. She's got a refreshing clout that few can pull off without straying into the mainstream.
Susan Gibson is definitely not 'mainstream'. She epitomises the independent artist with her own record label and all too often booking her own tours. She outlines her stance in Imaginary Lines, in which she favours the troubadour backroads rather than the false promises of the dangling big time carrot. Diagnostic Heart is a hopeful anthem in which her voice summons up a picture of determination in the face of lonesome heartache in this haunting tale of perseverance in the search for a true romance. 8 x 10 is a song aching with much sadness and the instrumentation doing its utmost to keep up with her melancholic feelings. The enthralling 2 Fake IDs is great storytelling because it gives a vivid sound of feeling freedom and mystery. Slow, poignant, and deceptively complex. overcast steel guitar lines weave around one another with the plodding intricacy of Susan's most winding works. Hurricane starts off with a lot of energy and only builds from there as it picks apart a dreamlike haze pulsating like a heavy heartbeat with emotions that are running high …her voice draws you in until you realise you are at the heart of the storm.
One of the most inventive songwriters of her generation Susan Gibson is able to explore emotion and turn it into something tangible. From lonesome singer-songwriter to bold roots-rock and lyrically challenging creativity her growing confidence translates into emotionally probing songs of startling candour. Clearer and sharper than ever … this is an album to explore and get lost in.
November 2019