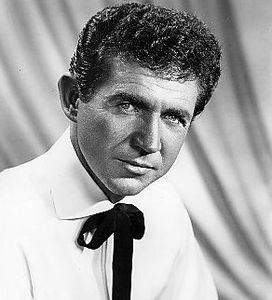 Sonny James, one of the most popular and successful country singers of the 1960s, passed away on February 22, 2016 of natural causes at Nashville's Alive Hospice. A member of the Country Music Hall of Fame, he was 87. Known as the Southern Gentleman, because of his quiet and polite persona, Sonny James was one of the classiest country-pop vocalists of the 1950s and 1960s. Though he enjoyed his first country hit in 1953 with
That's Me Without You
, it wasn't until the mid 1960s that James got into his stride, with an incredible five-year run of number one country singles. Many of these were covers or revivals of pop hits and included
Take Good Care Of Her
(Adam Wade),
Need You
(Jo Stafford & Gordon MacRae),
I'll Never Find Another You
and
World of Our Own
(the Seekers),
Only The Lonely
(Roy Orbison),
My Love
(Petula Clark) and
Only Love Can Break A Heart
(Gene Pitney).
He was born James Hugh Loden on May 1, 1929, to Archie Lee 'Pop' Loden and Della Burleson Loden, who operated a 300 acre farm outside Hackleburg, Alabama. His parents were amateur musicians, and his sister Thelma Lee Loden Holcombe also played instruments and sang from an early age. By age three he was playing a mandolin and singing and was dubbed 'Sonny Boy.' In 1933 the family appeared on a radio audition which resulted in their being offered a regular Saturday slot on Muscle Shoals, Alabama radio station WMSD-AM. About this time the parents volunteered to raise an Alabama girl named Ruby Palmer, and soon Ruby was also part of the musical group, and the singing Loden Family, later billed as Sonny Loden and the Southerners, was soon playing theatres, auditoriums and schoolhouses throughout the Southern United States.
To this point the musical appearances had been a part-time effort for the family, as they returned after each gig or tour to work the family farm. After a few years the father decided they were professional enough to immerse themselves into the field full-time, so the father leased out the farm and they took a daily spot on radio station KLCN, where they provided early-morning accompaniment for the area's early-risers. After that they had spots on several other radio stations around the South. In 1949 they returned to Alabama, with a show on radio station WSGN in Birmingham, Alabama. Near Christmastime that year, the two girls were married in West Memphis, Arkansas in a double ceremony and left the group. The parents found other girls to take their place, but the group soon disbanded (the parents returned to Hackleburg and opened a clothing store, where James worked while belatedly finishing his final year of high school).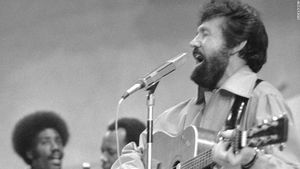 While he was still in high school, James joined the National Guard and during the summer of 1950 he worked with a band, sometimes singing but he was most useful as a guitar player on the Memphis, Tennessee radio station WHBQ. While appearing on the Louisiana Hayride James met singer Slim Whitman, who was suitably impressed by his performance on stage playing a fiddle and singing. Whitman invited him to front his new touring band, but he only stayed for a few months, as Whitman had to undertake club work to be able to pay his band and James wasn't happy playing those kind of venues. He agreed to stay on for a few shows until Whitman could find a replacement. For the remainder of his career Sonny never played a club performance.
His musical career was interrupted in September 1950 when James' National Guard unit was activated to participate in the Korean War.  He returned home from Korea honourably discharged in late 1951. He soon left Alabama for Nashville and reconnected with a former Korean roommate, musician-producer Chet Atkins. In spite of Atkins' leadership at RCA Records, he referred James to Ken Nelson, who was producing acts for Capitol Records in Los Angeles at the time.
Nelson suggested that he should drop his last name and use his earlier nickname Sonny along with his given Christian name, to become professionally known as Sonny James. He made the country charts with his second release
That's Me Without You
in 1953, but he had to wait another three years before he hit the top ten again with
For Rent (One Empty Heart)
in early 1956.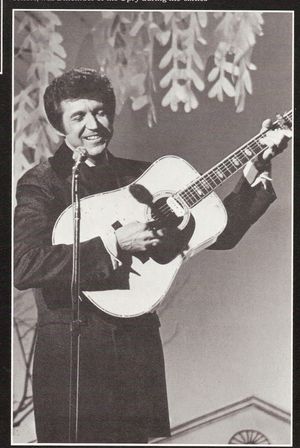 He continued to develop his career with performances at live country music shows and also appeared on radio, including the Big D Jamboree in Dallas, before moving to the all-important new medium, television, where he became a regular performer on ABC's Ozark Jubilee in Springfield, Missouri beginning in October 1955.
The following year he scored his biggest hit with the teen ballad
Young Love
, which sold three million copies and became a number one hit on the country and pop charts, despite several pop cover versions. With the financial stability that this hit afforded him, in July 1957 Sonny married Doris Shrode in Dallas, Texas. His pop success was short-lived, and he also struggled to maintain his success on the country charts. After scoring just a couple more top ten hits with
First Date, First Kiss, First Love
and
Uh-Huh-mm
in 1957, it was to be another six years before he returned to the country top ten with
The Minute You're Gone
(covered in the UK by Cliff Richard) in 1963.
He was dropped by Capitol in 1959 and signed with NRC (National Recording Corporation) reaching number 22 on the charts with
Jenny Lou
in 1960. This led to him joining Dot (1960–1961) and RCA (1961–1962) without any successes. In 1962 he returned to his country roots and became a member of the Grand Ole Opry and a year later signed again with Capitol Records. He scored a pair of top ten hits with
The Minute You're Gone
and
Baltimore
, before making a return to the top of the charts in 1964 with
You're The Only World I Know
, a song he co-wrote with Bob Tubert.
This success coincided with him taking on his first regular road band, the Southern Gentlemen. The group had started singing as freshmen at Eastern Nazarene College in Quincy, Massachusetts in 1959, had moved to Nashville in September 1962 and 16 months later in January 1964 they replaced the Jordanaires as the Grand Ole Opry quartet. The young 21 and 22 year-old men, along with Sonny's multi-talented bass player Milo Liggett, joined 36-year-old Sonny James and quickly became one of the finest country music outfits of the 1960s.
With his musical style now refined and his 'sound' on records and on personal appearances produced to be immediately identifiable, Sonny James was set to begin what would become his legendary streak of 16 consecutive number one singles. During this period, he created a vocal-driven sound based on hit songs from the r&b and pop genre. These included
It's Just a Matter of Time, Empty Arms, Bright Lights, Big City
and
Since I Met You Baby
, all of which had originally been hits for r&b acts, making Sonny James the first—and most successful country act—to cover such material during the turbulent Civil Rights era.
He had become a dominant force in country music with regular appearances on the major TV shows including Ed Sullivan, Andy Williams, Glen Campbell, Jimmy Dean, Mike Douglas, Merv Griffin, The Joey Bishop Show, and was a multi-time guest on Hee Haw. He was the first co-host of the Country Music Association Awards show with Bobbie Gentry in 1967 and also made several motion pictures, including Second Fiddle to a Steel Guitar, Las Vegas Hillbillies (with Jayne Mansfield) and Hillbilly in a Haunted House.
After moving from Capitol to Columbia in mid-1972, the hits continued with
When the Snow Is on the Roses, Is It Wrong (For Loving You),
A Mi Esposa con Amor (To My Wife With Love), Little Band of Gold,
What in the World's Come Over You
and
A Little Bit South of Saskatoon
, that was featured in the 1977 Paul Newman hockey comedy Slap Shot. He moved into producing and music publishing and produced three of Marie Osmond's albums, including her biggest country hit,
Paper Roses
in 1973.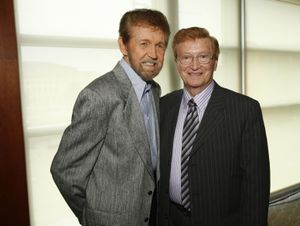 Sonny also recorded some pioneering albums: 200 YEARS OF COUNTRY MUSIC, released in 1976 to coincide with the American Bicentennial, was very much a labour of love, and took more than a year to complete. At that time, most country performers released two or three albums per year, so spending that amount of time on one project was unheard of. In a dozen tracks, James and his guest musicians, paid tribute to some of the country legends that had gone before. From Vernon Dalhart (
The Prisoner's Song
) through Bill Monroe (
Blue Moon Of Kentucky
), Roy Acuff (
The Great Speckled Bird
), Jimmie Rodgers (
Waiting For A Train
), Gene Autry (
Back In the Saddle Again
) and even Elvis Presley (
I Don't Care If the Sun Don't Shine
). At no time did James try to impersonate, but gave each song his own stamp and was joined by a whole host of ace players including harmonica maestro Onie Wheeler, fiddler Johnny Gimble and members of Roy Acuff's Smokey Mountain Boys and Bill Monroe's Bluegrass Boys.
SONNY JAMES IN PRISON, IN PERSON, recorded in 1977, was something of a unique
live in prison
album, in that all the accompanying musicians were inmates at the Tennessee State Prison, Nashville. It was a risky venture, because Sonny was performing with untried players. The result was good, if not exactly startling, and rather than just running through his hits, he featured more standard tunes such as
In the Jailhouse Now, Heartaches By the Number
and
Pistol Packin' Mama
.
He was signed to the Monument label in 1979, but by this time the hits were much smaller and in 1981 he was on the independent Dimension Records. In the spring of 1984, Sonny and Doris quietly retired to their farm just outside of Nashville, Tennessee. He returned home to Hackleburg during the first annual Neighbor Day Festival on April 20, 2002 and would continue attending the festival every other year.
On November 6, 2006, he appeared on television for the first time in nearly 20 years when presenter Kris Kristofferson announced on the Country Music Association Awards that Sonny was to be one of its newest inductees into the Country Music Hall of Fame. Though country traditionalists never really embraced Sonny James and his pop-flavoured vision of country music, his recordings helped broaden country's appeal to a wider audience. When told about his Hall of Fame induction, Sonny James said: 'Of course, I'm very thrilled and I'm honoured to join all of my friends in the Hall of Fame. To me, the friends I've made over the years actually meant as much to me as the Hall of Fame. I'm very appreciative and I value what the Hall of Fame is doing for so many artists.'