Write! Records
*****
As I relaxed in my lounge listening to this new album by Skip Ewing, soaking up great songs driven by real live instruments and his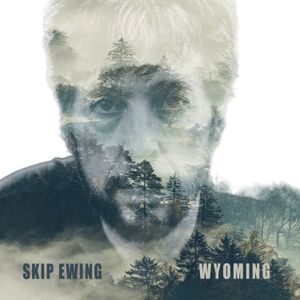 distinctive emotional tenor—all borne from real love, loss, and that clumsy dance called life—I wondered for a minute if there was anyone else out there that 'gets' what Skip and his music is all about. I've been a fan of his songwriting and singing for more than 30 years. Over those years he has released some nine albums, scored six top 20 country hits and written hit songs recorded by such diverse acts as Reba McEntire, Randy Travis, Tim Ryan, Collin Raye, Suzy Bogguss, Willie Nelson, Charley Pride, Diamond Rio and many others. Yet in all that time I've rarely come across anyone who either knows who Skip Ewing is or has ever heard his music. I just can't believe that there aren't hundreds, no thousands of people out there that 'get' this music.
Skip was born in California, grew up in an army family, mainly in Colorado, moving to Nashville in his late teens to pursue a career in music. Following a publishing contract with Acuff-Rose, he signed his first recording contract with MCA in 1987, scoring his biggest hit with Burnin' A Hole In My Heart the following year. He went on to record for Capitol, Liberty and Word before forming his own Write! Records in 2000. A few years ago he moved out west to Wyoming and took up horse-riding whilst also running songwriting workshops. For years he didn't think he'd make another record. WYOMING is his first new album in 19 years and I'm delighted and somewhat relieved that he decided to return to the studio and present us with such an amazing collection of new songs and recordings. 
Though not solely a 'western' album, in such songs as Sante Fe, Railroad, Cowboy Inside, Whisky Basin and Little Jenny, Skip explores the mysticism of the west, the majesty of the Wyoming landscape, and the richness of the legacy of cowboy music and creates a storytelling journey through country-folk roots, and beyond. He writes with the wisdom of someone who's seen his share of living, and actually was savvy enough to take notes along the way. The recordings bristle with energy and confidence while maintaining the intense intimacy Skip is known for. It's still him at his vulnerable best as he explores issues of the heart, but there's a roughness and a willingness to experiment with a sound that makes this album even more of a compelling listen. His storytelling is full to overflowing on Railroad with the gritty images that Americana music is founded on as he unfurls an epic yarn about escaping the Civil War and heading west to work on the Railroad, but it's much wider than that taking in the role of big business in its control of America and its people. It's dramatic with a gritty arrangement utilising sawing fiddles and a strident rhythm. With The Juggler, his sensitive voice gets to what that life is all about, never blinking or asking for favours as he juggles life's ups-and-downs and comparing it to his life in music. A sublime performance from one of those voices that lures you right in and proceeds to envelop you in sonic warmth. He discloses his honest feelings, the truth; we can only sit back, listen and be thankful that Skip is willing to share this with us all.
As Cowboy Inside unfolded. Bob McDill's lyrics: 'I'm crowding 30 and still wearing jeans' from Amanda came flooding into view. 40 years ago those words resonated with me like no others, and now in my mid-70s, Skip's lyrics: 'Don't write me off yet boy, I've still got the cowboy inside' resonated just as strongly. Maybe I'm just an ol' born romantic, but this song about an aging cowpoke just gets to me. There's pain, hard-earned wisdom, and realism in his voice and it's almost as if some of these songs are guiding posts along the way, or, one could think of them as scars or tattoos—songs that leave an indelible impression. Wyoming reminds us that there's something magical about a beautiful, heartfelt love song. Heart-wrenching without being over the top. Skip sings with such conviction that can only be defined as 'moving.' The lyrics are strong and courageous; each word is sung from the heart and with deep emotion. Just as compelling is Wings … as ethereal and spacey as it is grounded in sincere emotion ... a powerful, sobering love song full of weight and meaning.
One of country music's better songwriters and more unique vocalists, Skip Ewing has created a stunning set of his soft-voiced material and usual good selection of love songs and stories. He weaves together music and landscape, creating a sense of place and belonging within his songs as he wraps fiddle, steel, mandolin, guitars and strings around his inspired storytelling that is all at once insightful, honest, tenacious and vulnerable. Ultimately, WYOMING signals that after so many years and so many recordings, Skip Ewing is still pushing the envelope and challenging himself to do new things with his music.
September 2020