Siren Songs - Siren Songs
Self-released
****
Siren Songs is the moniker used by Merideth Kaye Clark and Jenn Grinels for when they get together as a duo away from their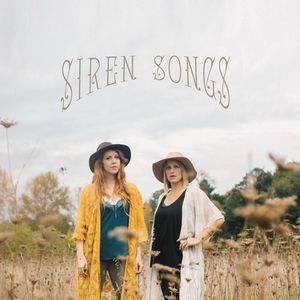 individual and blossoming solo careers. Hailing from Portland, Oregon, both ladies have spent a lifetime in musical theatre whilst touring across America and further afield to Europe as talented singer-songwriters. This shimmering nine-song collection is their first as Siren Songs and clearly Merideth and Jenn are adept at finding common ground and a harmonious sound in the process. Though it has DIY, backyard-folk-pop roots, the album expands its scope from the micro to the macro level. Apart from Lou Garrett providing bass and guitar on For Good, it's just the two of them playing guitar, banjo and dulcimer to accompany their delicate vocals. But the simplicity of the set-up doesn't mean the album is short on sonic riches. It's their adept instrumentation that drives their intimate harmonies as intricate arrangements melt into euphoric melodies with gentle restraint.
There are just three originals, but don't let that be a distraction as the six covers are given, fresh, distinctive interpretations that are endearing. Their reimagined rendition of Jolene was selected by Dolly Parton as her favourite version during the #JoleneChallenge during last year's Netflix promotion for the Heartstrings series. With just guitar and banjo they bring a new dimension to this familiar song of the eternal triangle. The forthright reading of Joni Mitchell's Chelsea Morning attests to the duo's effusive approach, although there are plenty of softer serenades woven in as well, as illuminated by the gentle sway of Edelweiss from The Sound Of Music and the bleaker Angel From Montgomery, one of John Prine's finest songs.
Goodnight Sun, Hello Moon, one of the three songs written by Jenn Grinnels is from a musical score that she was commissioned to write last year. This song holds an earthy humbled innocence focusing around softly strummed guitar and intimate vocal harmonies. Like her other two songs—100 and Gray—the theme centres around being separated and missing a loved one. The lyrics might well be inspired by the fact that Jenn and Merideth are often apart, touring separately with their solo careers. They close the album with a captivating rendition of Cyndi Lauper's Time After Time and with just Merideth's delicate dulcimer accompaniment and exquisite harmonies they give the song a whole different meaning.
It could be argued that this album offers nothing new under the sun, and I cannot argue with that assumption, but if you listen more carefully, then you'll discover that there's lots happening here that is unique to Siren Songs. It's not just a harmonious blending of voices; it's that and the blending of so many styles that hit on a wide range of emotions too. Their harmonies rise and entangle, creating a vocal latticework filled with sparkling melodies and wondrous rhythms. For me, this is what good tunes sound like, and I'm going to keep coming back for more.
https://www.sirensongsmusic.com
June 2010