Shantell Ogden - Song Sampler Vol 1
Self-released
****
A middle-American farm girl from Utah, Shantell Ogden is now firmly entrenched in the creative Nashville songwriting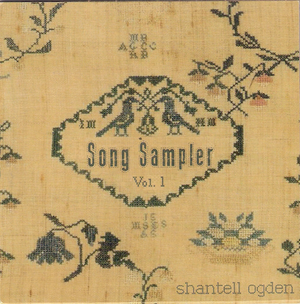 community, where she has been honing her skills over the past few years. Along the way she has recorded five albums and seen her songs featured in films and TV shows. Before her next album project she has produced this outstanding five-song sampler featuring tunes that are daringly intimate, artfully modulated, hook-blessed and habit-forming. Shantell's vocals, melody and songcraft hit a new peak and the ideas and arrangements enhance this batch of songs to perfection.
The opening Love On The Fast Track is playful, joyful and unashamedly whimsical with Shantell's vibrant vocal matched perfectly by Kenny Greenberg's raunchy guitar lines. She brings exquisite emotional range to bear in her vocal for The Heart That Breaks Me, and it helps embody the quiet, but desperate, longing and lurking within the song's speaker. There's a more funky feel to Heroes And Villains; carried along atop a swirling organ backdrop. An impeccably crafted song, each word hitting like a frustrated realisation. The autobiographical On A Haystack encompasses those feelings of moments fleeting; summer ends, seasons change but it's up to us to make the most of the moments that come with it. The closing Outrun My Faith is an empowering song that encourages listeners to keep their head held high amidst tough situations.
As a true artist and major star in the making, this sampler showcases Shantell's songwriting talents and her ability to capture ears instantly. The theme that runs through all five songs is the same: be open about life's difficulties, but optimistic about what the future holds. An incredibly honest and beautiful recording that takes us into the world of Shantell Ogden right here in our living room. 
 
October 2019