Shannon McNally - The Waylon Sessions
Compass Records
****1/2
Singer-songwriter Shannon McNally's soulful twang and timeless country-rock sounds right at home in a town like Nashville—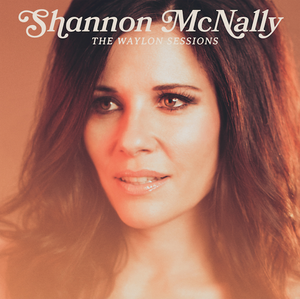 except for the fact that she was born and raised in Long Island, New York and following college graduation, she high-tailed it to busking on the streets of Paris, lived in California for a few years, then following her passion for Bobby Charles' music and southern soul, she moved to New Orleans and more recently, Holly Springs, Mississippi has been the adopted hometown for her and her young daughter. A vibrant, spellbinding performer, with performances guaranteed to melt your heart into the soles of your cowboy boots, Shannon gifts Waylon Jennings, another one of her heroes, the best kind of tribute, where the quality of the performances reciprocates the quality of the songs. Indeed, the skill and conviction with which she renders this material succeeds in making it her own. It's obvious from the outset that with the studio band of ace Music City musicians these songs are delivered with authenticity and clear conviction throughout.
Shannon has enjoyed a somewhat chequered career. She recorded her debut album, JUKEBOX SPARROWS, in 1997 but Capitol didn't release it for five years. Following the success of THE GIRLS ROOM album and tour (a collaboration with Tara MacLean, Kendall Payne and Amy Correla) in 2002, that debut album finally saw the light of day to widespread media acclaim. Since then, she's released a further seven albums and toured extensively, including working closely with Rodney Crowell, Terry Allen, Dave Alvin & the Guilty Women, Charlie Sexton and Neal Casal. Well-respected amongst fellow musicians, Shannon was able to put together a superb band for this fresh and familiar, sparkling Nashville-recorded set. The large and wide-ranging cast includes Kenny Vaughan (acoustic, electric guitar) and Chris Scruggs (bass, acoustic guitar) from Marty Stuart's band, Fred Newell (pedal steel), Derek Mixon (drums) and Bukka Allen (piano, B3, accordion, Wurlitzer) plus special guests Buddy Miller, Rodney Crowell, Jessi Colter and Lukas Nelson. Putting them all together, the result is stellar, old-school country music, funnelling its disparate ingredients into well-written classic songs loaded with grit, passion and emotional twists and turns that should appeal equally to country and Americana fans, young and old.
Laying my cards on the table, I've been a Waylon fan since 1965 and I'm pretty sure that I have everything he ever recorded in my collection. For me to appreciate any cover of one of his recordings, it's got to be mighty good. Wisely, Shannon doesn't mess around with any of these songs, yet still stamps her own identity on each and every one of them. I've always felt that I've Always Been Crazy is the epitome of exactly what Waylon stood for. Driven home by a powerful kick drum and a relentless rhythm track, this is a raucous thing where spiraling guitars and impassioned vocals collide perfectly. Starting with a sparse accompaniment of acoustic guitar before the rhythm kicks in followed by Buddy Miller's on-the-mark harmonies and Fred Newell's inspired pedal steel, gives new life to You Asked Me To, a song co-written by Waylon and Billy Joe Shaver. Though Merle Haggard had the hit with Out Among The Stars in 1986, the original, definitive version was cut by Waylon seven years earlier. Written by Scottish-born, Canadian-raised Adam Mitchell, it unwinds like a tragic short story. Haunting steel, high-strung acoustic guitar, swirling B3 organ and Jessi Colter's sensitive harmony to Shannon's plain-spoken vocal, makes this a genuine highlight, on an album full of them.
I remember vividly the first time I heard Waylon's This Time. It was in early 1974 and as soon as the needle dropped down on the record I was grooving about in the kitchen, whilst getting my two kids tea. It was his 32nd single, and his first chart-topper. This version had the same effect on me, with the added bonus of Fred Newell's harmonica notes adding a bluesy pathos to the whole thing. Rodney Crowell's I Ain't Living Long Like This, follows in perfect sequencing. The grit of the late 1970s is all over this track, with a precision that can only be the result of great musicians gelling in the studio. Rodney joins in both on harmonies and to take a verse, but all credit to Shannon's own dynamic vocal performance. With that powerful instrument, she could be a star in the rock arena. Her voice has a rebellious swagger. She tackles a couple of Kristofferson songs—You Show Me Yours, I'll Show You Mine and Help Me Make It Through The Night. The former features Lukas Nelson and with just a cursory listen, I could have sworn it was Willie, so similar are their voices. The well-known latter country-pop standard was never recorded by Waylon. He probably never ever sung it. Shannon says it's a song she always wanted to record, and she does give it a lovely reading. The band are hardly playing, keeping it very low-key allowing her pleading voice full rein.
Amongst the other great versions are a wistful We Had It All, a rambunctious Ramblin' Man and a more sedate, aching Mammas Don't Let Your Babies Grow Up To Be Cowboys. Shannon definitely has a way with someone else's words.
While some listeners these days may find themselves drawn to trendier tapestries, Shannon and her fellow musicians are reaping the rewards only the past can provide. THE WAYLON SESSIONS proves impressive, not only for the effort involved, but also for Shannon McNally's determination not to be swayed by modern conceits. Granted, she is traipsing well-trod ground, but in so doing, she is also helping to preserve some timeless tradition that still deserves full due.
May 2021