Screaming Orphans - Happy Christmas Vol 1
Self-released
****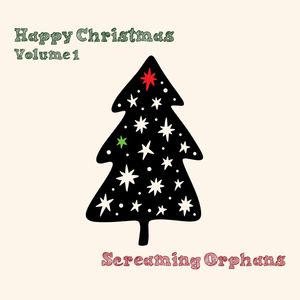 This Irish group comprising the Diver sisters—Angela (bass, violin, vocals), Joan (drums, vocals), Marie Therese (keyboards, accordion, vocals) and Grainne (guitar, vocals) have been mainstays on the international Celtic music scene for almost 25 years. They have more than a dozen albums to their name and prior to the pandemic, toured incessantly. Originally from Co. Donegal, they split their time between their New York City base and Donegal family home. On this, their first Christmas album, the sisters reimagine centuries of carols and more recent seasonal songs, making old chestnuts feel fresh and new. There's nothing else quite like sibling harmony. Just think of the Everly Brothers, or the Quebe, Beverley or Andrews sisters or just about any group of siblings who have ever stepped up to a mic while the recording process is going down. It can elevate just about any song and makes for a real treat for the ear. So it is with the Diver sisters.
They kick off with Bells, which is as much a showcase of their polished instrumental prowess as their vocal skills. This toe-tapper really gets you into the Christmas spirit with its positive and joyous ambience. The sisters' glowing harmonies are in full display on We Three Kings, with sounds from another time that seems timeless. This is a lovely arrangement that echoes the unbridled devotion the song has illuminated throughout the ages. There's a more contemporary feel to their updated rendition of Jingle Bells that is quite irresistible. The sublime Christmas Time Is Here is a song steeped in winter comfort, best played when eating mince pies in your new wool socks. They turn in a beautifully reverent O Come O Come Emmanuel, with a rich, almost choral arrangement with over-dubbed harmonies and full-bodied instrumental support. There's a much simpler approach to Blue Christmas, the old r&b number made famous by Elvis. Accordion, fiddle and tinkling piano add to the pathos and they bring female Jordanaires styled backing vocals into play. A light-hearted approach comes to the fore in the amusing tale of Miss Fogarty's Christmas Cake, a comical blend of Celtic folk and dark Irish humour.
They close this enjoyable seasonal collection with an exuberant We Wish You A Merry Christmas, which stays pretty faithful to its folk roots, but is dressed in rural garlands rather than big city tinsel. An entertaining mix of traditional music and modern composition in ways that are really swooningly rendered and out of time … a gorgeous record suffused with love, hope, and joy.
December 2021