Sarah Pierce - Barbed Wire
Little Bear Records
14542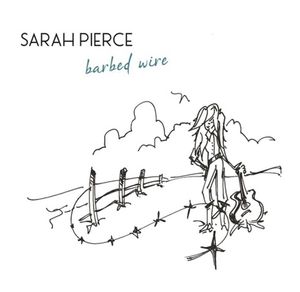 Texas-based singer-songwriter Sarah Pierce, the daughter of a cowboy, was raised in a family of cattlemen in rural West Texas. A genuine real-life cowgirl, she's been making music most of her life—BARBED WIRE is her ninth album—and she's toured non-stop across America, Europe and Scandinavia. Recently, Sarah and her musician husband Merel Bregante, moved out into the country some 30 miles from Austin and their new environment has inspired this latest collection of self-penned songs. Encompassing the influences of her heritage, Sarah delivers a transparent, introspective window into her soul with a mature sense of wisdom and confidence in her message and her craft—all mused by new chances on life. She has taken her storyteller-writing style and really captured moments within her life and turned them into meaningful music. The songs contemplate true friendship, the unity of the small town folks and the joys of day-to-day life, western and cowboy themes, our part in the natural world, as well as the treacheries of the heart.
Sarah sounds like she has the quiet bucolic beauty of rural roads and the open plains coursing through her veins.
Listening to Small Town makes you feel like you're ambling down a dusty country road toward something that might not exist anymore. She champions strong women in Wild Ones, which she dedicates to Merle's Mom (Haggard that is), with some neat Roy Nicholls chicken-pickin' guitar notes in the background. Her no-holds-barred stance Barbed Wire
cuts to the quick within the simplicity and poignant themes across the range of this album seeming juxtaposed to the richness of Sarah's western heritage and her coffee-house folk traditions. This is one woman who knows who she is and won't be messed around with by anyone.
Her songs are music as landscape, timeless tales that instantly take root in your mind as though they've been there forever. The easy gait of
Saddle Up
, the picturesque visions that spring out of a
Mackerel Sky
and the working class passion evoked by
Call Us Proud
reverberate long after the disc has stopped spinning. With some of Austin's finest musicians providing the accompaniment it's as musically accomplished as you would imagine, but it's Sarah's relaxed, assured vocals, catchy melodies and wry lyrics that are its greatest strengths
www.sarahpierce.com