Samuel James Taylor - Wild Tales & Broken Hearts
Ki An Projects
****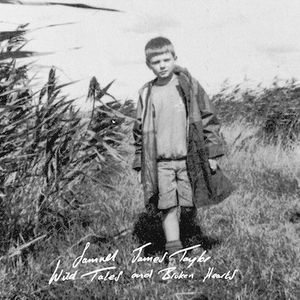 When you hear the warm, lived-in voice of Sheffield's Samuel James Taylor on his new Nashville-recorded album, you'd never imagine the emotional turmoil he went through leading up to making it. He delivers sparse, poetic and illuminating songs that embrace darkness and uncertainty as he discovers and embraces the many facets of life that shine in the light. Intensely introspective in his writing and understated in his singing, Samuel, to be sure, flirts with mopiness at times. But he also wisely will inspire people looking for silver linings in their struggles. He plays gentle, but vivid folk music with a very commercial flair, both anachronistic and brand new, with a decidedly indie-ish vibe pushing it somewhere that more straightforward folk refuses to go. These are story songs of sorts, resonating with a dedication and devotion that not only animate each entry, but also find empathy and emotion figuring prominently in the proceedings. Push past all the emotions he leads with to find sublime songwriting and brilliant use of literary devices. Tracking like an introspective journey through heartbreak and healing, Samuel's ideas about home, connectedness, memories and the notion of using music as a means of time travel through life experience shine. Glorious testimonies to joy, to courage, to self-affirmation, to love, he distills warm breeze vocals and ripple acoustic, steel and electric guitars into the kind of songs that seem to hang in the air like slight humidity; affecting and strangely comfortable.
The album was recorded live over three days at Skinny Elephant Studios in Nashville, with Neilson Hubbard handling production and some of Music City's finest session players providing the subtly inventive accompaniment. Samuel seems to take his cue from the opening title track which shows his gift for melodic soft rock. His deft finger-picked guitar opens up the strident tune … the music is contagious and rolls easily through the air as he sings about holding onto your youthful dreams and idealism, despite setbacks life might throw at you. Credit to him for keeping his sensibilities intact and refusing to compromise his craft. Balancing the tightrope of life is the theme of the flowing Faith, Hope And Fortune, with gentle steel guitar adding a wistful vibe.
Haunted by ghosts of the past, present and future, he traverses romantic entanglements in Exquisite Pain, I Kissed Your Sister Under The Apple Tree and Through The Silence And The Half Light. The gorgeous Churchville Avenue, a tender echo of Jim Croce's quieter moments, is a simple ode to the impact that the past can have on the present and the future as he looks back fondly at childhood memories. The unabashed Map Of Love paints wide brush strokes of nature across a vast Yorkshire canvas, making it all the more vividly scenic. Samuel understands that quiet can speak volumes as the sound and sentiment hews to a personal perspective of an endless true romance. Though it might not seem like it from the title, the marching rhythm of Rage And Fight, disguises a declaration of a love that is well worth fighting for with a passion that is tangible. The wistful The Best Is Yet To Come looks both back and forward while glistening with desire. WILD TALES AND BROKEN HEARTS' greatest accomplishment is how perfectly it showcases his distinct voice, so filled with longing that it can make even the most satisfied listener yearn for something.
October 2022