Rod Picott - Paper Hearts and Broken Arrows
Welding Rod Records
*****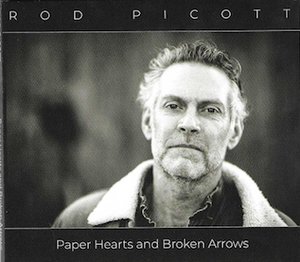 Over the past 25 years, Rod Picott's vivid imagery and expansive song topics have established him as a singular voice in songwriting. A measured and patient songwriter, he takes his time establishing and exploring key themes that are important to him. He writes lyrics that feature colourful anecdotes and vibrant storytelling. His unique songwriting shines with a literary sensibility and his ability to craft characters is on full display on this, his 14th album. Rod's own story is as rich and winding as the stories he weaves in his songs. Music that has never stopped being fearless and full of risks, lyrically, he is exploring the devastating ways our demons devour us, and the scrappy ways we surprise ourselves by fighting back against them. His cracked, yearning vocals explore themes familiar to fans of his work: his wandering faith; the weight of his upbringing; the embrace of life's discoveries—each new chapter feels like required listening. It represents the hard-won experiences—the joys and the sorrows—inherent in a late life experience of making a living on the road and performing worldwide following years of manual work. In other words, a biography on hard-living, song and music.
This album is far less bleak than its predecessors: a wise and transportive record, with Rod Picott taking his place among the classic contemporary songwriters. A great poet and storyteller needs only a guitar to deliver the emotional rawness of soul searching and the ragged desperation of trying to come to terms with one's place in the world. The desolate Lover is a lonesome number, with evocative pedal steel weeping alongside Rod's brutally honest confessional words of living alone that hits like a sigh, deep and unconsciously shed. He continues to be audacious and completely without fear when he approaches a song. Even as he's confronting the age-old battle between right and wrong in the gritty Appalachian yarn about a Revenuer, his seamless blending of gritty rock and mountain soul keeps things intriguing in this compelling story song. The gently melodic Dirty T-Shirt showcases a different side of the singer that's especially evident in the easy and affecting arrangement that verges on sensuality and a slightly erotic feel, which is very much at odds with his usual rough-hewn persona.
A long-time boxing fan, he takes on Sonny Liston, with typical bravado as he outlines the life of the heavyweight legend with a no-holds-barred veracity. In a little under four minutes, he paints a visual portrait that should enthrall all listeners, even those who have little or no interest in boxing. He returns to his own life experiences in Lost In The South. A rather special one, this has him sharing his experiences of facing up to the cultural differences of his life in New England and how they do things in the South. Highlighting not just his voice, which gently frowns at its corners, trailing off into unspoken sadness, but also the inventive production flecks of his work; the swirling steel that drapes this song in a different kind of light conveys a deep sense of forlorn acceptance.
The album is meticulously produced by Neilsen Hubbard, and that sense of care extends to the expert mixing and mastering that results in a captivating listening experience. Rod plays the highly effective acoustic guitar that is central to all the tracks and is joined by Hubbard on piano and percussion, Lex Price on bass and tenor guitar, Juan Solorzano on pedal steel and slide guitar and drummer Evan Hutchings. It pays off, leaving on the table a collection of honest stories about injustices and resilience, and persevering despite adversity. Throughout the album, Rod Picott's voice is soulful but cracked, as if he's keeping a tight rein on his own emotions to ensure that his devastating lyrics hit their target: your heart, mind and soul.
April 2022