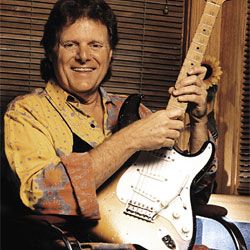 Nashville session guitarist Reggie Young, reputedly responsible for playing on more recording sessions than any other studio musician, passed away at his home in Leipers Fork, Middle Tennessee on January 17, 2019. He was 82. An unassuming musician, he had that rare ability to come up with distinctive riffs almost at the drop of a hat to enhance such classic hits as Dobie Gray's Drift Away, Elvis Presley's Suspicious Minds, Willie Nelson's Always On My Mind, Dusty Springfield's Son Of A Preacher Man and hundreds more. He was the lead guitarist in the American Sound Studio house band, The Memphis Boys before moving to Nashville to become one Music City's leading session musicians.
He was born on December 12, 1936 in Caruthersville, Missouri. His father was a musician who played Hawaiian lap-steel guitar. The family moved to Osceola, Arkansas when Reggie was still a toddler before settling in Memphis, Tennessee in 1949. His father bought him a guitar for his 14th birthday and influenced by a WSM radio show called Two Guitars, which featured Chet Atkins, within a year he was playing with local star Bud Deckelman and his Daydreamers. After they played at a barbecue joint named Porky's Rooftop in Newport, Arkansas, proprietor Porky Sellers was so impressed that he convinced Reggie's parents to let him move to Newport for the summer and join his band, which was led by a fiddle player named Kinky King. Up until that time, Reggie had been using a thumb pick like his idol Chet Atkins, and it was King who convinced him to use a flat pick instead, opening up a whole new world in the process.
Before long he was recruited by Arkansas hillbilly hero Tommy Trent to join him on his popular live show on KATV in Little Rock.
Back in Memphis, he would cut one of his first sessions, backing Barney Burcham with The Daydreamers on Meteor in 1955. The next year he was invited to join Eddie Bond and The Stompers, a popular rockabilly outfit that was tearing it up in the clubs. Reggie's first recording with the band, Rockin' Daddy, was released in March 1956 and became a local best-seller. Reggie was soon criss-crossing the South in rockabilly package tours with Roy Orbison, Carl Perkins, Johnny Cash and Johnny Horton.
Horton was beginning to make his mark with top 10 country hits I'm A One Woman Man and Honky Tonk Man and persuaded Reggie to join his 'band' comprising Horton (rhythm guitar), his manager Tillman Franks (upright bass) and Reggie (lead guitar). The trio were in heavy demand and in 1957 Reggie moved from his Memphis home to Shreveport, Louisiana, where Horton was a regular on the famed Louisiana Hayride radio show.
Tiring of the extensive touring, Reggie moved back to Memphis in 1959 and was soon offered a job playing in the 'house band' at the Hi Records studio by Bill Black, Elvis' former bass player. According to legend, one day he decided to tune the strings on his guitar way down low, and the rest of the band soon joined in. Liking the sound that they were creating they produced Smokie Part 2, which was soon rush-released by London-Hi Records in December 1959 by the Bill Black Combo. This was at a time when instrumental groups were popular with teenage record buyers and the hypnotic musical creation rapidly climbed into the American top 20.
Further hits followed with White Silver Sands, Josephine and Don't Be Cruel. The band appeared on American Bandstand and had an extensive tour lined-up when Reggie was drafted into the American Army in early 1960. He was stationed in Ethiopia where he maintained his guitar playing with the Tiny Stoops Band. Following his discharge, he returned home to Memphis to continue his session work.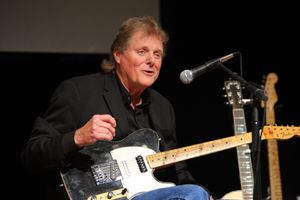 Bill Black's Combo were still touring heavily with Bob Tucker having taken Reggie's role for live dates. The group was invited to open for the Beatles during their 1964 US tour and so at this time Reggie decided to re-join the band. Playing coast to coast in 24 different cities (a far cry from The Hayride days), the Combo got to witness Beatlemania first hand. Reggie was also able to connect with George Harrison and the Beatles guitarist picked up many tips from the more experienced musician.
That tour led to Bill Black's Combo undertaking an extensive European tour in late 1964 during which Reggie got to meet another up and coming guitarist, Eric Clapton, who was then a member of The Yardbirds. The pair shared a mutual admiration for each other's playing throughout the years.
Back in Memphis, Bill Black's Combo, which now included keyboard player Bobby Emmons, continued to be Hi's studio band, as well as 'playing out' behind their sax man Ace Cannon. Willie Mitchell, who led one of the most popular R&B bands on 'the circuit', was now also a regular at the studio, and the smokin' instrumentals he cut there would feature Reggie on guitar.
Following the death of Bill Black in 1965, Reggie assisted in the formation of the Memphis Boys, the famed house band at legendary producer Chips Moman's American Sound Studios, where he worked tirelessly from 1967 to 1972. Reggie would play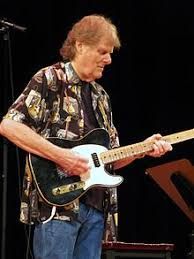 up to 20 sessions a week and was featured on around 120 hit singles, pop, country, rock, or soul, during this period for the likes of Elvis Presley, Dusty Springfield, Neil Diamond and B.J. Thomas, among others. 
American Sound Studios closed its doors in 1972, after Chips decided to move his operation to Atlanta. Reggie hung in there with him for a while, but nothing much was happening. Moving on to Nashville, he called his friend from Muscle Shoals, David Briggs, who had opened his own studio, Quadraphonic. Briggs was working with producer Mentor Williams on a Dobie Gray country-soul album and called Reggie in to handle lead guitar. It was his highly distinctive opening guitar riff that helped Dobie's 1973 single Drift Away become one of the most influential hit songs of the 1970s. Reggie's guitar was also all over the album, which is now highly regarded as one of the finest Nashville-produced records of the time.  
Briggs was working sessions with Waylon Jennings, playing keyboards on his recordings and being one of the major players in Jennings' emergence as a leader of the Outlaw movement. He brought Reggie into the fold and beginning with 1973's ground-breaking HONKY TONK HEROES played on virtually every one of Jennings' future albums. This was a crucial breakthrough for Reggie whose ethereal guitar licks had him working all over Music City, often cutting three sessions a day. 
He also lent his skills to albums by Kenny Rogers (THE GAMBLER and Guy Clark (OLD NO. 1) plus such diverse artists as Tanya Tucker, Eddie Rabbitt, John Prine and Jessi Colter.
In 1975, his old friend Chips Moman had made the move to Nashville and re-opened his American Sound Studio there. His first order of business was to reunite B.J. Thomas with Reggie and the band he had recorded his hits with in Memphis. The resulting REUNION album went straight into the top ten on the Country charts and included (Hey Won't You Play) Another Somebody Done Somebody Wrong Song the smash hit that would win a Grammy for Country Song of the Year.
Working on virtually every session that Chips Moman was involved in led to him being associated with recordings by Willie Nelson, Kris Kristofferson, Johnny Cash and of course Waylon on such notable hits as Luckenbach, Texas, Always On My Mind and Pancho & Lefty. After playing on the sessions for the Highwaymen (Johnny Cash, Waylon Jennings, Willie Nelson, and Kris Kristofferson) in 1984, Reggie joined their touring show for a five-year stretch (1990–1995). He also played many sessions and concerts with Waylon Jennings, including his final tours featuring the Waymore Blues Band before Jennings' death in 2002.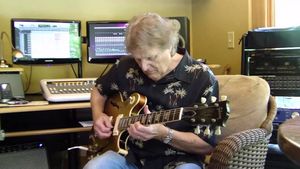 It was while working with the band that Reggie met his wife, the classically trained cellist Jenny Lynn Hollowell, in 1999. She was also a member of the band. They married in 2004 and resided in Leipers Fork in Middle Tennessee, where Reggie spent much of his time composing in his home studio.
Reggie continued to play sessions including recordings for George Strait, Reba McEntire, Jimmy Buffett and Travis Tritt to name a few. He was nominated for a Grammy and also performed at the Kennedy Center in honour of Johnny Cash and Willie Nelson. 2008 saw the Country Music Hall of Fame recognise him as a 'Nashville Cat.' That same year also saw the debut of his first solo album, the independently released, inspirational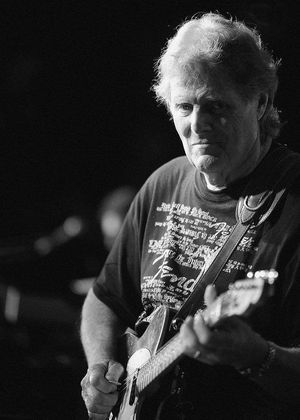 BE STILL, a collaboration with wife and cellist Jenny Lynn Young.
August 2009 saw the Memphis Boys, along with Chips Moman, receive acknowledgement by the Memphis Grammy Chapter for their pioneering work on Suspicious Minds during a Graceland fan reception. After almost 45 years of playing together, this was their first award. In 2017 Reggie recorded FOREVER YOUNG, a collection of soulful original instrumental compositions, released by UK's Ace Records. A career-spanning 24-track compilation of selected recordings on which he played, REGGIE YOUNG: SESSION GUITAR STAR, was also released by Ace Records in January 2019.
Reggie Young's name may not be instantly familiar to the masses, but his guitar work has been heard by nearly everyone with a set of ears. Though he was a self-effacing and humble character, fellow musicians always took note of his great gifts. After working with Reggie, Eric Clapton said he was the greatest guitar player he had ever heard—that's a pretty good accolade. Though he is known predominantly for his work with country performers, Reggie was never tied down by musical straitjackets and played in a variety of styles on recordings for a stunning array of artists from Bob Dylan to Gladys Knight, the Staple Singers to Paul Simon, Herbie Mann to Joe Cocker, B.B. King to Sinead O'Connor. Few, if any, guitarists can lay claim to the amount of chart success he has had over the years, in virtually every genre imaginable.