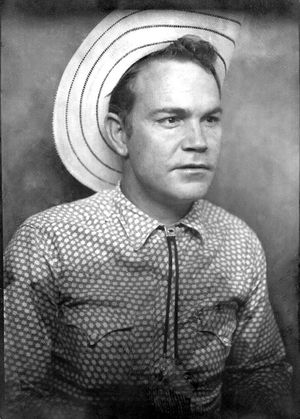 Red Simpson, highly regarded as one of leading lights of truck-drivin' music of the 1960s and 1970s and a pioneer of the Bakersfield Sound, passed away on January 8, 2016. He was 81. Though he was semi-retired, he was on a tour in the Pacific Northwest in December when he suffered a heart attack. After being released from hospital just before Christmas, he fell ill again on January. 8 and was rushed to a Bakersfield, California hospital, where he died.
Red Simpson may have charted truck driving songs, and popularised the image of life on the road via such songs as
Roll Truck Roll, Diesel Smoke Dangerous Curves, Country Western Truck Drivin' Singer
and his biggest hit,
I'm A Truck
, but his talents were far, far broader. As a member of the West Coast's Bakersfield community, he was at the centre of the vibrant honky-tonk scene that spawned Buck Owens and Merle Haggard—and wrote hits for both of them. He was a multi-instrumentalist who composed hundreds of songs and earned a reputation as one of Bakersfield's most respected and successful songwriters.
Joseph Cecil Simpson (or, Joe, as the family called him, even after everyone else knew him as Red) was born in Higley, Arizona on March 6, 1934. He was the youngest in a large family that was constantly on the move, always hoping for a better way of life. It was such ambition that led the Simpson family to settle in the Arvin Migrant Camp, Weedpatch, on the outskirts of Bakersfield in 1937, three years after his birth. (The camp later gained notoriety after John Steinbeck spent time there, researching his novel The Grapes of Wrath).
A few years later, with enough money saved, the family bought property in an area known as Little Okie, and it was there, at the age of five, that the youngster first sang in public—in the front room of a house used as a church and dubbed 'Red' by a Pentecostal pastor. Music was central to the family as they struggled to make ends meet, as a means of distraction from their financial hardship. Red's older brother Thomas (known as 'Buster' and 19 years his senior) had joined The Orange Blossom Playboys, the band of Bill Woods, long regarded as the father of the Bakersfield music scene. Red was inspired by both his brother and Woods, and when he was old enough to make some money shining shoes, he hung out at the various clubs in the area, getting the opportunity to meet up with such country performers as Hank Williams and Tex Ritter.
By his teenage years, Red was hooked on music, penning his first song. After serving in the Navy where, in his spare time, he taught himself to play guitar, fiddle and mandolin, he began playing in many of the local clubs throughout the Bakersfield area, eventually being noticed by Fuzzy Owen at the Wagon Wheel in Lamont. Owen invited Red to begin playing at his Clover Club as a piano player. The exposure he received there would lead to him becoming a regular at the historic Blackboard Club on weekends, where he replaced Buck Owens, who had struck out on his own history making career.
By the mid-1950s Red was regularly visiting Capitol's recording studios, hanging out with Bakersfield musicians that producer Ken Nelson was using on his artists' sessions. Around the same time he started as a songwriter and got his first cut with
Sad, Sad Saturday Night
recorded by Johnny Taylor on the Bakersfield-based Fire label. A step further up the ladder came when The Farmer Boys, on Capitol, cut his
Someone To Love
. Red made his recording debut in 1957 with
Sweet Love
for Tally Records, but the single was released under the name Glen Ayers, the drummer who had paid for the session.
It was to be another five years before Red was to record again, though he kept busy playing the local clubs in-and-around Bakersfield, writing songs and working on sessions as a sideman. In 1962 he recorded the novelty
Big Bank Robbery
for Los Angeles based Lute Records, the label which had previously released the massive pop hit
Alley Oop
by the Hollywood Argyles. Another single,
One Day With My Baby
, on the Millie label, had him billed as Red (Suitcase) Simpson, because he was regularly with a suitcase full of his original songs. It was an answer song to Dave Dudley's
Six Days on The Road
, truck driving hit.
Red's move into the songwriting big-time came via Buck Owens who, first, recorded his original
King Of Fools
in 1962 and gave him his first chart hit two years later with
Close All The Honky Tonks
, though it was the Charlie Walker cover version that made Top 20. Around the same time the recently paroled Merle Haggard recorded my favourite Red Simpson song,
You Don't Have Far To Go
(as the B-side of Tommy Collins penned
Sam Hill
). Merle subsequently recorded the song three more times under the title
You Don't Have Very Far To Go
, and it was also recorded by several other singers including Rosanne Cash and Johnny Paycheck.
Buck Owens continued to record numerous Red Simpson songs including
The Band Keeps Playin' On, Let The Sad Times Roll On, (I Want) No One But You, Gonna Have Love, Kansas City Song
and
Sam's Place
(which gave the writer his first number one). In one year alone, Owens recorded 19 of Red's songs in 1965, at the same time, he brought him in as a musician on his Capitol sessions.
By the mid-1960s truck driving songs had begun to become really popular in country music following the success of Dave Dudley's
Six Days On The Road
and
Truck Drivin' Son Of A Gun
, George Hamilton IV's
Truck Drivin' Man
, the Willis Brothers'
Give Me Forty Acres (To Turn This Rig Around)
, Red Sovine's
Giddyup Go
and Dick Curless'
A Tombstone Every Mile
. Capitol Records producer Ken Nelson was looking for someone to record some songs about trucking. His first choice was Merle Haggard, who wasn't interested, but Red Simpson readily agreed.
In 1965, Red's first single for Capitol, Tommy Collins'
Roll, Truck, Roll
, became a Top 40 country hit and he recorded an album of the same name. That year he enjoyed further hits with
The Highway Patrol
and
Diesel Smoke, Dangerous Curves
. Over the next couple of years he released three more excellent albums—THE MAN BEHIND THE BADGE, TRUCK DRIVIN' FOOL and A BAKERSFIELD DOZEN—which at the time were at very top of my playlist.
Following the failure of his singles
Jeannie With The Light Brown Cadillac
and
Mini-Skirt Minnie
his Capitol contract wasn't renewed so Red worked extensively with Merle Haggard as a band member as well concentrating on his writing with Cliffie Stone's Central Songs music publishing company.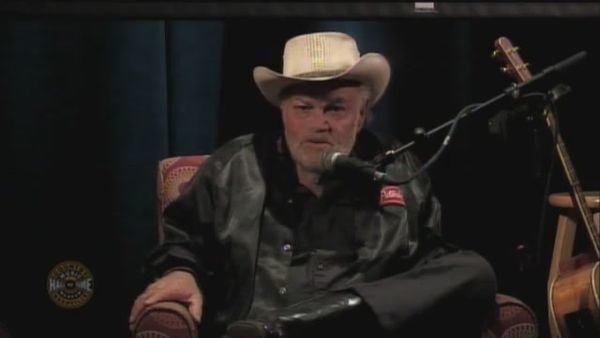 In 1971 Red recorded some tracks for Gene Breeden's Portland Records, one of the songs being
Hello, I'm A Truck
(written by Bob Stanton, a postman from Granger, Washington) which created an immediate radio buzz. Capitol acquired the master and re-signed Red as an artist. It gave him the biggest hit of his career, peaking at number four on the country charts and followed by an album titled after the hit. He remained with Capitol for two years and scored a couple more hits with
Country Western Truck Drivin' Singer
and
Awful Lot To Learn About Truck Drivin'
and, among his album releases, was the festive offering TRUCKERS CHRISTMAS.
In the relatively short-lived period when truck driving songs enjoyed great chart popularity, Red Simpson was one of the big four—the others being Dick Curless, Dave Dudley and Red Sovine. Although he had never driven a truck, he won conviction for the genre with his deep, authoritative  voice and songs like
Nitro Express, Highway Man
and
Truck Drivin' Fool
.
Red's second departure from Capitol Records came at the time the label's country division was officially moved to Nashville in an effort to move it from hillbilly to a more contemporary image. In 1976, he signed to Warner Brothers and released
Truck Driver's Heaven
. The following year, he teamed up with Lorraine Walden for a series of duets that included
Truck Driver Man And Wife
. In 1979, Red appeared for the last time on the charts with
The Flying Saucer Man And The Truck Driver
.
Red continued to record periodically from the 1980s onwards. In 1988, he was diagnosed with skin cancer, but made a full recovery and continued his writing and performing career. With the renewed interest in the truck driving genre in the mid-1990s, driven by Diesel Only Records, Red collaborated with alt.country artist Junior Brown on new recordings of
Semi-Crazy
and
Nitro
Express
, following Junior's success with his revival of
Highway Patrol
. 
Even into his late 70s Red could still be found performing regularly in the Bakersfield area at Trout's in Oildale and beyond. He was Bakersfield's Ambassador at Nashville's Country Music Hall of Fame when The Bakersfield Sound: Buck Owens, Merle Haggard and California Country exhibition opened on March 23, 2012, which featured him and his music prominently.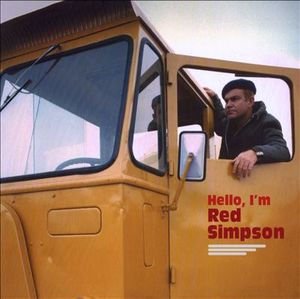 His final recording was
Hey, Bin Laden
, and he appeared alongside Bakersfield business owner Gene Thome on his ode to Simpson, Haggard, and Owens
It's a Bakersfield Thing
released in early 2015. He was also working on a project with Windsor Music tentatively entitled The Bard of Bakersfield.
In 2012 Germany's Bear Family Records released HELLO, I'M RED SIMPSON, a five-CD set that contains all of his recordings from his late 1950s debut through to the early 1980s. The box set comes with a large 108pp book with rare photos, all that you need to know about Red Simpson's life and his music career, alongside session details for all of the recordings and is highly recommended.
Though he didn't enjoy a whole lot of hits himself, Red Simpson did release a series of great albums and has long been held in high esteem by many veteran country music lovers and by fellow artists, both past and more recent. His records didn't sound like anyone else's at the time. His deep, rich voice was full of authority … it was the voice of a working man and perfectly suited the truckin' songs that he specialised in.
Truck-driving songs might be the most unique in country music, as they romanticised a hard life spent on the highway, evading Smokey and his radar and popping pills to stay awake. Along with Dave Dudley, Red Sovine and C.W. McCall, Red Simpson gave truckers a voice. But Red Simpson was even more influential in creating the Bakersfield Sound, the California-born style of Telecaster-heavy twang that became associated with Buck Owens and Merle Haggard and was to prove a major inspiration for such later performers as Brad Paisley, Dwight Yoakam, Clint Black and so many others. He was also a talented, and somewhat underrated songwriter, possibly his biggest writing success came with
Close All The Honky Tonks,
a top 20 hit for Charlie Walker in 1965, which has been covered by many other acts including the Flying Burrito Brothers and Dwight Yoakam.