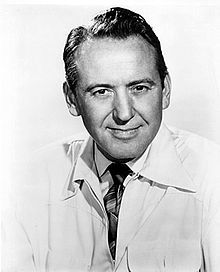 The silky-voiced Red Foley brought a smooth sophistication to country music in the 1940s making the music more palatable to a much wider audience. Though he grew up a Kentucky backwoods boy, Foley was much more ambitious than the average country bumpkin. During a musical career that started out with the 1930s barn dances and culminated in him hosting his own long-running TV variety show, he did more than any other country performer of his time in taking country music to the mass middle-American audience. One of the first country acts to record regularly in Nashville, he enjoyed regular country-pop crossover hits during the 1940s with Smoke On the Water, At Mail Call Today, Tennessee Saturday Night, Chattanooga Shoe Shine Boy, Birmingham Bounce and Goodnight Irene. He could never be termed a country purist, as early on he recorded with Lawrence Welk and his Orchestra, in an effort to reach the widest possible audience. He also worked tirelessly within the music industry and through the media to replace the word 'hillbilly' with the less derisory 'country.' His public image was of an immensely popular God-fearing family man, but behind the façade lurked a murkier side. His second wife, Eva Overstake, committed suicide in 1951, after discovering that Foley was having an affair with Sally Sweet, a younger woman he was later to marry. He was also something of a heavy drinker and suffered bouts of depression that worsened as his popularity plummeted in the early 1960s.

Clyde Julian 'Red' Foley was born on June 17, 1910 in Bluelick, Kentucky. His father ran a general store in nearby Berea and from quite a young age Red showed an interest in music, learning to play on a harmonica from his father's store. Though he was a keen school athlete, by the time he graduated, he had won a local talent contest which led to a voice scholarship in Georgetown College, Kentucky. He quit college in 1930 to move to Chicago where he became a member of John Lair's Cumberland Ridge Runners on the WLS National Barn Dance. The band comprised Red on lead vocals and guitar, 'Slim' Miller (fiddle) and Hartford Taylor (guitar) and Karl Davis (mandolin). The latter pair also worked as Karl & Harty and were talented songwriters. Several of the songs recorded by Red and the band were penned by John Lair, who ran the Barn Dance. These included such traditional-based songs as Blonde Headed Girl and The Dying Rustler. In 1934, Red teamed up with Lulu Belle Cooper on the Barn Dance as a double act, Lulu Belle and Burr Head. In March that year they recorded several duets, including Daffy Over Taffy and Little Black Moustache. By the mid-1930s the show was gaining wide exposure being broadcast over the NBC network. His first wife, Pauline Cox, died in 1933, giving birth to their only child, Betty. Shortly after he married Eva Overstake, a WLS performer with the Three Little Maids. The couple had three daughters: Shirley Lee (who was to marry pop singer Pat Boone), Jennie Lou and Julie Ann. By this time Red was releasing records under his own name, often with just his own solo guitar accompaniment. In December 1935 he recorded the first version of his self-penned classic Old Shep—later to be made famous by both Hank Snow and Elvis Presley.

In 1937 he helped to originate the Renfro Valley Barn Dance Show, which was broadcast from Cincinnati, Ohio until 1939, when it moved to its permanent, purpose-built home in Renfro Valley, Kentucky in 1939. The following year, Foley moved back to the WLS Barn Dance, and also signed with Decca Records. One of his earliest hits came with the self-penned Old Shep, a weepy about his dog, that was made more famous some fifteen years later when recorded by Elvis Presley.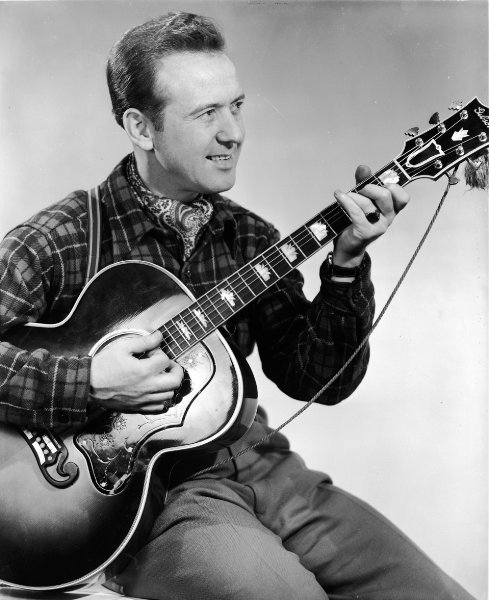 In late 1940 Red was signed to Decca Records, an association that was to last for the next twenty-seven years. His first session for his new label took place in Chicago, this time with string band accompaniment provided by the WLS Rangers. Included was a new version of Old Shep, and Gene Autry's Be Honest With Me. Later that year he became one of the first to regularly record the songs of his sister-in-law Jenny Lou Carson—an oft overlooked female songwriter in a business dominated by the men. In the summer of 1945 Red travelled to New York City to record with Lawrence Welk and his Orchestra. The coupling of At Mail Call Today and Shame On You became a country chart-topper and also hit the pop top twenty later that year. In August 1947 he became one of the first to regularly record in Nashville. The session included such well-known musicians as Jerry Byrd (Hawaiian steel), Zeke Turner (electric guitar) and Tommy Jackson (fiddle). By this time Red was a regular on the country charts with such songs as Freight Train Boogie, Tennessee Saturday Night, and Tennessee Border.

He became a Grand Ole Opry member, hosting the Prince Albert Show, which was broadcast by NBC. He is credited with helping to bring The Opry national recognition and during his eight-year stint there he worked alongside all the greats. It was also at this time that he was at the peak of his popularity. He enjoyed number one country hits with songs like Shame On You, New Jolie Blonde, Tennessee Saturday Night and Mississippi. He was the first country singer to utilise the legendary Jordanaires on his recordings, with the 1950 hit Just A Closer Walk With Thee. From the same year came Sugarfoot Rag, which introduced the legendary Nashville session player Hank 'Sugarfoot' Garland. There were also duets with Ernest Tubb, Evelyn Knight, daughter Betty Foley, and Kitty Wells, and in 1953, he recorded with The Anita Kerr Singers, to bring an even lusher and fuller sound to his records. By this time he was heavily into gospel music, scoring million sellers with There'll Be Peace In Valley For Me (with The Sunshine Boys Quartet) and Steal Away. In 1954 he left The Opry to host the Ozark Jubilee in Springfield, Missouri, one of the first successful country music TV series. A highly popular programme, it was the starting place for several future stars, include Brenda Lee and Porter Wagoner. Being away from Nashville had an adverse effect on his record sales, and after 1956's You And Me, he failed to make the top ten. He continued to record many albums and in the early 1960s he co-starred with Fess Parker in the ABC-TV series, Mr. Smith Goes To Washington. By this time his popularity as a major country act was near to rock bottom. In 1967, he was elected to the Country Music Hall of Fame. After a performance in Fort Wayne, Indiana on September 19, 1968, Red Foley died of a heart attack. Performing everything from sentimental ballads to boogie to gospel to rockabilly to blues, he is reputed to have sold more than twenty-five million records.

Recommended Listening

Dear Hearts & Gentle People (Decca 1962)
Tennessee Saturday Night (Charly 1984)
Country Music Hall Of Fame (MCA 1991)
Stay A Little Longer (Jasmine 2000)
Old Shep: The Red Foley Recordings 1933-1950 (Bear Family box set 2006)