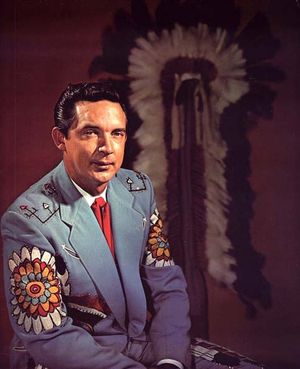 Country music legend Ray Price has died of complications from pancreatic cancer. He was 87.He was diagnosed with pancreatic cancer in 2011, but ended aggressive treatments on Thursday December 12, after the disease spread to his liver, intestines and lungs. The Country Music Hall of Famer had returned to his ranch outside Mount Pleasant, Texas, last week to receive care. On Monday December 16, the singer's death was reported by mistake by his son and the story was carried by various newspapers and journals across the world. Then a day or so later, his wife Janie Price confirmed that her husband had indeed passed away, but at this time there seems to some confusion as to whether that was on Monday, as earlier announced or more recently.
Possessor of one of the smoothest voices in country music, but also a true stylistic innovator, Ray Price is best remembered as a big-voiced balladeer utilising lush orchestral arrangements on pop-country ballads such as For The Good Times, She's Got To Be A Saint and I Won't Mention It Again. But in the 1950s and early 1960s he was a stone honky-tonker. The 'Cherokee Cowboy' started out very much as a Hank Williams' clone, as did so many of the young newcomers in the 1950s. The first edition of his band the Cherokee Cowboys dates back to 1954, when Price formed it by taking the top members of Hank Williams' Drifting Cowboys and Lefty Frizzell's Western Cherokees.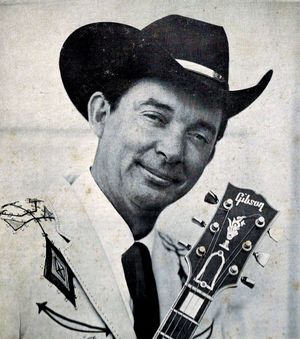 As he grew out of the Williams' association and began stretching out more as a singer and arranger, he formulated a heavier honky-tonk style that suited the Texas dancers who he successfully weaned back to country music at the height of the 1950s rock'n'roll boom. He struck gold with Crazy Arms, a 1956 country chart-topper that was heavy on fiddle, steel, and high tenor harmony, with an insistent 4/4 shuffle. It was to be his trademark styling for several years and resulted in such signature hits as My Shoes Keep Walking Back To You, City Lights, Heartaches By The Number and Heart Over Mind. He turned to smooth ballads in the early 1960s, starting with the Nashville Sound of Make The World Go Away and The Other Woman. An astute judge of current trends and possessing an ear for up-and-coming songwriters—he was one of the first to recognise Kris Kristofferson's potential—Price realised that country had to appeal to a wider audience in order to forge ahead. Accordingly, he began using larger back-up units, often employing full string sections, in his plan to take country to a non-country audience. He ditched any pretensions to a cowboy image and began appearing onstage in a dress suit. Yet the ballads still sounded as though they came out of Texas, and the ploy worked.
Born on a farm in Perryville, East Texas on January 12, 1926, he grew up obsessed with the western swing sounds of bands like Bob Wills and His Texas Playboys. His parents divorced when he was quite young and so he spent his childhood split between his mother's home in Dallas and his father's farm where he was born. He learned how to play guitar and sing in his early teens. Following his high-school graduation, he studied veterinary medicine at North Texas Agricultural College in Abilene before he left to join the Marines in 1942. After returning to civilian life, he continued his college education and began appearing at local clubs, eventually making his radio debut in 1948 in Abilene.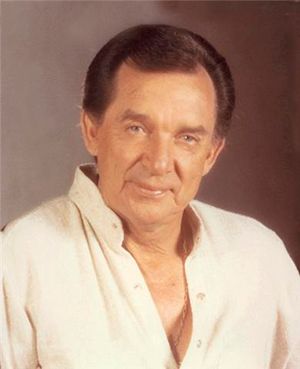 In 1949 he was invited to join the Big D Jamboree in Dallas, where he made his recording debut with
Jealous Lies
, on the independent Nashville-based Bullet Records. Having befriended Lefty Frizzell, in 1951 he was picked up by Columbia Records, and his first single was a Frizzell song. He then hooked up with Hank Williams, which led to him joining the Grand Ole Opry, and making his chart debut in 1952 with
Talk To Your Heart
and
Don't Let the Stars Get In Your Eyes
. Further hits followed with
I'll Be There (If You Ever Want Me)
and an early version of
Release Me
, which was to become a pop hit for Englebert Humperdinck a dozen years later.
Crazy Arms
, a driving honky-tonk number, became a 1956 million-seller; it was one of the first country records to be recorded with a drum kit, which gave it a relentless, pulsating rhythm.
As
I've Got a New Heartache, My Shoes Keep Walking Back To You
and other hits climbed the charts during the late 1950s and early 1960s, Price lent a hand to singers and songwriters like Willie Nelson, Roger Miller and Johnny Paycheck (each of whom played in his Cherokee Cowboys band); Harlan Howard, who wrote Price's classic
Heartaches By The Number
and Bill Anderson, author of the equally fine
City Lights
.
Having established the now-classic country shuffle with its walking bass line and piano chords on the after-beat, a kind of a honky-tonk derivative of jazz-inflected western swing, he turned to fiddle legend and fellow Texan Bob Wills for inspiration. Dubbed the 'King of Western Swing,' Bob Wills and his Texas Playboys were considered the finest western swing band of all time and on September 25, 1961 Ray went into the famed Bradley Barn Studios in Nashville for an epic full-day session that produced the classic SAN ANTONIO ROSE tribute album.
He utilised a crack band of Nashville session players, including members of his Cherokee Cowboys band—Willie Nelson (guitar), Jimmy Day (pedal steel), Stephan Bess (drums)—plus Grady Martin (guitar), Tommy Jackson (fiddle), 'Pig' Robbins (piano), and Pete Wade (guitar). They took such Bob Wills' classics as
A Maiden's Prayer, Time Changes Everything
and
Hang Your Head In Shame
and adapted them to Ray Price's highly distinctive shuffle arrangements.
He followed this album with what many consider to be his country music masterpiece, 1963's NIGHTLIFE, which was very much a late-night barroom concept driven by Willie Nelson's title song. The album opens with a spoken introduction and instrumental theme played primarily by Buddy Emmons on pedal steel that sets the mood for Ray's wearisome rendition of
Night Life
. Having traversed the highways and byways of America, playing in honky-tonks, barrooms and dives followed by lonely late nights made easier by booze, Price understood all too well the lyrics of that downbeat song better than most.
The other eleven songs followed the same lyrical standpoint, being songs of hardship and hard living, each one addressing archetypal country music themes such as loneliness, sorrow, and alcohol abuse. Largely lyric-driven, NIGHT LIFE is the perfect late-night record for drowning one's sorrows in front of the dying embers of a fire with a bourbon in one hand and a heart-full of sad memories for reflection.
Recorded at Bradley Studios and Columbia Studios, Nashville from January 1961 through to February 1963, the sessions again featured members of the Cherokee Cowboys, this time including a young Johnny Paycheck (aka Donald 'Donny Young' Lytle), Darrell McCall and regular session players Joe Zinkan (acoustic bass), Floyd Cramer (piano) and the legendary Buddy Emmons alternating with Jimmy Day on pedal steel. On some songs a full string section was utilised, but it never detracted from the overall bleak sadness that permeates the whole album.
Amongst the standout tracks is a rather desolate rendition of Carl Belew's
Lonely Street
and a stunning, jazzy reading of Charlie Rich's
Sittin' And Thinkin'
. The Nashville players were very much at home with jazzy arrangements, as several of them played late-night jazz sessions in the bars along the famed Printer's Alley across from Nashville's Lower Broadway. Very much a ground-breaking album, it's quite amazing how cohesive the whole thing sounds, considering it was compiled from sessions that took place over a two-year period. There was really only one successful single taken from the album, that was the Ray Price co-written
Pride
, which made the country top five in late 1962. The title song was placed on the B-side of the string-laden pop-country single
Make The World Go Away
(not included on the album) towards the end of 1963 and spent two weeks on the charts in its own right.
Ray Price bolstered his legend by being something of a maverick. Though he built his reputation with country and honky-tonk tunes, he did a complete about-face in the mid-1960s, recording lush pop ballads with full string backgrounds. The 1967 hit
Danny Boy
, recorded with a full orchestra, alienated some of his hard-core fans who much preferred his 1966 honky-tonk gem
Touch My Heart.
He abandoned the cowboy suits and brought in strings to accompany him, making him one of the first to fully explore a smoother, orchestrated sound. The result was a series of pop-crossover hits during the early 1970s. Kris Kristofferson's
For The Good Times
, re-established him at the top of the charts and
I Won't Mention It Again, I'd Rather Be Sorry, She's Got To Be A Saint
and
You're The Best Thing That Ever Happened To Me
, kept him there. In 1974 he left Columbia and signed with the Christian label Myrrh. It was to be a short-lived association, and by mid-1975 he was on ABC-Dot.
His smooth countrypolitan sound had been relegated to the lower reaches of the charts by the raucous Outlaw music of Willie Nelson and Waylon Jennings. It took duets with Nelson on the 1980 SAN ANTONIO ROSE album to bring him back into the top ten in with
Faded Love
and
Don't You Ever Get Tired (Of Hurting Me)
. The following year he was on Dimension Records with
It Don't Hurt Me Half As Bad
and
Diamonds In The Stars
, which were to be his last top ten successes. He continued recording throughout the 1980s for Step One Records, releasing some fine albums, but failing to set the charts alight.
For most of the 1990s, he sang and performed at his theatre in Branson, Missouri, occasionally stopping to make the odd record. By this time, he had dispensed with the strings and returned to a more basic Texas honky-tonk-swing band. He left Nashville after almost 40 years in Music City and moved back to Texas where he had a ready-made audience for his Texas swing and country shuffles.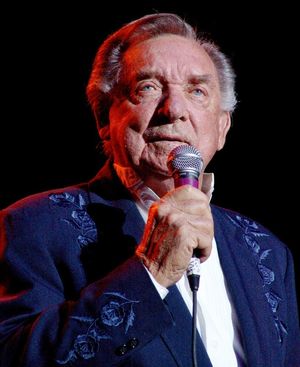 Though his hit making days on the charts were over by the 1990s, he continued to record and tour. He teamed up with Willie Nelson and Merle Haggard for the 2007's LAST OF THE BREED. Released on Lost Highway, the album gave the singer his final bow on the charts as it peaked at number seven on the Country Albums chart. All along the singer remained a crowd favourite. His mournful croon stayed with him even as he packed dance halls into his late 80s. He still recorded from time to time, appearing with Rascal Flatts on the 2011 Anna Wilson CD COUNTRYPOLITAN DUETS, reprising
You're The Best Thing That Ever Happened To Me
. Though diagnosed with pancreatic cancer, he had been recording a new album. That disc, tentatively titled LOVE SONGS IN NASHVILLE, is expected be released in 2014.
Despite a long and successful career he received only one CMA award for I WON'T MENTION IT AGAIN (Album of the Year 1971). He also gained a Grammy for his 1970 album, FOR THE GOOD TIMES, which stayed in the charts nearly four years, and sold a million. He was eventually inducted into Country Music Hall Of Fame in 1996. Ray Price earned his place in the Hall of Fame as an innovator in two musical movements. For his now-classic country shuffle with its walking bass line and piano chords on the after-beat, and along with Eddy Arnold, Patsy Cline and Jim Reeves, he was among the first to use lush, uptown string sections on his ballads, earning the wrath of diehard traditionalists but expanding his audience in the late 1960s and early 1970s in spite of the backlash.
Though Ray Price has been acclaimed as the man who saved hard country when Nashville went pop, and then vilified as the man who went pop when hard country was making a comeback, he was a musically ambitious singer, always looking for the next challenge for a voice that was equally at home in a Texas roadhouse or Carnegie Hall. Whether it be a shuffle, a Bob Wills swing tune, or a sentimental love song with a string section, he did it all—and did it all very well. Ray Price will be missed, but his music will endure.