Randy Palmer - Deeper Water
Berkalin Records
****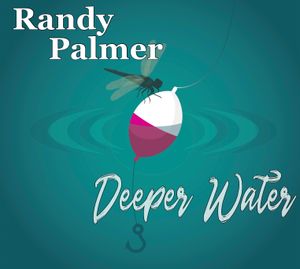 Music has always been a soundtrack for a lot of people's lives. Veteran singer-songwriter Randy Palmer effortlessly blends wistfulness with a grounded reality check. These dozen songs look at life with its daily twists and turns and generation-spanning dysfunction through a clearly defined lens. He provides glimpses into a lot of different feelings, from frustration to wistfulness to boundless glee. Living in Texas and New Mexico, he deserves credit for transporting his listeners to the places that became his own source of inspiration and rejuvenation. It's good to experience the memories shared in these songs and, in turn, give listeners their own reason to rejoice. With a voice that hearkens the raw beauty of Steve Goodman, Randy has nurtured a reputation for ruminative excursions through rugged indie-tinged tundra—open-ended soundscapes further explored on this latest slice of timeless folk-country. Be it the lyrical playfulness or the careful mainly acoustic arrangements, you'll find yourself wrapped inside his musical web, happy to be caught up in such moving music.
Like the very best in folk-country music, Randy draws empathy for his characters with a perspective that never overstates his viewpoint, leaving you with a desire to hear the next chapter in their lives. This comes through with The Life They Are Living, a compelling portrait of a family barely scraping by day to day. It's sort of a 'better enjoy this because this might be all we've got' scenario that sums up so many folks lives in this age of the 'them-and-us' great divide. He beckons the listener to his own world with songs like Welcome To My Home, High Plains and Somewhere Down The Line. With evocative harmonica and softly plucked acoustic guitar, Welcome To My Home is blissful, knotted, and rolls around in the brain with a molten glow that's hard to shake. His homespun vocal sound is always charming, especially on this perfect song for when you're caught in your feelings. His music is fun, even when melancholy and has a sense of nostalgia even while new and fresh. This comes through in both the trying to fit-in saga of White Dog and the nostalgic anthem Summer Of 65. The pastoral, dreamy arrangement of the latter, he sings of the sweet, simple joy of 'moonlit games of kicking cans' with the heady air of Vietnam and Watts riots casting shadows over the world and the undeniable hope that he has today for his grandchildren.
With Deeper Water he reaches even farther back as he reflects on a constructed adolescence of dawn fishing trips, innocent posturing and the life-long advice from fishing buddy Old Bill Gallagher. But buoyancy and carefree abandon are never the full picture, in old times, in current times, or in any times. The poignant 60 Years Of Love, has an elderly couple facing up to the inevitable consequences of old age, and possible permanent separation, with the knowledge that '60 years of love is just not enough.' In contrast, Echoes From The Past, is a dark and mournful break-up song full of regret given a more weighty arrangement.
Randy Palmer has delivered a unique and well-constructed album. A dozen well-written songs that showcase his clear voice, set to a background of smooth, easy-on-the-ear folk-country arrangements. Full credit should be accorded to producer Merel Bregante (drums, percussion) and the crack band comprising Michael Dorrien (electric, acoustic guitars), Mark Epstein (electric, double, fretless bass), Pete Wasner (piano, keyboards, B3), Cody Braun (fiddle, mandolin, harmonica), Dave Pearlman (Dobro, pedal steel), Dirje Childs (cello), Trevor Smith (banjo) with Randy on acoustic guitar and background vocalists Sarah Pierce, Betsey Palmer and Merri Palmer.
July 2022