Randy Houser - Note To Self
Magnolia Music Group
****1/2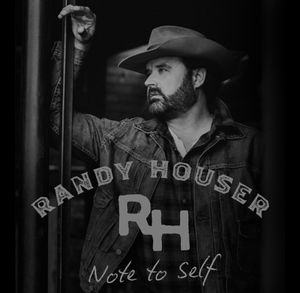 Randy Houser has established himself as one of the best singer-songwriters recording traditional country music in Nashville today. A heartfelt, earnest, soulful, and full-on powerful vocalist, he roars, thumps and burns out of sheer inspiration rather than imitation or even homage. Having the ability to walk through times of suffering with the same vigour as walking through times of good has always allowed this accomplished performer to fill albums with songs that effortlessly hit on every single facet of life. He is known for prioritising meaty, vulnerable songwriting on all of his albums. Even by that measure, NOTE TO SELF is the singer's most authentic, honest body of work to date. Digging deeper than ever before, Randy's cracked, yearning vocals explore themes familiar to fans of his work: his wandering faith; the weight of his upbringing; romantic entanglements, the embrace of life's struggles and discoveries. An instinctually emotional collection of songs that leave a feeling in your gut and in your heart, which is exactly what he does best. A blend of Hank Jr, Ol' Waylon, Paycheck and Daryle Singletary … and you sure don't get any better than that …. Randy Houser sounds like he's even more focused on leaving a legacy that his legendary predecessors would have wanted to know.
From the loping rhythm of the opening Still That Cowboy, a love song for his wife, to the last semi-autobiographical Remember How To Pray, a gently joyous, yet very honest look back over his life, Randy delivers groovy, soulful, and gloriously entertaining music. He gets down and dirty with Workin' Man. Atop a thumping beat he's all fire and brimstone, drawing out notes with fervour. An emotional work song for those endless days of hard labour, he howls in this ferocious twang-rocker, which is all fangs and attitude, and a must-listen for those of us who could use a little aggressive release. Driving percussion and a melody you can dance to envelop his deep, dark meditation on heartbreak and regret after storming out from yet another row to the bars and neon lights in Out And Down. With barely concealed male bravado, he drowns another beer with his pals, eyeing up a girl of the night, yet thinking all the time of the woman he left angrily at home.
He becomes more reflective as he offers sage advice in Note To Self, a die-hard country heartbreaker full of loss, grief, regret and vulnerability … this should be a contender for song of the year. Take It To the Bank is a powerful love song about how a truly deep romance … 'that money can't buy' … can overcome all of life's tribulations and obstacles. He becomes desperate in Call Me, as the nights become endless waiting for his estranged lover to call. He can handle the mundane tasks of a breakup, but his heart is a different matter. The song is very 1990s mainstream, with a candid look at a very upsetting romantic situation when you just want that call in order to talk things over. He maintains the hard-country stance with the fiddle-and-steel driven Country Round Here Tonight. His poetry, robed in small-town imagery with a slight spark of twang, continues to be an impressive combination as he finds himself reconnecting with his roots and digging deeper into the artist he's become. It's a tasty number delivered in a relaxed style which perfectly befits the song. The passion, enthusiasm and conviction in Randy Houser's music is utterly irresistible.
November 2022