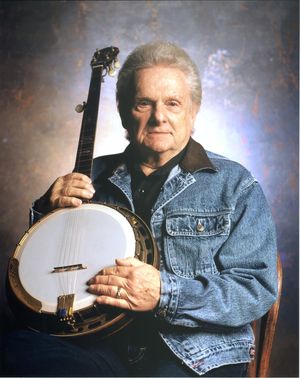 Ralph Stanley, one of country music's greatest treasures, passed away on June 23, 2016, from complications with skin cancer. He was 89. A titan in the bluegrass world, having recorded more than 170 albums, received numerous Grammy, CMA, and IBMA awards and nominations, and been awarded an honorary doctorate of music from the Lincoln Memorial University in Tennessee, Dr Ralph Stanley, as he affectionately became known in his later years, was about as real as anybody you could ever have come across in music. Not only was he an excellent banjo player, but,  when he sung it was from the heart. You could feel every emotion that a song was meant to portray. It's something most other artists can only aspire to. He never got fancy or cute, he just injected into every song earnestness and fervour that always made it memorable.
Ralph Stanley, who was born in Stratton, Virginia on February 25, 1927, learned to play the banjo from his mother, Lucy, when he was a teenager. After graduating high school and serving in the US Army, he began performing with his brother Carter, as the Stanley Brothers, in 1946, mainly  in and around Bristol, Virginia, where they became stars on Bristol's WCYB. Responsible for some of the most haunting and beautiful harmonies to emerge from the bluegrass music scene, initially, they were yet another Appalachian brother duet team. They recorded for the small Rich-R-Tone label in 1948, very much in a mountain duo styling, but by the time they signed to Columbia Records, the following year, they had switched to bluegrass with Ralph utilising the three-finger method of banjo playing.
With their own Clinch Mountain Boys, they made what are now considered some of the finest ever bluegrass records. At no time could they be termed Bill Monroe-copyists, as they perfected a rich mountain style that, in many ways, was even more traditionally rooted. Their sound was characterised by Carter's leads, Ralph's tenor and a third vocal from Pee Wee Lambert. Throughout the 1950s and 1960s, they recorded for a variety of labels including Mercury, Starday and King, often
concentrating on purely religious material, much of it self-written. Though they built up a healthy reputation, they were never a commercially viable act, despite scoring on the country charts in 1960 with
How Far To Little Rock
, and had to rely on extensive touring to make a reasonable living. They gained some national stature with the early 1960s folk boom, often performing at folk festivals and attracting a younger, hip crowd to their music. They played the legendary Newport Folk Festival in 1959 and 1964 and even got to play a prestigious concert at London's Royal Albert Hall as part of a European tour in March 1966.
It was to be the Stanley Brothers only UK appearance. Carter Stanley died of cancer in a Bristol, Virginia hospital on December 1, 1966. He was just 41. Ralph seriously considered quitting music. His brother had been the main songwriter, lead singer and front man, and Ralph, by his own account, was withdrawn and shy, although he had overcome some of his early reticence. Urged on by family and musical friends, he forged ahead with the Clinch Mountain Boys, a band that has included such soon-to-be solo stars as Ricky Skaggs, Larry Sparks and Keith Whitley. He began singing more lead vocals than previously, and the man who had already set a new standard with his haunting mountain melodies took high-lonesome to a heavenly place. His music—particularly his high, mournful vocals—was so raw, powerful and authentic, that it moved and inspired performers from all musical genres. When you hear Ralph Stanley sing, you can feel the wind of the mountains.
He signed to the small independent Rebel Records in 1969 and recorded prolifically for them for the next 45 years whilst continuing to tour the American bluegrass circuit commanding a small, but very loyal cult following. As a new wave of progressive players emerged in the 1970s and 1980s, Ralph Stanley became something of a relic. He had reached the point where he was being celebrated more for his past than his present.
He was given an honorary doctorate of music from Lincoln Memorial University in Harrogate, Tennessee, in 1976, and he was often introduced as 'Dr. Ralph Stanley.' He performed at the inaugurations of US Presidents Jimmy Carter and Bill Clinton, and was the first recipient of the National Endowment for the Humanities' Traditional American Music Award in 1985.
Following the death of bluegrass creator Bill Monroe in 1996, Ralph Stanley emerged as the genre's new patriarch. He carried the honour well, continuing the tradition of purity and verve that Monroe instilled in his mountain music decades before. One of the last living founders of bluegrass, the distinctly American art form, which blends rural-based lyrics with fluid, jazz-like instrumental improvisations, Ralph Stanley rocketed from icon to superstar following the release of the soundtrack to the Coen brothers' quirky comedy O Brother Where Art Thou at the end of 2000.
The album, produced by T Bone Burnett, featured his chilling a cappella dirge
O Death
, and against all the odds was a runaway hit, topping the Billboard 200 chart, as well as the country albums and soundtrack charts. It sold millions of copies, and also won a Grammy for album of the year. Ralph Stanley won a Grammy for best male country vocal performance in 2002—beating out Tim McGraw, Ryan Adams, Willie Nelson, Johnny Cash and Lyle Lovett—and was the focus of Down From the Mountain a successful tour and documentary inspired by the soundtrack. The following year he and Jim Lauderdale would win a Grammy for best bluegrass album for LOST IN THE LONESOME PINES.
At the age of 73, Ralph Stanley was introduced to a new generation of fans. He became a member of the Grand Ole Opry in 2000 and the tireless trouper continued to perform close on 150 road dates every year. Shortly after the soundtrack was released he completed work on CLINCH MOUNTAIN SWEETHEARTS, a double-CD collection of duets with Joan Baez, Iris Dement, Dolly Parton, Lucinda Williams, Sara Evans, Patty Mitchell, Gail Davies, Jeannie Seely, Pam Tillis, Chely Wright, Kristi Stanley, Gail Davies, Gillian Welch, Maria Muldaur, Valerie Smith and Melba Montgomery.
A sequel to 1998's CLINCH MOUNTAIN COUNTRY which paired the legend with respected artists such as Patty Loveless, Bob Dylan, Vince Gill, Rhonda Vincent, Vern Gosdin and others, received lots of critical praise and brought Ralph Stanley to a broader audience. While yet another clutch of re-recorded tunes done duet style could have been seen as a holding action or rehash of past glories, the emotion that Stanley and his guests poured into each song gave pause to any thought that the man might have been coasting.
In the summer of 2002 Ralph released his first-ever major label album, the self-titled RALPH STANLEY on Columbia/DMZ Records. A venture into ancient British and early American folk music, the album was produced by T Bone Burnett, who had first worked with Ralph on the O Brother album. He forsook the Clinch Mountain Boys for such acoustic wizards as Norman Blake and Stuart Duncan and even laid down his banjo while recording the album, opting to offer up vocals only. The album's material alternated among such uplifting gospel fare as
Lift Him Up, That's All
and the soaring
Great High Mountain
, to lovelorn heartache in
Girl From The Greenbriar Shore
and
Look On And Cry
to the Celtic tale of adultery and murder
Little Mathie Grove
.
A second album for Columbia/DMZ Records followed four years later. Again produced by T Bone Burnett, A DISTANT LAND TO ROAM was a fond and emotional nod to the music of the legendary Carter Family, who came from the same area where Ralph had grown up and were a big influence on his own musical heritage.
At the beginning of 2015 he released
RALPH STANLEY & FRIENDS: MAN OF CONSTANT SORROW
, through the Cracker Barrel restaurant/country store chain. This was again a multi-artist collaboration with Ralph performing duets with guest artists including
Dierks Bentley, Elvis Costello, Del McCoury, Buddy Miller & Jim Lauderdale, Old Crow Medicine Show, Robert Plant, Ricky Skaggs, Nathan Stanley, Josh Turner, Gillian Welch & David Rawlings,
and
Lee Ann Womack
.
In the meantime, he had continued touring quite regularly with his son Ralph Stanley II, who often took care of most of the lead vocals with the Clinch Mountain Boys. In 2014 father and son released a duet album, SIDE BY SIDE, a compelling collection of 14 new and traditional songs.
Among the highlights were classics from the pens of AP Carter, Charlie Monroe, Albert Brumley and Ernest Tubb and two Ralph Stanley originals—as well as samples of his a cappella and clawhammer banjo stylings.
Over his long career that stretched back over 70 years, Ralph Stanley became one of the most roundly praised artists in bluegrass, old time and mountain music. His body of work and his forlorn, lonesome singing style inspired glowing articles in Rolling Stone, The New York Times, Spin and Billboard. Not to mention, previously unheard of for bluegrass artists, appearances on top-rated national TV programmes like The Tonight Show with Jay Leno and the Late Show with David Letterman.
Ralph Stanley was to bluegrass music what Duke Ellington was to jazz, Elvis Presley to rock 'n' roll and Pete Seeger to folk. He had a
cool factor
, among younger musical stars unmatched by anyone else in the country-bluegrass scene.