Prairie Wildfire - Prairie Wildfire
Turnberry Records
****1/2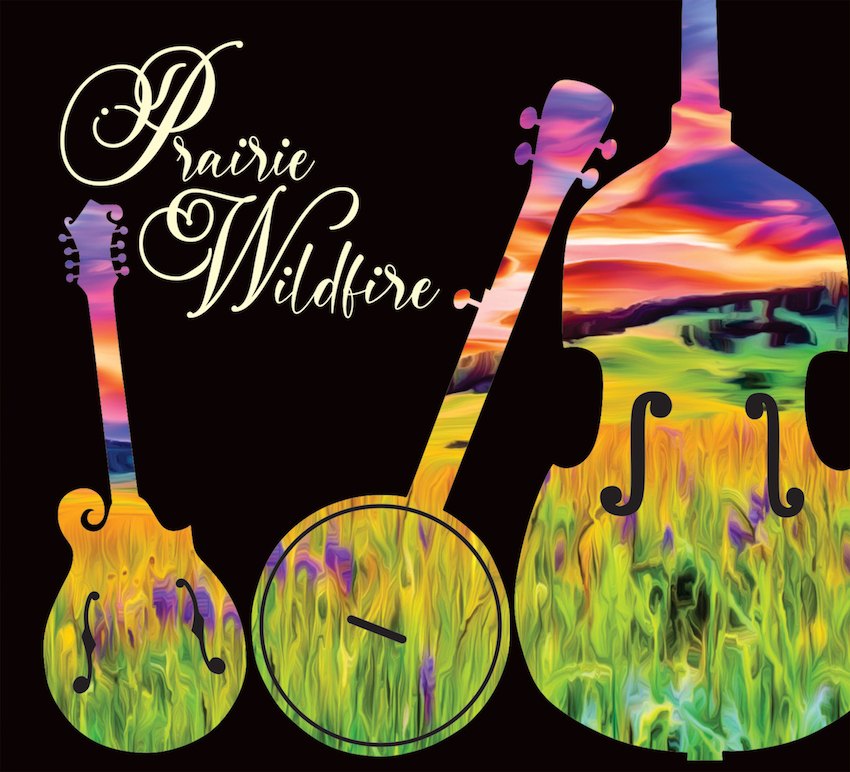 As I played this self-titled album by Prairie Wildfire—an all-female trio from Wyoming, comprising Morgan Blaney (upright bass), Sage Palser (mandolin) and Tessa Taylor (banjo, rhythm guitar)—I got the same warm glowing feeling that I can so vividly recall as I first listened to crucial, groundbreaking albums by Reba McEntire (MY KIND OF COUNTRY), the Judds (WYNONNA & NAOMI) and the McCarters (THE GIFT). A spirited, beguiling set that tips its hat to roots music interpreters as disparate as the Quebe Sisters, the Coon Creek Girls, the Trio, Buffalo Gals and the Cox Family, while also tapping into bluegrass music, these talented young ladies arrive with beautiful immediacy, like a small pocket of warmth in an otherwise somewhat grey world. Though referred to as a folk trio, Prairie Wildfire are in reality a country outfit, in the way that country music used to be. The vocal chemistry between the threesome dominates as they all take turns singing lead and focus on their harmonic blend with Morgan providing high harmonies, Sage the middle and Tessa the low harmonies. With their hard-to-pin sound, the trio revels in their own style of trad-leaning country, that reflects the meeting point of Wyoming's endless vistas with Appalachia's deepest roots. Where other young outfits can be self-indulgent or theatrical, Prairie Wildfire remains enticing, infectious and natural. 
In addition to their distinctive vocal skills, the three girls prove to be talented and formidable instrumentalists. Augmented by various guest musicians on Dobro, pedal steel, keyboards and fiddle they create full and inventive musical arrangements. As well as their original material, they add some well-chosen covers. There's something to be said for the ability to recognise a great song. However, it's equally important to know how that particular tune can be adapted and reconfigured to fit one's own template. After all, the challenge comes with trying to cover a song in a way that maintains its singular sound and that emulates rather than imitates its original rendition. These young ladies recognise the value in treading the line between originality and redundancy and do so in a way that does justice to both their own abilities and the songs' essential elements. With their versions of Delbert McClinton's Two More Bottles Of Wine and Chris LeDoux's Whatcha Gonna Do With A Cowboy they manage to tread that narrow divide and do so in a way that makes the material their very own. The pleasure the trio find conveying their joy in providing the sounds that they share is all over the latter. Cheeky and sweet, yet with the denim roughness of a western honky-tonk bar that buzzes with energy. In short, they have the arrangements and meat and potatoes pocket locked down tight. McClinton's drinking song, best-known via Emmylou Harris and Martina McBride's versions, is done up in a stringband swing style. A driving, fiddle-guided, kiss-off number, that finds the singer getting out all her sorrows over a departed lover in one night, is totally owned by the girls. 
As a result, their original material—Heart You Couldn't Hold, What Crosses Your Mind and West Virginia Train—finds an ideal mesh with those songs that qualify as well-worn covers. So too, their rousing version of the traditional standard, Bowling Green, it sums up that skillset succinctly. Effervescent and pastoral, with honey-hued vocals blooming through the joyful lyrics with flailing banjo, fast-picked mandolin and sawing fiddle behind those exquisite harmonies. The one song that probably sums up the aims and aspirations of this trio is the captivating In the Wings, a plaintive tale of a would-be music star. Highlighting the complex beauty of three singers joining forces seamlessly, bringing a sense of awe and wonder to what could easily turn into a crowded space. Most importantly, however, the whole song still feels readily significant; a subtle but wonderful taster of a suitably special record, demonstrating what a bright future these talented young vocalists-musicians-songwriters have in the world of acoustic country music. 
https://alisapalser.wixsite.com
February 2023