Porter Howell - This Town Was
Self-released
***1/2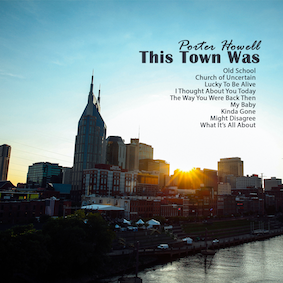 Founder member of 1990s country band Little Texas, Porter Howell is a singer, songwriter and multi-instrumentalist who writes and performs mainly old-school country, on this, his debut solo album. He maintains an affinity for country basics, but also offers an emotional reach that gives each offering both an added dimension and a singular charm. Consequently, the songs are conveyed mostly through a gentle caress, and while they retain the signature style of a country ballad, the sweet, supple melodies all but assure an unerring appeal. Old School, a highlight track, turns the spotlight on what Porter thinks of today's country music. There really is very little real country left as more and more Nashville acts are replacing weeping steel guitars with roaring electric guitars so that they can rock out until ... until the country feeling is just a tiny smudge in the landscape of sound. For the main part, Porter avoids that modern pitfall, until he comes to the fourth track, Lucky To Be Alive. It is a powerful slice of heavy rock, his electric lead guitar screaming its way to an almost endless screech towards the song's climax, which to my tender ears, placed a huge black mark on the whole album, and spoilt the whole vibe that he had carefully crafted with his skilled group of musicians and background vocalists on the other nine tracks.
Porter is a serious songwriter and also an instrumentalist who can find the soul of any song and inhabit it fully. He plays acoustic, electric lead, baritone, 12-string, resonator and slide guitar and six-string banjo and is joined by John Riffe (drums, percussion), Mike Claiborne (bass), Mike Bourque (pedal steel), Reed Pittman (keyboards), Becca Bradley (cello), Rachel Crick (fiddle) and background vocalists Paul Jefferson, John Riffe and Karli Chayne of Karli & James. The title song is Porter's heartfelt wanderings and sharp observations on the current state of the Nashville skyline. Anyone who has visited Music City regularly over the past few decades, will understand just where he's coming from. Now the bachelorette capital of America, Nashville attracts the worse kind of tourists imaginable and to accommodate the influx of new residents, ugly hi-rise buildings have sprung up all over 'crane-city' as the heart and charm of the town has been ripped out. The musical heritage that once drew people to Nashville has been destroyed as historic music venues have disappeared and the 'Two one-way streets where dreams could find a way to fly' is rapidly becoming a ghost of its former self where old songs and memories are fading fast into history, never to be seen or heard again. It's a compelling song that resonated strongly with me.
His late father, an amateur guitar picker and passionate country music fan, features in a couple of songs. In the aforementioned Old School, Porter recalls listening to his dad's stack of records—Willie Nelson, Roger Miller, Waylon, Merle and Buck. A classic two-stepping arrangement of pedal steel, electric lead and a catchy sing-along chorus captures the mood perfectly. No matter how well this song fits into the current realities of the country music world—and it does—Porter's voice and lyrics will continue speaking for generations to come, and in one way or another, will keep conjuring memories of bygone eras. Simple, but affecting acoustic guitar picking opens I Thought About You Today, before pedal steel and cello provide a contemplative vibe to match the nostalgic, comforting and fond remembrances of his father and other relatives and friends no longer with us.  He gets even more personal with My Baby, a song about letting go of his daughter Lauren, as she heads off to college. A beautiful soft-rock track that encapsulates a certain sun-soaked 1970s nostalgia, he conveys a vibrantly wistful picture of the past. Sonically, it's got an ageless charm, radiating warmth with its na-na-na chorus. There's lots of regret in Kind Of Gone By Then, as he tries to recall a drunken barroom encounter with his former lover. His voice is full of a deep longing. Not just his tone, but his words. It has a nice classic country sound, with fine harmonies from Karli Chayne. I had to press repeat on this one several times!
November 2022