Self-released
***1/2
The title of this 5-track EP might seem a little unusual. The back story is that Alabama-based Michael Lawson home recorded a self-titled EP a couple of years ago on which he played all of the instruments. That release came about following his divorce after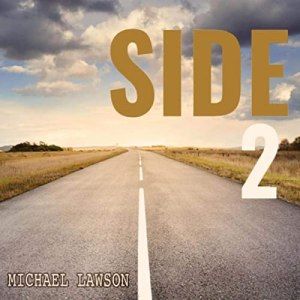 a 20-year marriage and marked his return to singing and songwriting after a 15-year break. When he decided to record the freshly written songs for this new EP he decided to utilise the legendary Fame Studios in Muscle Shoals, including the studio band—Will McFarlane (guitars), Justin Holder (drums), Jimbo Hart (bass), Brad Kuhn (keyboards) and saw the finished set as the second side of his previously home-produced EP. The music hearkens back to the best of 1970s-1980s folk/pop/rock with shimmering acoustic and tremolo guitar work, dancing keyboards and sublime vocal harmonies. Michael moves smoothly through these captivating songs fused with full-hearted lyrics, swelling melodies, and the gorgeous fabric of the songs that are certainly large and wash over the listener with a powerful beauty that pulls at the heart and soul. Though some of the songs are linked lyrically to his marriage break-up, there's nothing maudlin or melancholy about this well-informed set of songs. Throughout, there's a positive and optimistic resonance with anthemic choral elements amid stirring rhythmic tempos that  pave the way for delightful melodies.
Veering from the tender testimony of A Beautiful World to the upbeat enthusiasm of Life Goes On ((Movin' On), Michael demonstrates a knack for conveying sweet sentiment and an eager embrace. The background harmonies are provided by Marie Lewee and Cindy Walker, known affectionately as the Shoals Sisters, on A Beautiful World whilst Michael and Marie provide the infectious sha-la-las on Life Goes On. Betting On You features Will McFarlane's distinctive slide guitar and along with Michael's sincere vocal they make the song come to life before the listeners' eyes. The earnest emotional march of Love Justifies the Fall creates an atmospheric tone that mimics loss and the acknowledgement that it is still possible to believe in oneself and find a new way forward. That view is reinforced with She's Bound For Eden with Marie and Cindy's exquisite harmonies lifting the song with the latter's soaring soprano taking the whole stunning performance to a new plateau.
Despite his break from creating music, Michael Lawson makes it crystal clear that his passion and purpose remains intact. The buoyant themes that flow seamlessly through these songs are the perfect antidote to the despair and hopelessness brought on by the pandemic. Wide-armed, warm and comforting, his mellifluous voice feels natural and never forceful or stuffy.
www.michaellawsonofficial.com
February 2021