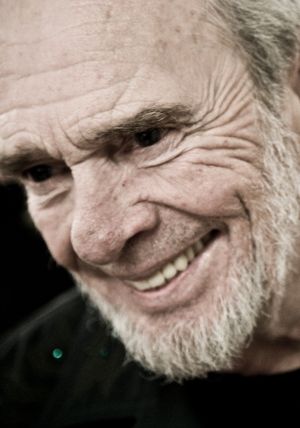 Merle Haggard, possibly the greatest country singer and songwriter of all time—certainly of my generation—passed away on April 6, 2016, his 79
th
birthday. He'd been suffering from pneumonia for some time and though he'd continued touring in the early months of the year, he had been forced to cancel several dates and passed away quietly at his home in Northern California.
It was in the early months of 1964 that I got a copy of Merle Haggard's
Sing A Sad Song
on the small Tally Records. At the time I had no idea of how important that Merle and his music would be in my life. For some time I'd been heavily into both Jimmie Rodgers and Lefty Frizzell, and it was the similarity to both of those legendary singers, without being a carbon copyist, that impressed me about the young Merle Haggard. 
I followed the Haggard career very closely over the years and certain albums and songs made a huge impact on me. So many of his songs down through the years affected me that I'd find it near impossible to pick out a handful of favourites, because to be honest, there are just too many of them. So I'm just going to relay the story of the Hag, as he was affectionately referred to for years. 
Country music's most charismatic legend, Merle Haggard proved time and time again that you do not have to forsake your musical roots to achieve fame and recognition. Throughout a career that spanned more than 50 years, he consistently kept on turning out his vintage blend of heartfelt country with a true sense of the tradition. He gave the impression, with his sparsely instrumented band the Strangers, of being more comfortable before audiences of foot-stomping, good-hearted, working men, than in Las Vegas hotel lounges. He was one of the most imitated and admired artists in country music— the living, breathing link between Jimmie Rodgers, Lefty Frizzell, Randy Travis, Keith Whitley, George Strait and Brad Paisley. In his legendary career, Hag not only recorded 38 number one country hits, but also wrote dozens of standards that have been performed by artists as diverse as Willie Nelson, Dean Martin, Elvis Costello, Dwight Yoakam, The Grateful Dead, Dolly Parton and Gram Parsons. His influence on performers outside of the country mainstream has often been overlooked, or just simply ignored, yet there is no doubt that his songs and singing style made a big impact outside of the tight confines of country music.
Born on April 6, 1937, he grew up in a hard-scrabble Bakersfield family and by his early teens was in trouble with the law. His rough and rowdy early years have been well documented. When he sung about being a
lonesome fugitive
or a
branded man
, it came from personal experience. The death row message he wrote about in
Sing Me Back Home
he heard personally while incarcerated in San Quentin. He carried the regrets and heavy burdens of his wayward youth with him throughout his life and they often surfaced in songs like
Mama Tried, I Can't Hold Myself In Line
and
Hungry Eyes
. After his release from prison in 1960, he turned seriously to music. He crooned love songs, sounding very much like Marty Robbins, who he idolised, and honky-tonk tunes that owed more to Ernest Tubb and Lefty Frizzell. It took less than three years for the young Haggard to make his mark, hitting the country charts with
Sing A Sad Song
at the end of 1963. He went on to accumulate more than 80 major country hits and become one of the most influential singers and writers in contemporary country music.
Haggard always blended diverse musical influences into a seamless whole that was instantly recognisable. The predominant sound was the wistful dustbowl ballad, a plangent acoustic jangle with shades of melancholy, as in
Daddy Frank
and
The Roots Of My Raisin'
. The easy and natural incorporation of the Bob Wills and Jimmie Rodgers influences in his country-jazz music is all there in
Cherokee Maiden
and
Everybody's Had The Blues
. Having dominated the country charts during the late 1960s, he stepped out with a couple of highly acclaimed tribute albums. SAME TRAIN, DIFFERENT TRAIN: A TRIBUTE TO JIMMIE RODGERS, released in early 1969, was not only an affectionate salute to one of Haggard's heroes, it reflected a fascination with American history and a desire to expand his music by adding stronger elements of western swing, jazz, and blues. The following year came A TRIBUTE TO THE BEST DAMN FIDDLE PLAYER IN THE WORLD (OR MY SALUTE TO BOB WILLS)
.
It was the catalyst that inspired Ray Benson to form Asleep At the Wheel Then came the proliferation of swing bands in the 1970s and finally the emergence of George Strait.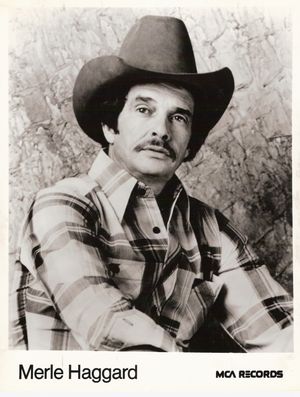 1969's
Okie From Muskogee
re-stated redneck values in the face of the then current campus disturbances and Vietnam marches and stunned his growing hippie fan base.
The Fightin' Side Of Me
that followed, was another apparent put down of those who were so bold as to disparage America's image. They were both huge hits, taking him into the pop charts for the first time. He sensibly backed away from further rightwing controversy, and for his next record wanted to release
Irma Jackson
, a song about an inter-racial love affair, but Capitol Records refused. The hits kept coming throughout the 1970s including
Jesus Take A Hold, Soldier's Last Letter
,
Grandma Harp
,
It's Not Love (But It's Not Bad),
and
I Wonder If They Ever Think Of Me
, but it was his themed albums that showcased the full extent of Haggard's musical diversity. THE LAND OF MANY CHURCHES, LET ME TELL YOU ABOUT A SONG, MY LOVE AFFAIR WITH TRAINS and I LOVE DIXIE BLUES, were not like the standard country albums being served up by his contemporaries.
He moved from Capitol Records to MCA in 1977, and in typical Haggard fashion, his first album for his new label, MY FAREWELL TO ELVIS, was a complete shock to fans and critics alike. In no way did he try to mimic the Elvis style, but his identifiable delivery captured the soul of Presley's music, creating an enjoyable encounter with past Presley hits. Though many critics dismissed his time on MCA, he did deliver some stunning records, none better than 1979's SERVING 190 PROOF, a low-key, somewhat introspective set of mainly self-written songs. In 1981 he published his autobiography Sing Me Back Home, and also signed with Epic Records. He continued to score a number of chart-topping solo hits, and also recorded duets with George Jones, Johnny Paycheck, Willie Nelson, Janie Fricke and third wife Leona Williams. As the 1980s drew to a close not so many of his singles hit the country top ten. 1987's
Twinkle, Twinkle Lucky Star
was his last number one and
A Better Love Next Time
was his last top ten entry two years later. By the early 1990s he was down to opening shows for Clint Black and Mark Chesnutt, the new young country traditionalists who had utilised the Haggard style for their own sounds.
In the summer of 1993, now signed to Curb Records, Haggard was $5 million in debt and mired in bankruptcy proceedings. He was feuding with his record company and had not had a new record released in more than three years. He was forced to sell the publishing rights to his songs to the Sony-Tree Music publishing giant for more than $3 million, allowing him to erase most of his debts. He was elected to the Country Music Hall Of Fame in 1994. A couple of years later he stated that he was not interested in making records any more. Disillusioned by a music business that put profit way ahead of artistry and musical integrity, he felt it was wisest to stick to going out on the road to play his music to those die-hard fans who still acknowledged him as a genuine American musical icon.
Out of the blue, along came Andy Kaulkin, head of punk-rock label Epitaph/Anti, and a big Haggard fan to boot. He offered the legendary singer the kind of no-strings record deal that could not be ignored, so against all odds, in 2000 came IF I COULD ONLY FLY, a superb, timeless, new Merle Haggard album. Neglected by the country mainstream, yet revered as something of a god-like figure by the alt.country movement, the album was hailed as a masterpiece. There were features in alt.country magazine No Depression, rock journal Spin and nationwide TV appearances on Letterman
.
To coincide with the publication of his My House Of Memories autobiography in 1999, RCA released a double album FOR THE RECORD, 43 LEGENDARY HITS
.
In the summer of 2001 he licensed two self-produced albums, CABIN IN THE HILLS and TWO OLD FRIENDS, to the independent Relentless/Nashville Records.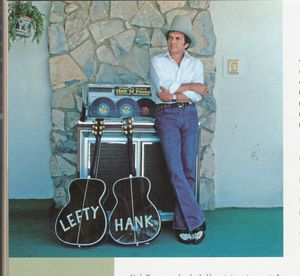 Forty years after first signing with Capitol Records, he rejoined the label in 2004 and released UNFORGETTABLE, a laid-back collection of pre-rock'n'roll popular standards. CHICAGO WIND, a second album for Capitol followed in 2005, this, a low-key collection of mainly self-penned, reflective songs. Then came a couple of collaborative albums. The first, KICKIN' OUT THE FOOTLIGHTS AGAIN, was a duet album with George Jones, which mainly featured some of their own individual hits performed together. The second, LAST OF THE BREED, a two-disc set featured Merle along with Willie Nelson and Ray Price singing mainly well-known country standards.
This was quite a prolific time for Merle in the studios for in 2007 he also released THE BLUEGRASS SESSIONS. Produced by former band member Ronnie Reno, it was recorded 'live' in the studio in one day with top bluegrass musicians and Alison Krauss adding vocals to a new version of
Mama's Hungry Eyes
. It was to be another three years before Merle returned to the studios for I AM WHAT I AM. Showing that the grizzled Okie from Muskogee had hardly done kicking up heels and ruffling feathers, he was as perceptive as ever with biting lyrics and songs about the struggles of working families.
WORKING IN TENNESSEE, released in 2011 was to be Merle's final album. Also released on Vanguard, this was a low-key album by a master country performer at work. In comparison with much of the country music at the time, it was old hat, but it just felt so damn good to get that old hat out and feel how comfortably it fitted,
Merle returned to the studio in 2015 to work with his old friend Willie Nelson on the highly successful DJANGO & JIMMIE. Two old-timers singing and playing together, it proved to be Merle's most successful album for years topping the American country charts and making the top ten pop album charts. Critically-acclaimed, it has proved to be a stunning epitaph to everything that Merle Haggard stood for throughout his career.
The stylistic father of so many popular country singers, as a commentator on the human comedy, Merle Haggard had few peers; as a country singer he was pretty near perfect. Even when success had eluded him, Merle Haggard's music remained some of the most consistently interesting and inventive in country music. Comfortable in his own shoes, he didn't give a damn if he might have upset or offended people … right up until the end he remained very much his own man. Not only do his recordings still sound fresh and vibrant, but each subsequent generation of country singers owes a great debt to his work. 
CLICK HERE
to read more about Merle Haggard in my in-depth feature first published in Country Music People March-April 1978.