Self-released
****
It seems hard to believe that this is Austin, Texas-based Megan Lacy's debut release. She brings openness and honesty to her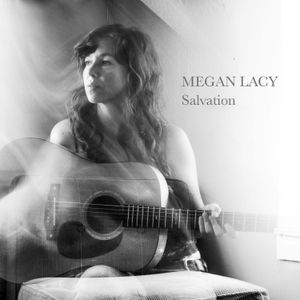 musical approach, recounting her real-life story and putting it to gorgeous music creating a slow and comforting stroll through the pages of life and the book of human experience. Her lyrics show her to be one of the most insightful songwriters around just now. Writing an album that manages to explore inner turmoil while still sounding peaceful is no easy feat but Megan executes it with immaculate precision, doubling down on her status as both a rookie and a veteran. Throughout the album we hear an artist who balances serious songwriting chops with a commanding, confident voice. Her stories—gut-punching in their truthfulness and beautiful in their imagery, often simultaneously—make this debut the musical equivalent of a book you can't put down, one you'll want to revisit again and again, to catch every nuance and turn of phrase.
Sparsely orchestrated cinematic folk that sweeps through these five tracks the production by Justin Douglas is perfectly in sync with Megan's aching vocals and lyricism. The title song has a kind of mournful realisation as it examines some of the hardest emotions to endure … showing that forgiveness is possible in the most difficult circumstances. She sings in a voice that is pure and pretty, a gentle sense of grace, an unhurried sense of beauty. There's a sense of discovery in Don't Rest, an exquisitely bleary-eyed gem. Punishingly tender, interrogating darkness by throwing open the curtains and forcing the light to pour in, Jordan Burchill's melodic electric lead is a perfect counterpoint to the gloom. Carolina feels and sounds like the first rays of sunshine after a long icy winter. A languid and hypnotic song, wisping around a swirl of guitars, keyboards and a steady bass, anchored only by her achingly hopeful hook. Heartbreak pulsates quietly through No Better. Her pained vocals emerge like a sweet sigh and a shrug. 'Oh well,' she seems to say. In so many ways, she is all of us. Stuck somewhere between unapologetic self-acceptance and raging neuroses. It just depends on the moment, on the song. Tapping into the most basic human sense of longing for more, Watch This, is a beautifully sad ballad offering a hopeful outlook from a position of abject helplessness. A particularly melancholy tune with what is perhaps the album's best steel guitar and Dobro moments adding to the pathos.
This exquisitely haunting and spiritual release is full of a lonely but hopeful heart. It's mood music, sometimes playing as smooth as a seduction but better suited for moments of introspection when you're surrounded by a crowd and need to isolate. I just find everything about her music so transfixing. Her voice, the jangly guitars, it all has this really bitter-sweet, reflective, sad, sleepy, lazy-day feel to it that I really love. It distills personal, reflexive narratives into something universal and wondrous. At only five tracks, I wish SALVATION was longer—that's my only complaint.
April 2021