May & Mackie - Time & Tide
Mel Music MMCD004
****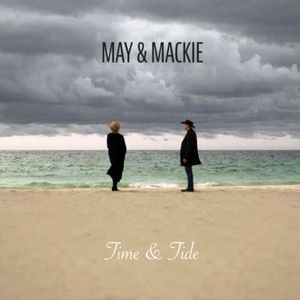 Though they've been around for the best part of 40 years, somehow I've totally missed May & Mackie, a country music duo from the Shetland Islands. A popular husband-and-wife couple, for this, their fifth album, they deliver a collection of songs that are all at once gorgeous, heartfelt and open. Recorded partly in the pair's Scalloway home studio, with additional recordings in Nashville by producer and multi-instrumentalist Phillip Anderson, during the lockdown restrictions of the past couple of years, this is a highly commendable set of well-chosen covers alongside five originals. It speaks volumes that during my first listen I had to double-check which songs were the covers, even though I was familiar with most of them.
Mackie Sutherland has been a stalwart of the Shetland music scene for more years than he'd probably care to remember. A skilled lead guitarist and versatile singer, his voice is memorable, whether he is singing his own songs or interpreting well-loved standards. May is the daughter of the late Thomas Fraser. Shetland musical royalty, with the star-studded annual Thomas Fraser Festival a highlight of the Shetland calendar, dedicated to his unique talent. There's little doubt, listening to this album, that May has inherited her father's vocal talents. Her vocals balance a chord between country and folk-rock, where the listener can slightly recall Patty Loveless meets Nanci Griffith.
They open up with Ramblin' Man, with Mackie offering a strident vocal. Owing more to the Gary Stewart and Jimmy Payne country covers than the Allman Brothers' heavy rock original, everything about this one is spot-on, from the fiddle courtesy of Aubrey Haynie and Mackie's swirling lead guitar to the constant drive that never lets up. May allows her her rich, crystalline vocals to shine on Jessi Colter's Storms Never Last. She shines strongly with her compelling rendition of Richard Thompson's Keep Your Distance. Again, Haynie's fiddle is very much to the fore as Appalachia meets Celtica for a richly rewarding bridging of Atlantic musical roots. Indeed, May and Mackie show they are fully capable of infusing a wide range of influences into the mix, as evidenced by such songs as Alabama's Sad Lookin' Moon, the Nitty Gritty Dirt Band's tender harmony laced I Love Only You, and a unique twist on Joe Diffie's In My Own Backyard. May handles the vocals on this, transforming the song with an arrangement that is quite understated, but that only serves to make the song sound more haunting, and it really works well with her emotional, slightly folksy vocal style.
Mackie's Wrong Side Of the Tracks sounds like an overlooked honky-tonk classic from the mid-1970s. Powerful and honest. his singular vocal carries off this cry-in-your-beer, confessional of a mis-spent life that is rapidly running away from him. He moves on from the barroom to the dancehall for the two-steppin' Don't Tell Me. A sad-edged love gone awry with a heartfelt vocal wrapped around a toe-tapping arrangement utilising great interplay between fiddle and steel guitar. May steps into the spotlight for the aching Long Road Home. The vocal is boldly expressive, the melody unique and engaging, with the whole production feeling like a track you need to listen to over and over again. That sentiment sums up this excellent and endearing collection.
https://mayandmackie.bandcamp.com
May 2022