Malcolm MacWatt - Settler
Need To Know Music NTKBB2021MM
****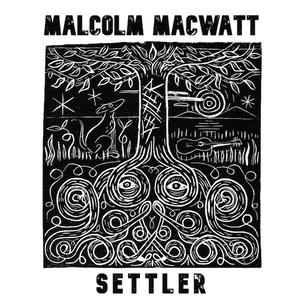 There's a working man's ethic to singer-songwriter Malcolm MacWatt's music. Hailing from the Scottish Highlands, he worked for a time on the North Sea oilrigs. Now based in London, he home-recorded SETTLER, playing everything except bass (played by Phil Dearing) with Kris Drever providing electric guitar and vocals on John Rae's Welcome Home. He is also joined by guest vocalists Gretchen Peters, Laura Cantrell, Eliza Carthy and Jaimee Harris to add extra depth to some of the self-penned songs. This is a bustling album. Throughout, Malcolm picks and strums his acoustic guitar, the instrumental anchor of the record, in steady time with his ceaseless inquisitiveness. A multi-instrumentalist, he works tirelessly to build sonic landscapes adding mandolin, fiddle, banjo, resonator guitar, bodhran and writes with honesty and abandon, and listens with a rare depth and care. The songs, his voice, the production … it all settles in so well, and it's a place you're not going to want to leave anytime soon.
The themes of the album are loosely concerned with human struggles, whether it be emigration to the New World, injustice forced upon poverty-stricken workers, or the vilification of womenfolk, all tied together by the connection between Scotland and Appalachia. His songs evince the language, imagery and structure, as well as subject matter, associated with transatlantic folk and literary traditions, but they don't come across as pale imitations of the form—there's an integrity and richness to them. Though the characters are often fictional, the essence of their stories is real. Malcolm's vocal reveals a subtle but distinctly Scottish voice, but his exploration of themes of community, ritual, strife and emotional terrain is universal. The songs have characterisation, events, places and times most can relate to. Ghosts Of Caledonia remembers all of those ordinary Scotsmen who settled in various countries around the world over the centuries. The lyrics explore the good and the bad deeds these Scotsmen did, often in the name of Christianity, including slavery, paganism, sedition and oppression. It's a powerful and evocative song full of national pride. There's a similar approach to the more traditional sounding My Bonny Boys Have Gone, in which a mother reflects sadly about her sons, who have travelled to far-off lands with exotic names like Canada, America and Australia, seeking a better life for themselves and their families. Gretchen Peters sings the last verse as the mother, bringing extra personal pathos to a beautiful yet melancholic song.
The Curse of Molly McPhee spotlights his inventive banjo work and Laura Cantrell's haunting harmony vocals on this mournful tale of a chaste beautiful young lass who spurned all and sundry, including the local preacher, who lusted after her. The price she paid for remaining virtuous was to be branded a witch and to be hung for such a heinous crime. The Miller's Daughter is a story of forbidden young love told by the poor lad not rich enough to marry his true love, who is to be married off to a rich old man. Full of drama and passion, Eliza Carthy's spooky vocals add much to this emotional story. He turns his writing skill to a song about a real person in John Rae's Welcome Home. A little-known explorer from the Orkneys, he pioneered the exploration of Canada, but has long been forgotten and overlooked in the annals of history. Malcolm paints a vivid picture of this humble man and is joined on vocal harmonies by Orkney-born Kris Drever.
Malcolm creates a spacious atmosphere on every song on the album; his instrumental skills playing a pivotal role in the sweeping arrangements, with melodies that you don't see coming. A sharp pen and great taste in musical pals make this organic Celtic-meets-Appalachia set a high-water mark for Americana that'll just drive friends of owners of this album crazy since said owners won't stop playing it. There's not a single song here that fails to resonate on first listen, suggesting that Malcolm MacWatt will likely maintain his own proverbial presence for some time to come.
December 2021