Self-released
***1/2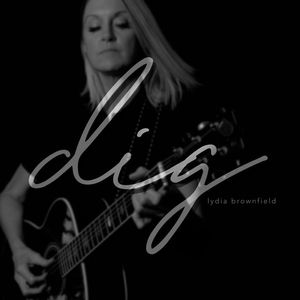 Columbus, Ohio singer-songwriter Lydia Brownfield seems to have a way with conveying intricate messages in a unique fashion, allowing her vocals and subtle instrumental backdrops to be the driving force behind her emotional tunes. Delicate when wanted but raucous when needed, DIG is a mainly gorgeous project, brimming with passionately crafted songs captured within an enveloping soundscape, produced to perfection by Lydia and Fred Blitzer. A master of emotionally charged but gently rendered balladry—accented with traces of deep-rooted attitude—this is beautiful music, to be sure, but it has come to us from a place of pain, as Lydia wrestles with uncertainty, loneliness, rage, jealousy and hopeful passion.
Lydia has been making music for most of her life. Growing up in Columbus, after studying at the local fine arts college, she headed south to Atlanta, where she put together a duo Yonder, that soon became a fully-fledged band. Yonder morphed into Long Flat Red, with widespread touring across the south throughout the mid-1990s. A move to New York City in the late 1990s led to performing in-and-around Greenwich Village coffee houses, two difficult divorces and becoming a mother. Eventually she moved back to Columbus, where she resumed her music career, performing solo on acoustic guitar, or accompanied by her partner and guitarist Jeff Dalrymple, or with her entire band. For this latest album, Lydia plays acoustic and electric guitar, piano, keyboards, strings and synth, Jeff Dalrymple plays acoustic guitar and sings backing vocals alongside the studio band comprising Andy Harrison (electric guitar, backing vocals), Philip Maneri (electric and double bass) and Jeff Martin (drums). Vocally, Lydia keeps you guessing. One moment she could be Chrissie Hynde staring you out in black leather, but elsewhere, amid the more reflective, sensitive moments, you're more inclined to peg her into the Alison Krauss school of folk-pop balladry, then again you can hear hints of Stevie Nicks and even Sheryl Crow.
This set of self-penned songs confirms that her strength lies in her clarity. Her lyrics, as well as her delivery, are so sharp and straightforward, there's no way you won't hear her. She writes with a keen sense of observation and clever lyrics. Part of Lydia's skill is in hauling new feeling out of well-trodden ideas as she delves into her own break-ups, personal disillusionment, depression and foolishness counter-balanced by the reckless abandon of the lust and desire that a new love brings bubbling to the surface. The atmospheric We Are Bound floats along a delicate soul vibe, building languorously as it spirals higher to zestfulness, as she pensively navigates a journey of self-discovery that is universal in its message of the unifying power of love. This is an exquisite piece of writing by a need-to-know talent. Her strong pretty voice and penchant for vivid lyrics are the deepest talents on display on Say You Understand, in which she pleads with a new beau to just walk away despite the temptation to allow him into her life. A catchy folksy arrangement allows various guitar sounds to come to the fore and complement her distinctive vocal with stylish and crafted accompaniment. Everything Out There is a hazy dreamscape, a stunning, introspective meditation on fear and loss as she displays a gift for elegantly articulating and coming to terms with unimaginable dread of all that life has to throw at us in a way that is completely devastating, but also undeniably life-affirming and comforting.
The uncertainty of a relationship is at the centre of Just Like Love. When should
 you utter that four-letter-word, or if you do, will it scare him off. The track's dynamic instrumentation includes a sizzling guitar part that builds the momentum as her confidence grows to a lusty declaration of 'feels just like love! love! love!' The countryish Windsong and Cigarette Smoke is an evocative look back at a more innocent time when money and divorce were not a part of one's growing up vocabulary. It's a pleasant relief from the weight of some of the previous songs, and a reminder that sometimes we need to go back to the beginning when the going gets tough. Hurricane breaks up the whimsical folk gestalt with a driving beat in a song that boldly faces up to the damage of falling for the wrong guy, even when the time seems just right as he pushes all the buttons to turn you on. The stomping Death Do Us Part is a slice of incendiary punk rock that radiates swagger and lasviciousness. For once Lydia is in charge, buddy, and you'd better sit up and pay attention, just like the rest of us, as long as she wants us to.
December 2021