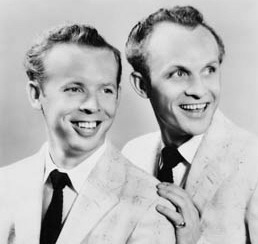 The Louvin Brothers, Ira and Charlie, formed one of the finest duos in country music, offering superb close harmony vocals that often displayed their gospel roots. With Ira's incredibly high, pure tenor and Charlie's emotional smooth melody tenor, they successfully preserved the old-time rural country tradition, while bringing in a contemporary 1950s styling. Though their active career spanned only ten years, and during most of that time they recorded mainly gospel songs, resulting in just a handful of chart records between 1955 and 1958, The Louvin Brothers' music has proved to be highly influential over the past forty years. The Everly Brothers were clearly influenced by the duo, while country-rock pioneer Gram Parsons drew heavily from their deep catalogue of classic songs. More recently, it has been Emmylou Harris, Linda Ronstadt, Dolly Parton, BR5-49, and several of the alternative country acts all reviving their songs or borrowing heavily from their distinctive style.

Born in Rainesville, Alabama (Ira on April 21, 1924; Charlie on July 7, 1927), The Louvins (real name Loudermilk), were raised on a farm where they first learned to play guitar. They sung gospel songs in church and their parents encouraged their sons to play music, despite the family's poverty. Ira began playing mandolin while Charlie picked up the guitar, and the two began harmonising, being influenced by the then-popular close-harmony country brother duets of The Blue Sky Boys, The Delmore Brothers and The Monroe Brothers. They began performing at a small, local radio station in Chattanooga, where they frequently played on an early-morning show. Drafted into the forces during World War II, the brothers' musical career was interrupted for a few years. They returned after service and picked up musically, where they left off, moving to Knoxville, Tennessee where they appeared regularly on the Mid-Day-Merry-Go-Round radio show. It was at this time they adopted the name Louvin, which sounded a better stage name. In 1947 they moved to Memphis for another radio show and also made their first record, a one-off single for Apollo Records. That was followed two years later by a single for Decca Records which failed to make much of an impact. In 1951 they signed with MGM Records and over the next year, recorded twelve songs, without too much success.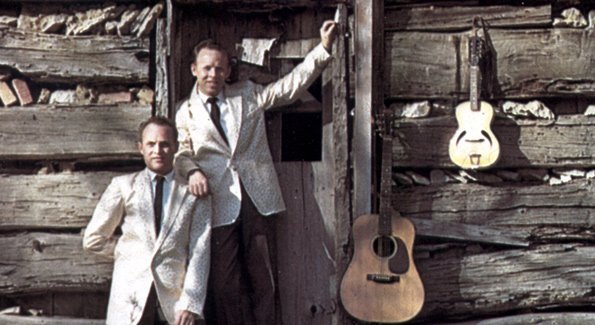 Throughout this period, they had both been working as postal clerks while playing concerts and radio shows at night. Eventually, they earned the attention of Acuff-Rose who signed the duo to a publishing contract. This led to them recording with Capitol Records. Their debut single for the label, The Family Who Prays, was a moderate success, and has since become a gospel standard. Shortly after that release, Charlie was recalled by the Army to serve in The Korean War. Following Charlie's Army discharge they joined The Grand Ole Opry and started performing and recording secular material. They didn't entirely abandon gospel music, but following the top ten success of When I Stop Dreaming in 1955, they knew they had hit upon a winning sound. Whatever type of songs they recorded, gospel, folk, hillbilly, country or pop, those songs became inexplicably The Louvins. Their most notable hits came with I Don't Believe You've Met My Baby (number one in 1956), Hoping That You're Hoping, You're Running Wild, Cash On the Barrel Head, My Baby's Gone and Knoxville Girl. The latter was from their highly-acclaimed TRAGIC SONGS OF LIFE album. Though most of their album collections, such as NEARER MY GOD TO THEE, KEEP YOUR EYES ON JESUS and WEAPON OF PRAYER, were gospel, they also recorded some stunning country albums including A TRIBUTE TO THE DELMORE BROTHERS, MY BABY'S GONE, THE GREAT ROY ACUFF SONGS and COUNTRY LOVE BALLADS.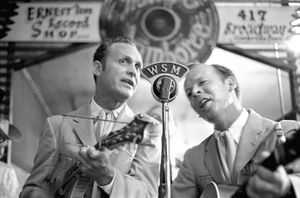 Increasingly, pressure was brought to bear on The Louvins to update their sound from the basic acoustic guitar and mandolin styling that they had perfected. They attempted rockabilly and tried unsuccessfully to come to terms with the heavy, pop-laden Nashville Sound, but it sat uneasily with their unique harmony sound. It was suggested that they dispense with Ira's mandolin, which was very much the cornerstone of The Louvin Brothers. Ira, already a tortured soul and something of a heavy drinker, took the criticism of his mandolin playing to heart and sunk deeper into alcoholism. His drinking had caused both marital problems and disagreements with Charlie. In the summer of 1963, the brothers decided to go their separate ways. Shortly after, Ira had a raging, alcohol-fuelled argument with his third wife Faye that resulted in a shooting that nearly killed him. He continued to perform afterward, singing with his fourth wife Anne Young. The duo were out on tour when they were both killed in a car crash in Williamsburg, Missouri on June 20, 1965. After his death, Ira's single Yodel, Sweet Molly became a moderate hit.

Charlie Louvin continued throughout the 1960s as a successful country entertainer, scoring several hits for Capitol, including I Don't Love You Anymore, See The Big Man Cry and a handful of duet hits with Melba Montomery. He has retained his membership of The Grand Ole Opry and helped keep alive the music of The Louvin Brothers, often working as a duo with Charles Whitstein. In 1979 he recorded Love Don't Care, a duet with Emmylou Harris. Cousins of singer-songwriter John D. Loudermilk, music obviously runs through the family as Ira's daughter, Kathy Louvin, is now an established Music Row songwriter with dozens of contemporary country hits to her credit.

Charlie and Ira Louvin rank among the top duos in country music history. In the 1950s, The Louvin Brothers defined the now classic sound of two-part country harmony singing. Their hard-driving take on traditional country has provided the blueprint for many generations of country and rock musicians. But The Louvins weren't famous just because of their singing. Their songwriting, which includes stories of both heartbreak and humour, is responsible for a lot of records being sold by hundreds of artists including Johnny Cash, The Byrds, and Mark Knopfler. Guided by Gram Parsons, The Byrds recorded their The Christian Life, Emmylou Harris took If I Could Only Win Your Love, into the country top ten in 1975, The Kendalls revived My Baby's Gone in 1984 and so it goes on and on. LIVIN', LOVIN', LOSIN': SONGS OF THE LOUVIN BROTHERS an all-duets album, produced by Carl Jackson was released by Universal South in 2003. It featured some intriguing pairings including Marty Stuart and Del McCoury, Joe Nichols and Rhonda Vincent, Rodney Crowell and Emmylou Harris, Vince Gill and Terri Clark, Pam Tillis and Johnny Cash with The Jordanaires. Other artists featured include Merle Haggard, Ronnie Dunn, Linda Ronstadt, Patty Loveless and Dolly Parton. The single to promote the album was James Jaylor and Alison Krauss with How's The World Treating You.

Charlie Louvin enjoyed something of renaissance late in life releasing such albums as 2007's CHARLIE LOUVIN, followed by SINGS MURDER BALLADS AND DISASTER SONGS and THE BATTLES RAGE ON alongside appearances with such contemporary acts as Lucinda Williams, Emmylou Harris, Jeff Tweedy and Elvis Costello. He was diagnosed with pancreatic cancer in 2010 and though he underwent surgery that July, he passed on January 26, 2011.

Close Harmony: The Story of the Louvin Brothers a biography written by Charles Wolfe, was published in 1997 and reissues and compilation albums continue to be well-received.

Recommended Listening

Tragic Songs Of Life (Capitol 1956)
The Family Who Prays (Capitol 1958)
My Baby's Gone (Capitol 1960; reissued Stetson 1988)
Songs That Tell A Story (Rounder 1991)
Radio Favourites 1951-1957 (Country Music Foundation 1987)
Close Harmony (Bear Family box set 1992)
Country Music Classics (Capitol 1993)
When I Stop Dreaming: The Best Of the Louvin Brothers (Razor & Tie 1995)
My Baby's Gone 1955-1964 (Raven 2006)
Tragica Songs of Life (Righteous Records 2009)
The Church of Louvin (Righteous Records 2011)