Lonesome Ace Stringband - Try To Make It Fly
Self-released
****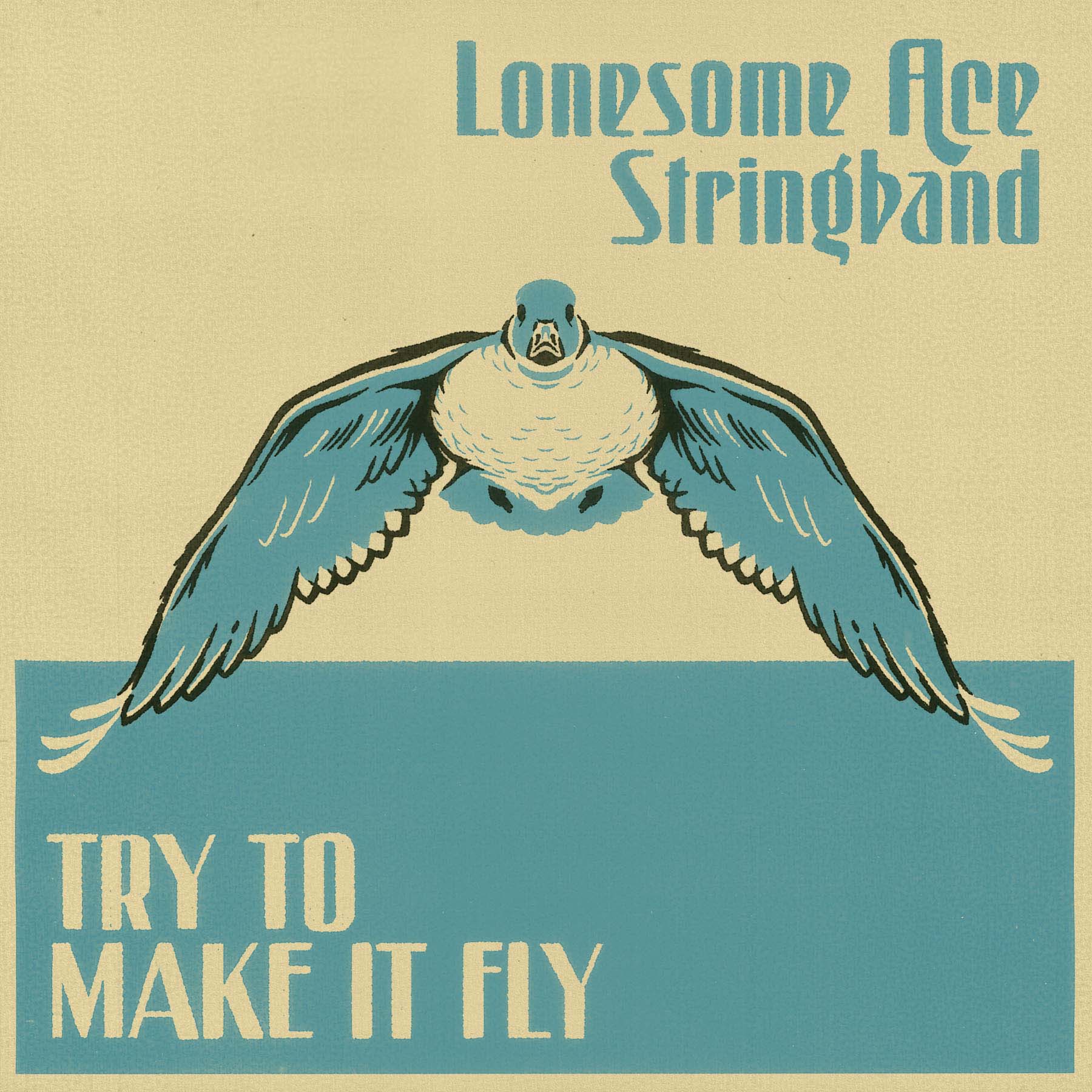 Ever since the appearance of the David Grisman Quintet in the late 1970s, the chief aspect of the new acoustic music genre that has developed in his wake has been its pursuit of virtuosity. Typically written and performed by musicians who were schooled in the realm of bluegrass and old-time music, it has grown to encompass a wide variety of sounds where experimental artists pursue their creativity instrumentally with music that appeals to a wide audience. Toronto's Lonesome Ace Stringband is something of a concept band. They're not old time, not straightforward bluegrass, but a mixture of the two, with bits and pieces of history thrown in for good measure. This genre-bending outfit takes the banjo and fiddle out of the mountains and brings them downtown where they mix with contemporary grooves and dynamic vocals. Not surprisingly, they bear a similarity of sorts to outfits like The Old Crow Medicine Show, courtesy of a willingness to go beyond the boundaries and ply their own personalities through the proceedings. While the trio has long garnered a slew of comparisons, this sixth album feels like they're truly beginning to divine those influences for their own strain of shimmer. With so much music so freely available, it's easy to get lost in the noise, to fall back on a too-familiar sound from the ocean of possible influence. Lonesome Ace Stringband navigate expertly against the tide. The band layers funky elements on banjo, fiddle, bass and guitar and bring in guest musicians to add in mellotron, pedal steel, mandolin, percussion and drum loops, culminating in a mix of vocal harmonies and rich instrumentation that leave you feeling breathlerss. 
Unlike their previous albums, the trio—John Showman (fiddle), Chris Coole (clawhammer banjo, guitar), and Max Malone (upright bass)—have, for the first. time created a record of only original material. It is a powerful album, both blazingly intellectual and wildly artistic as they present their own takes on daily life, relationships, and the interconnectedness of people, nature, tradition, and spirituality and boldly offer entry at any point you come into contact with it. There's always enough motion here to grab your attention but enough blank space for the songs to seem mysterious and entrancing, like there's something left to learn. The return of the spawning salmon to the Horsefly River is the inspiration for Sweeter Sound. A deliciously addictive offering—filled to the brim with creativity and intrigue—it's the kind of place we all hope to get to someday, understanding what we're here to do and doing it, fearlessly. Haunting fiddle and a river of cascading banjo chords flow under the nimble vocals of Praying For Rain. Inspired by the British Columbia wildfires in the spring of 2021, which came within a hair's breadth of Max Malone's home, the song stretches spaciously as the band wades through the harmony-laden chorus and pairs it with a buoyant melody with a dark tension-filled undertow.
Touches of country-rock intermingle with a cool and soulful-inspired beat to make Midnight Band a joyful anthem with its positive lyrical approach, which will have feet-tapping and hands-a-clapping. For a change of tack, they offer the chunky Smoke On The Shoulder. Dedicated to BBQing pork shoulder, this is punctuated by a prickly percussion line as well as jabs of crunchy bass tones and banjo and sweeping fiddle, but is pregnant with the possibility of good times. The Echo moves like a fever dream. Its rise and fall dances with a chunky banjo and the song has an unhurried, almost leisurely quality as they accumulate intensity … it's a dark-toned, echo-shrouded, intoxicating sort of sound. They also offer three instrumental tracks, the finest of which is First Frost – Blue Grouse, which kicks off leisurely with John Showman's Celtic-flavoured fiddle then segues into a lively instrumental that is drenched in melody, a true tune and not someone just jamming out.  Despite some of the subject matter, the sense of fun and adventure in all of these recordings can't help but bleed through the speakers. A boundary pushing release, these songs are kick-up your heels good. They are old timey string band tunes with a modern feel, songs that will appeal to traditionalists and Americana fans alike. Turn it up!
October 2023