Little Jimmy Dickens Obituary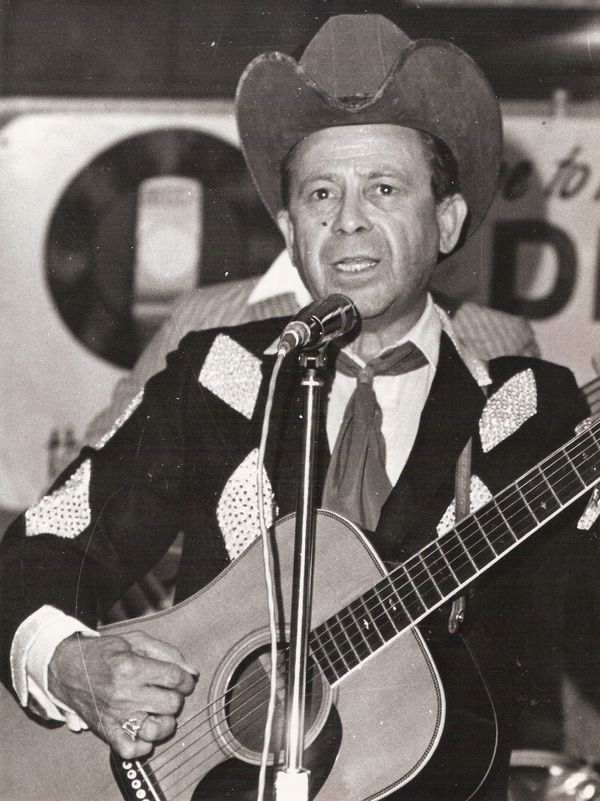 Little Jimmy Dickens, the veteran country music entertainer and long-time Grand Ole Opry star, passed away on January 2, 2015. He was 94. The singer was hospitalised after a stroke on December 25, 2014 and died of cardiac arrest eight days later. Best remembered for his novelty songs, he was somewhat overshadowed by his more versatile contemporaries like Roy Acuff, Carl Smith and Hank Snow. But he was an important—if eccentric—talent in his day and in later life became a popular Opry star with his hilarious comedy routines, becoming one of the most beloved characters in country music.
James Cecil Dickens was born in Bolt, West Virginia on December 19, 1920, the thirteenth child of a farmer amid the frigid coal-fields of south-eastern West Virginia. His childhood was marked by poverty, sacrifice and music. His mother and three uncles played guitar, and as a boy he sat wide-eyed and watched his family members play and sing.
"All my people are coal miners, but I never wanted to go into the mines," he reflected in 2009. "From childhood on, I wanted to be an entertainer. And I set out to do that when I was still in high school."
In high school, Jimmie played on the basketball team in spite of his short four feet eleven inches height and his slight frame. He was president of Trap Hill High School's senior class in 1938. At seventeen he won a guest spot on a Beckley, West Virginia radio show. He had to walk several miles to and from Beckley, where he would open a morning broadcast on WJLS by imitating the crow of a rooster. He continued performing professionally while he was a student at the University of West Virginia on a drama scholarship. Later he turned down an offer to become a professional jockey to pursue music more seriously and began travelling around the country, singing on radio shows in Indiana, Ohio and Michigan under the name Jimmy The Kid.
Performer T. Texas Tyler recruited Jimmy to become a cast member of Tyler's Indianapolis radio show in 1941, and he suggested the change of name to Little Jimmy Dickens. In 1945, Jimmy first met Grand Ole Opry star Roy Acuff, who was suitably impressed by the diminutive entertainer. Two years later, when Jimmy was working in a band that played a mixture of country and polka music in Saginaw, Michigan, he was chosen as the opening act for a Roy Acuff show. The big star suggested that Jimmy should move to Nashville, and he helped him by signing him to a publishing deal with Acuff-Rose, introduced him to Art Satherley at Columbia Records and secured a spot for him on the Grand Ole Opry in February 1948.
Little Jimmy Dickens became an Opry member in August 1948, before he had even released a record. His debut single, the novelty
Take An Old Cold ''Tater (And Wait)
, became his first top ten country hit in early 1949. Hank Williams heard Jimmy sing the song on the Opry many times and began referring to him as 'Tater', a nickname that stuck throughout his life. Further hits followed including
Country Boy, A-Sleeping At The Foot Of The Bed, My Heart's Bouquet
and
Hillbilly Fever
, all of which made the country top ten between 1949 and 1950.
Country Boy
was written by the then-unknown Boudleaux Bryant, who along with his wife Felice Bryant, would go on to write dozens of hit songs for the Everly Brothers, Roy Orbison, Buddy Holly, Jim Reeves and become members of the Country Music Hall of Fame. Bryant also wrote Dickens' 1954 hit
Out Behind The Barn
, and the two men collaborated on
I'm Little But I'm Loud, It May Be Silly (But Ain't It Fun)
and other songs. He was also the first to record the Bryants'
We Could
, which later became a big hit for Charley Pride and a country standard.
Though he loved to perform sad, country weepers, Jimmy enjoyed his greatest success with novelty tunes. Unfortunately, he was never a consistent hit-maker, and despite releasing some superb singles like
A Rose From A Bride's Bouquet, Sign Of the Highway
and
Wedding Bell Waltz
, he went four years between 1950's Hillbilly Fever and 1954's
Out Behind The Barn
without troubling the charts.
Part of the reason might have been because he spent so much time out on the road touring. His tiny frame, colourful personality and outlandish suits (he was the first to wear rhinestone suits on the Opry) endeared him to rural audiences and Little Jimmy Dickens quickly became one of country music's most recognisable entertainers.
In 1950, he formed his touring band the Country Boys. It was one of the first country bands to feature the now-classic line-up of steel guitar, plus twin electric lead guitar, bass and drums. With their spirited traditional country approach and slight rockabilly inflections, Dickens and his band stood out from the run-of-the-mill touring outfits, producing more volume than Elvis Presley or Chuck Berry could muster. The classic Country Boys bands of the 1950s included spectacular players such as steel guitarists Walter Haynes and Buddy Emmons, guitarists Jabbo Arrington, Howard Rhoton, Grady Martin, Thumbs Carllile and Spider Wilson and bass man Bob Moore, several of whom went on to became major Nashville session players.
Though Jimmy often downplayed his own rock'n'roll efforts, records such as
(I Got) A Hole In My Pocket, Country Boy Bounce, Raisin' the Dickens, Blackeyed Joe's
and
Hey Ma! (Hide The
Daughter)
were visceral and invigorating. A potent, even groundbreaking performer, onstage he had an unusual and effective manner that combined fiery performances and a sincere, welcoming presence.
Alongside his tear-jerking break-up songs, Jimmy was also a master at recitations, drawing tears with
(You've Been Quite a Doll) Raggedy Ann
, a spoken-word piece in which a father speaks to his dead daughter's favourite companion. Deeply religious, in the early 1950s he released several gospel singles including
Old Rugged Cross, They Locked God Outside of The Iron Curtain
and
Take Up Thy Cross
. His very first album released in 1954 was THE OLD COUNTRY CHURCH.
Throughout his career, Jimmy is renowned for his friendship and help given to fellow performers. In 1951 he discovered future Country Music Hall of Famer Marty Robbins at a Phoenix, Arizona television station while on tour with the Grand Ole Opry road show. He urged Robbins to try his luck in Nashville and arranged for an audition for him with Columbia Records.
Though Jimmy failed to chart between 1954's
Out Behind The Barn
and 1962's
The Violet And A Rose
, he remained a popular road act and Opry favourite. He joined the Phillip Morris Caravan of Stars 1950s touring show and recorded prolifically. In 1964, Little Jimmy Dickens played Tokyo, Okinawa, Taipei, Bangkok, Saigon, Turkey, Denmark, Germany and Montreal, and in so doing became the first country performer to circle the globe.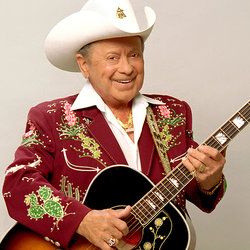 The following year Jimmy enjoyed his biggest hit with
May The Bird Of Paradise Fly Up Your Nose
. The single topped the country charts and crossed over to number fifteen on the pop charts. The song's popularity thrust Little Jimmy Dickens into the national spotlight, and he began making national television appearances (once appearing on Dick Clark's Where the Action Is show, lip-synching
Bird of Paradise
on a beach while teenagers swayed to the music).
He attempted to cash-in on that pop success with more humorous ditties including
When the Ship Hit The Sand, Jenny Needs A G String (For Her Old Guitar), Who Licked the Red Off Your Candy 
and
How to Catch an African Skeeter Alive
, without too much success. The Bobby Braddock-penned
Country Music Lover
rose into the country Top 30 in 1967, but Jimmy had no more hit records.
He appeared in country-centric movies Tennessee Jamboree and Second Fiddle to an Old Guitar. In 1968, he changed labels and signed with Decca Records. Though he recorded three albums in as many years, he only had a handful of minor hits in the late 1960s and early 1970s. A move to United Artists in 1971 only resulted in two more small hits. That same year, he married his wife, Mona. In 1976 he released the album HYMNS OF THE HOUR and in the early 1980s he recorded an album for Gusto and also one for his own Tater Patch label, along with a handful of singles on Little Gem Records. He was elected to the Country Music Hall of Fame in 1983, and began to concentrate on performing as his main creative outlet.
He joined producers Randall Franks and Alan Autry for the In the Heat of the Night cast CD CHRISTMAS TIME'S A COMIN', performing
Jingle Bells
with the cast (the CD was released on Sonlite and MGM/UA and was one of the most popular Christmas releases of 1991 and 1992 with rural country music fans).
New generations of country music fans were introduced to Little Jimmy Dickens through his regular appearances on the Grand Ole Opry as he assumed the role of an elder statesman. In 1997, Martina McBride included a snippet of a performance of
I'm Little But I'm Loud
, recorded live when she was seven years old, on her album EVOLUTION.
The self-deprecating entertainer often joked about his size onstage saying that he was: 'Willie Nelson after taxes.' He also participated in a series of comic bits with CMA Awards show co-hosts Brad Paisley and Carrie Underwood, including a scene-stealing Kanye West-inspired bit in 2009 and a 2011 role in the show as 'Little Justin Bieber' and made fun of Bieber's then-current paternity scandal.
He also made appearances in a number of music videos by fellow country musician and West Virginia native Brad Paisley, who during his teenage years opened several shows for the country legend. Jimmy was also featured on several of Paisley's albums in bonus comedy tracks, as a member of the Kung Pao Buckaroos, a group of Hall of Famers that Paisley enlisted to perform comedy sketches on several albums. The Buckaroos skits gave listeners the only on-record approximation of Little Jimmy Dickens' sometimes-bawdy backstage humour.
Whether on the big screen or on a nightclub stage, Little Jimmy Dickens was a deft comedian and an energetic stage presence. He was a showman and an entertainer, and it was those qualities that made him such a popular near fixture on the Nashville music scene for more than sixty years. He was the oldest member of the Grand Ole Opry, having performed almost continuously on the show since 1948, last playing the Opry on December 20, a day after his 94th birthday and five days before he would be admitted to the hospital after suffering a stroke on Christmas Day.
"It's been very good for me. I've made fun of it, and get a laugh here and there,"
he said in a 2009 interview.