First Published in Country Music People, July 1979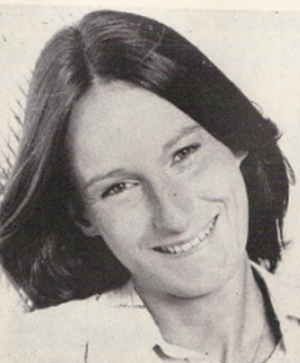 It's a distinct possibility that Linda Hargrove is virtually unknown outside a small circle of admirers. An artist whose achievements have still to be assimilated by the larger portion of country music devotees. Linda—for the sake of those unfortunates who have yet to hear her work—is the lady who wrote
Let It Shine
(Olivia Newton-John),
Just Get Up And Close The Door
(Johnny Rodriguez) and
I've Never Loved Anyone More
(Lynn Anderson).
She has had five albums released, yet has made little visible impact on the all important country charts. A 'cult' following is reported, which is usually a polite way to describe low sale figures. But no doubt a flicker of interest has been known to burst into a conflagration, and from her track record, Linda certainly has it within her reach to gain a large country audience for her music.
Linda was born and raised in North Florida. She began playing piano at the age of five and guitar at ten. When she was sixteen-years-old she began working professionally, singing and playing in a succession of rock and rhythm'n'blues bands. Songwriting was not a new thing to Linda, she had been writing songs since her early teens and the bands she played in, along with other groups in the area, began using her tunes. Some of the songs were released on small local labels, and then one group went to Nashville to record an album, they were armed with half-a-dozen of Linda's songs, so she went along to see just how they would record them.
"I liked Nashville from the first," she remembers. "I was rock'n'rolled out. I couldn't have told you what the Top Ten was in country music then, but I felt the more earthy, simple and honest the music was, the better. I decided if I wanted to write songs, Nashville was the place I should be, so I went back to stay. I grew into country music in Nashville. Before that I had thought c&w was all cornbread and bouffant hair, but I met so many creative people it changed my thinking right away."
By the mid-1960s, country music had all but lost its rural identity. The music had grown from a folk tradition, and yet with the migration from the farm to the city, the values and social aspirations of its audience had subtly changed. The music became petit-bourgeois, with its rural background either romanticised or simply ignored.
Country songwriters increasingly adopted the commercial formulas of pop, writing melodramas around well-worn phrases. The producer became paramount, while traditional country instruments like fiddle and banjo were discarded in favour of more orthodox string sections. Performers moved from the honky-tonks to the night-clubs. In short, from the mid-1950s to the end of the 1960s, country music became bland middle-of-the-road.
The rise of the 'outlaws', like Willie Nelson, David Allan Coe and Waylon Jennings has forced a long overdue reassessment of country music. The revitalisation has acknowledged the traditions of the music, particularly the honky-tonk singers and Texas western swing bands of the 1940s.
Linda Hargrove has always been a traditionalist. Her work has seldom conformed to the suburban melodramas marketed by Nashville over the past decade or so; such songs as
The Farmer's Former Wife, When He Leads His Lambs Away
and
Half My Heart's In Texas
, have instead remained true to the kind of values and sentiments which once typified the rural South. She has aimed at the 'authenticity' successfully adopted by many of her 'outlaw' contemporaries. Willie Nelson, for instance, has revived the honky-tonk traditions of country music while taking full advantage of the lyric possibilities suggested by pop.
She moved to Nashville in the summer of 1970, driving a crammed-full old Datsun. She had a guitar, seventy-five dollars, some talent and some dreams. She went to work as a cocktail waitress and then as an accounting department employee of a struggling record company, which soon closed the office. She drew unemployment benefit until the government officials discovered she was a musician.
"I was living in a cold, old, draughty house in a furnished room with holes in the ceiling and cracks big enough to look through. It cost fifty-five dollars a month," she says. "Finally I got another job in a saloon and lived on three sandwiches a day and all the beer I could drink."
Eventually she became friendly with Sandy Posey, one of the first Nashville singers to record a Linda Hargrove song. At the session she met steel guitarist Pete Drake, who invited her along to his office to play some more songs. It was several weeks before she finally took up the invitation.
"At the time I was really broke," Linda recalls. "All my clothes had patches. I was living hand to mouth. I was sort of blimpy from all that beer. I'd had a lot of doors closed in my face, and in a way I was scared, I guess, to have another one close. When I got hungry enough, though, I went and played Pete some songs. He said I had potential, but that I wasn't there yet."
For the next couple of years or so Linda gained some all-important experience in the recording studios. Whenever Pete Drake was organising a session, he brought Linda along, either to sing vocal harmony or play acoustic guitar. This work in the studios gave the young singer-writer regular income, so she could live while she worked on her writing.
"At that time, the scale was ninety dollars a session," says Linda. "It had been a long time since I'd seen ninety dollars at one time. I followed Pete around like a puppy dog, learned how to engineer, played everytime I could, met everyone I could and listened and studied everything that was happening in country music. It was like a songwriter's college."
Within a year Linda's initial breakthrough as a songwriter came when Jan Howard recorded
New York City Song
and took it high into the country charts. A few months later Linda was laying down her own recordings. After years of struggling behind the veil of obscurity, Linda turned to country with a moderately successful album, MUSIC IS YOUR MISTRESS, produced by Pete Drake and released by Elektra.
The album showcased her remarkable vocal ability to switch instantly from a fluid country style to a more powerful, gutsy one.
I Feel Free Now
, with stunning electric guitar from the late Jimmy Colvard, concerned Linda's growth from a young inexperienced rock'n'roll singer to a more mature country writer. This is followed by
Couples
, a perfect, well-structured modern country ballad.
Linda sings about the problems of ordinary people and has espoused the aims of women's liberation (a courageous act in a genre where a woman's role is still considered to be 'standing by your man', while he goes out and gets drunk). If you don't believe that Linda Hargrove is country, just give a listen to
The Farmer's Former Wife
. Dobro sets the mood as Linda, tongue firmly in cheek, tells the story of a male chauvinist farmer.
Let It Shine
is another gem. It gallops along with the full weight of the Nashville ensemble, with just a hint of gospel. 'A woman needs attention, like the flowers need the sun; without that attention, a woman feels undone.'
It was that song that Linda sent to Olivia Newton-John in London. She was not really expecting much of a reaction, but when Olivia recorded the song and made it a number one hit, Linda's reputation as a songwriter was sky-high.
"It was a real surprise," she says. "Before that I was just like any other new songwriter on the street. But since Olivia cut
Let It Shine
, I've had Dionne Warwick, Connie Stevens, Twiggy and Leon Russell record my songs."
In October 1976 Linda won a BMI country songwriter award for
Let It Shine
and the following June she capped it all off with a BMI pop award for the same song.
Though MUSIC IS YOUR MISTRESS was not a commercially successful album, artistically and critically it was well received and led to Linda working with Michael Nesmith, who at the time was involved in Elektra's short-lived Countryside label, on some of the most notable country songs of the 1970s. Together they wrote,
I've Never Loved Anyone More,
a country hit for Lynn Anderson, and also recorded by Marty Robbins, Billie Jo Spears and Johnny Rodriguez.
From then on Linda's songs were being recorded by a variety of artists in Nashville. Tanya Tucker recorded
New York City Song
and
What If We Were Runnin' Out Of Love
and Johnny Rodriguez recorded
Just Get Up And Close The Door
, which became a number one country hit during the summer of 1975.
Linda's second album, BLUE JEAN COUNTRY QUEEN, was released in 1974, despite the fact that her debut album had failed to produce a 'hit' single. The title tune was another song that spoke about her change from rock'n'roll to country with a fine western swing arrangement utilising the talents of Buddy Spicher on fiddle and Bobby Black on steel guitar.
This album underlines not only her versatility as a country singer (in the all embracing sense of country, folk and big city blues), but also her songwriting skills. What is remarkable about her writing, apart from its sheer brilliance, is Linda's sense of tradition. Instances of this traditionalism—which should not be confused with archaism—abound throughout her work, and always in a manner which highlights its contemporaneity.
In
What If We Were Running Out Of Love
, there is a piece of writing which is highly reminiscent of Harlan Howard's style and in
Bye Bye Babylon
, Linda's interest in other kinds of music other than country. Her lyrics are comparable to the best of Kristofferson's delicate love songs and her tunes are chock full of harmony and good music.
Like all record companies, Elektra became disillusioned with Linda's lack of commercial success, and in the spring of 1975 she signed a new contract with Capitol. With the continued excellent production assistance of Pete Drake, Linda reached creative maturity with her first Capitol LP, LOVE, YOU'RE THE TEACHER, where here lyrically touching tunes worked well with the sensitive Nashville arrangements.
The album ranges in style from western swing through straight country, gospel and ballads. Throughout this set of songs the synthesis of Nashville, New York and Texas is just about as consummate as you can get. Linda Hargrove, through her own maturity, had found complete versatility. What distinguishes her songs—beyond Linda's magnificent country voice—is their quirkiness. The words often deal with the dilemma between love of love and love of independence. But the individual viewpoint of each song is just cockeyed enough to keep the songs from sounding alike, musically and thematically.
"I think the general purpose of my songs is to help people relate to their own feelings," she says. "They feel like somebody's finally found the words to express what they're going through inside."
Hers is a unique vision, a blend of painful honesty and light-hearted humour saved from pretentiousness by the disarming artlessness of her presentation and the touches of ironic humour in the musical arrangements.
Love Was (Once Around The Dance Floor)
takes the listener back to a young girl's first innocent relationship and the realisation that perhaps it was not quite so special after all!
Half My Heart's In Texas
, a swing ballad recorded by Ernest Tubb, is the old, old story of love that's gone away, and on
I Wanna Do It Right First Time
, Linda once again has her tongue-in-cheek when dealing with those well-meaning people who wonder why she still hasn't married. But the highlight is the title song, a superb ballad about the experiences of love told in gentle and sensitive terms.
And with such magnificent songs and performances, Linda still couldn't gain that all-important commercial breakthrough that is demanded of all artists. Capitol did stick with her through two more albums. JUST LIKE YOU, released in 1976, was her first effort to feature a song she hadn't written, also there were no string embellishments. In fact, for country music lovers, this was a winner all the way. The standard,
Old Fashioned Love
, is a real joy with Buddy Spicher's fiddle and Shane Keister's piano pushing it along, and the Jordanaires adding some great unison singing.
Johnny Rodriguez repays Linda a debt for some fine songs by adding vocal harmonies to
You Sure Saved Me From Myself
and
Down To My Pride
, and even Chet Atkins picks a little guitar on
We've Gone As Far As We Can Go
, one of Linda's tenderest ballad performances.
The next album, IMPRESSIONS, provided Linda with her first taste of commercial success as a singer with the single,
Mexican Love Songs
. Released in the summer of 1977, this song took Linda into the country top ten for the first time. A well written tale of a trip to Mexico, this is an enthralling story, particularly as it's decorated in a flamboyant dressing of Latin rhythms, Mexican trumpets and Spanish guitar runs.
The overall feeling I gained from this album was that Linda was aiming her music more at a commercial market. On her previous albums she had played guitar, but for this set of songs she switched to piano. But she was not prepared to sell out entirely.
Nashville, You Ain't Hollywood
, is a warning to the Dolly Partons that you cannot take country music uptown without losing some identity.
It's true to say that Linda comes mighty close, especially on
I'd Rather Keep My Distance
and
Mem'ries
, but this young lady has her feet firmly entrenched in country earth. If you have any doubt, sample
Not Even For Love
and
Flicker Of The Flame
. An album of low-key contrasting sounds that grows insidiously the more it's played. This was no wham-bang infatuation, but something to treasure.
The success of
Mexican Love Songs
gave Linda the necessary push to take her music out on the road. Previously she had worked just about every club in the Nashville area, building up a healthy reputation as a straight and honest performer. With her The Go For Broke Band, she has spent the last two years touring extensively. It has meant a long wait for a new album.
Her three-year contract with Capitol expired in the Spring of 1978 and she has since signed with RCA. Apart from the single,
You Are Still The One
, which scraped into the lower regions of the country charts last year, little has been heard from Linda. This is not the first time that RCA has sat on an artist's recordings. I just hope that in the coming months they can really get behind Linda Hargrove and boost her into a relatively well-known and successful country artist.
As a songwriter she is well-established. The last few years have seen her songs being well-recorded, Johnny Rodriguez made
Savin' This Love Song For You
into a hit and also recorded
Leavin' As Fast As I Can Crawl
and
Mem'ries
. The latter has been recorded by several other artists, including Tammy Wynette. Melba Montgomery, a long time friend and fan of Linda Hargrove, has recorded several of her songs like
Hope For Your Happiness
and
Your Love Sure Saved Me From Myself.
Linda's reputation as a songwriter should not be allowed to overshadow her ability as a singer. She is a skilled interpreter, one of the few in Nashville who is maintaining that all-important link between contemporary country music of the 1970s and the traditional sounds and styles that have been formulated during the past fifty years.