Kristen Grainger & True North - Fear Of Falling Stars
Self-released
****1/2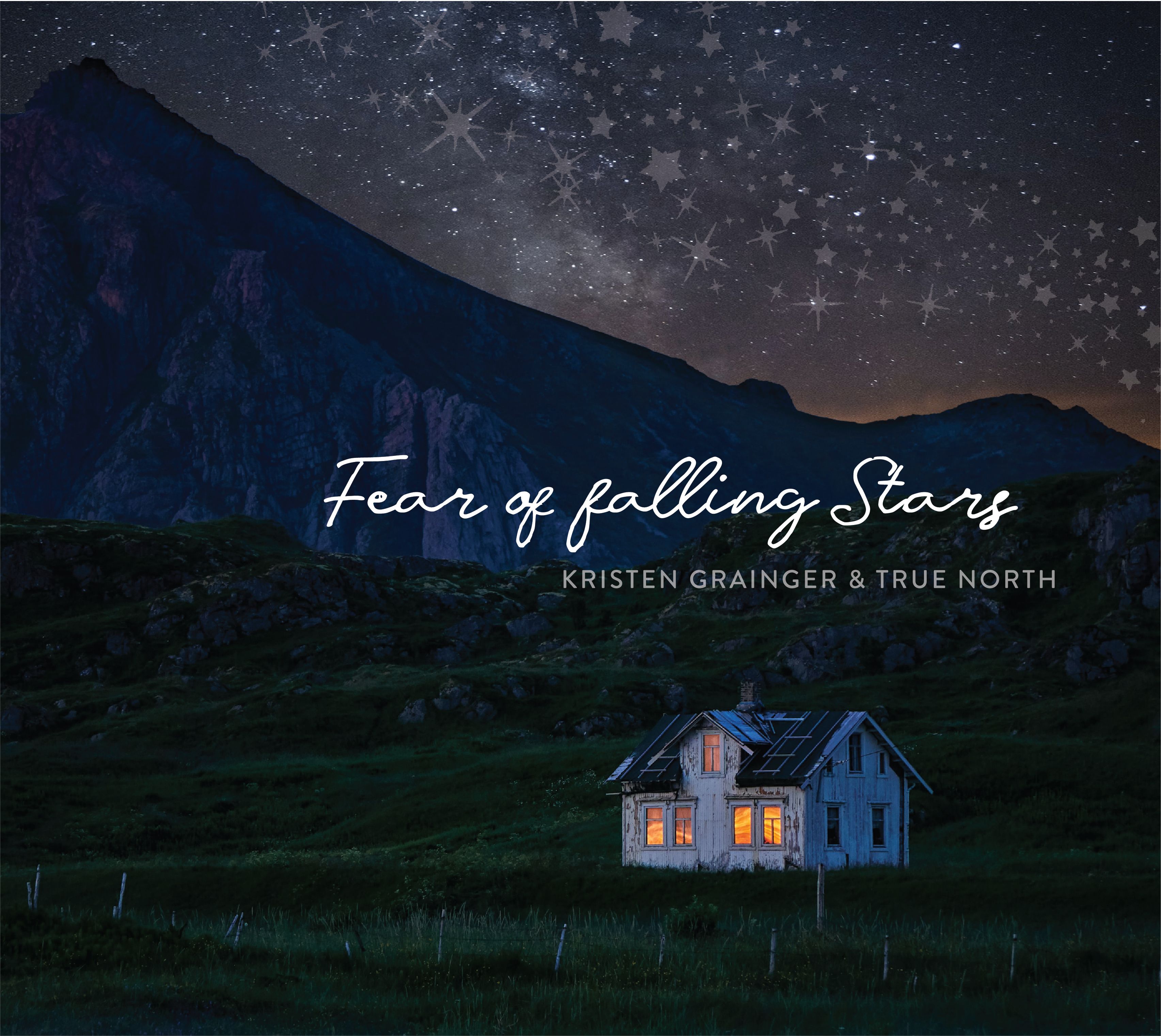 There's ample reason why Kristen Grainger and her erstwhile ensemble, True North, have been hailed as one of the best bluegrass stringbands making a presence today. Yet, at the same time, that description doesn't entail the totality of all they have to offer. While bluegrass may be the foundation for their sound, the fact is, they're a band that has an extended reach, one that goes to the very core of full expression and assured intentions, all manifested in ways that ensure a complete connection. While bluegrass music generally conveys heartfelt emotion, the quartet has a knack for diving deeper into personal feelings, and sharing them freely and frequently. You might consider their songs from the more thoughtful side of the bluegrass world. Not that there is anything wrong with cabin songs and longing for the old home, but these folks do offer a more cerebral approach to the music. Modern bluegrass often toes a fine line. On the one hand, there's a need to respect the musical heritage and stay true to tradition. On the other, it's essential to secure contemporary credence and find ways to bring it to an audience that's often unaware of that history by making it interesting, essential, and intriguing enough to lure a mainstream audience. With their hard-to-pin sound, the band revels in their own style of timeless acoustic roots music that is enticing and infectious on this their seventh album. In short, Kristen and the band continue to show the direction bluegrass can go, offering multiple paths full of promise, beauty, and inventive musicianship.
Their music clearly won't appeal to all bluegrass lovers, many of whom become agitated when any other sound infiltrates the music they treasure, but many others—especially those who already appreciate the progressions that the likes of Alison Krauss, Nickel Creek and Billy Strings have pioneered—will find much to enjoy. The album as a whole, nicely encapsulates the way the band reaches into almost every crevice of the acoustic roots world for influences, and the back porch vibe adds a folksy note to the production. Kristen Grainger (lead and harmony vocals) is the main songwriter, along with her husband Dan Werzel (guitar, banjo, mandola, resonator guitar, lead and harmony vocals) plus Martin Stevens (mandolin, fiddle, harmony vocals) and Josh Adkins (upright bass, harmony vocals). Kristen's thoughtful lyrics and enchanting vocals are very much at the fore. She's written the catchiest batch of melodies yet, the songs abundant with imagery—one minute they're evoking Appalachia on the fiery Across The Mountains and the next they're crooning Extraordinary Grace, a thoughtful and wistful ballad with its introspective lyrics of being helpless in the midst of the unsettled times that have descended on our world. Kristen ruminates like a poet philosopher while her fellow band members provide two and three-part harmonies with delicate finger-style guitar and ethereal mandolin picking that's light years removed from traditional bluegrass. 
In a way the album is a kaleidoscope of styles and influences … a record of their life and times, adding more colour to their story. Poised and solemn, Kristen crafts first-person vignettes of damaged romance and crushing self-doubt with a striking composure that suggests she won't be consumed by her problems. Typical is Don't Take Me Back, in which she warns a former lover that reconciliation is not a good move, or Stop Me If I Told You This Before, in which memories of a departed partner keep resurfacing almost unbidden. Of course, there's no negating the musical prowess that underscores each of these entries, whether it's the effusive instrumental Pent Up or the articulate arrangements that enliven every other song in this set. That track was composed by Dan, who also contributes and sings lead on the swing styled What Might Have Been and the gorgeous It's The Little Things, a heartfelt romantic ode to his wife that at no time sounds contrived or too schmaltzy … just plain beautiful.
The band's vastly creative approach thrives on opening out standard tropes to new ideas as they see no difference or divisions in music. As such, they have managed to cross the all-important cultural barriers between old-time, bluegrass, country, folk and contemporary acoustic music. That said, their musings run even deeper, especially on songs that offer compassion and consolation for anyone who feels adrift during these tumultuous times.
November 2023