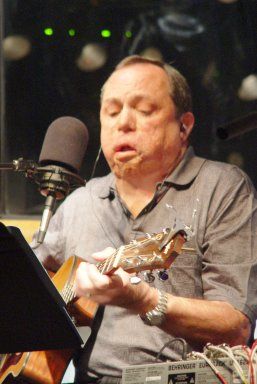 Kim Williams, a highly successful Nashville-based songwriter of the 1990s, passed away on February 11, 2016 in Florida, He was 68. A late-comer to songwriting, Kim was in his mid-forties before he enjoyed his first major success with
If The Devil Danced (In Empty Pockets)
, a number one country hit for Joe Diffie in 1991. That was followed by a string of hit songs for Reba McEntire, Kenny Chesney, George Jones, George Strait and most notably, Garth Brooks, with whom he co-wrote several hits and album tracks.
He was born Kim Edwin Williams on June 28, 1947 in Kingsport, Tennessee, the fourth of eight children in a highly musical east Tennessee family. He started writing songs for his own amusement when he was 11 and graduated to playing in local bands during his teens. By his early twenties he had toured regularly with several regional bands, throughout the South and Midwest. Following his marriage he needed a regular income, so he came off the road and took construction and electronic-technician jobs.
His life changed forever in 1974 when he was caught up in a fire at the Johnson City, Tennessee glass plant where he worked. A massive explosion resulted in third-degree burns over much of Kim's body leaving him severely disfigured. He underwent more than 200 re-constructive surgeries before he was able to return to a normal life. Kim frequently travelled from his home to Nashville for treatment at Vanderbilt University Medical Center.
At one point the surgeries were so close together that one summer Kim and his wife Phyllis rented an apartment in Nashville. The trips and the extended stay in Nashville re-lit his musical fires, as he began to seriously hone his skills as a songwriter for the first time in years. He saw an ad in a local paper about a songwriting course and decided to enrol. During his lengthy and painful recovery he was battling alcoholism, painkiller addiction and narcolepsy. Focussing on his songwriting helped him overcome his addiction problems as he now had a new purpose in life.
Kim was signed on as a staff writer at Tree International in 1989 and soon made his mark penning album cuts for George Strait, Aaron Tippin and Doug Stone. Though he'd initially been writing songs solo, it wasn't too long before he started co-writing, both with established writers and newcomers in town.  Amongst the newcomers he worked with were Garth Brooks and Kenny Chesney, both trying to get their careers off the ground by co-writing and playing writers' nights around Nashville.
A few years ago Kim recalled when he first teamed up with Garth Brooks. "I was working with an independent publisher at the time. While at the post office, she ran into Bob Doyle who eventually became Garth's manager. Bob told her about an aspiring singer who was looking for fresh material. She sent Bob some of my songs, including
Right To Remain Silent
that another singer later recorded. Garth really liked the writing and sent word back he wanted to work with me. We met for lunch and really hit it off. From then on, every Monday, we'd get together to write."
One of the earliest songs that got me taking notice of Kim Williams was
New Way To Fly
, a song co-written with Brooks that was one of standout tracks on his second album, NO FENCES, released in 1990. Though never released as a single, it was a perfect example of how inventive Kim could be with his lyrics. Though he was working within the tight confines of trying to write mainstream country radio hits, Kim tended to be more of an edgy writer who came to the table with left-of-centre lyrical ideas. Like so many Music Row songwriters, many of Kim's finest songs were buried deep in albums, but it wasn't too long before he scored his first number one country hit in 1991 with the cleverly constructed
If The Devil Danced (In Empty Pockets)
, by Joe Diffie.
Shortly after this Garth Brooks took his
Papa Loved Mama
to number three on the country charts. Brooks went on to feature several more of Kim's co-writes with Kent Blazy and the singer on his albums including
Cold Shoulder, Cowboys And Angels, It's Midnight Cinderella, She's Gonna Make It, The Storm
and
Ain't Going Down (Til The Sun Comes Up)
a number one hit in 1993 and a long-time dynamic staple of Brooks' concerts.
The Night I Called The Old Man Out
, a song that Kim co-wrote with Brooks and Pat Alger is yet another good example of his unique lyrical approach.
George Strait included
I've Convinced Everybody But Me
on his 1991 CHILL OF AN EARLY FALL album and
All Of Me (Loves All Of You)
on his HOLDING MY OWN the following year and later recorded both
Honktonkville
and
Brothers Of The Highway
, the latter being one of my favourite songs recorded by Strait in recent years. Aaron Tippin is another singer who co-wrote with Kim Williams early in his career, coming up with
My Blue Angel
, a top ten hit in early 1993 and the clever
Trim Yourself To Fit The World
on his CALL OF THE WILD album.
Doug Stone who scored a top 5 country hit with Kim's
Warning Labels
, included several more of his songs on his albums, including co-writes of
The Feeling Never Goes Away
and
This Empty House
and the emotional
The Right To Remain Silent
from 1991. Kim also co-wrote with Kenny Chesney
Whatever It Takes
, the future country superstar's 1994 debut country hit, the album track
Angel Loved The Devil
and his first top ten hit
Fall In Love
in 1995.
In 1994 Kim Williams was named ASCAP's Country Songwriter of the Year as he continued to pen numerous hits including
Overnight Male
for George Strait,
Not Enough Hours in the Night
(Doug Supernaw),
Who Needs You Baby
(Clay Walker),
Honky Tonk Truth
(Brooks & Dunn) and
Goodnight Sweetheart
by David Kersh (previously an album track by Joe Diffie). One of his best songs from this period was
The Heart Is A Lonely Hunter
, a classic pop-country number that Reba McEntire took to the top of the charts in 1995.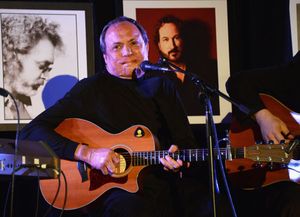 Though he appeared to have enjoyed his greatest and most lucrative successes throughout the 1990s, Kim continued to write hit songs and important album tracks scoring his best-known hit with
Three Wooden Crosses
, a comeback hit for Randy Travis in 2003. A dramatic song that caught listener's attention right across America, the song, co-written with Doug Johnson, was awarded Song of the Year honours from the CMA Country Music Association), ACM (Academy of Country Music), Nashville Songwriters Association International and the Gospel Music Association.
Amongst his other notable successes have been
Beer Run
(a duet hit by Garth Brooks and George Jones),
While You Loved Me
(Rascal Flatts) and
Pickin' Wild Flowers
(Keith Anderson). In 2012 Kim Williams was deservedly inducted into the Nashville Songwriters Hall of Fame.
His musical legacy is being continued by his daughter, Amanda Colleen Williams, who after sharing co-writing credits on
Beer Run
was signed to her first publishing deal with Sony ATV Tree. Over the past dozen years she has written almost 500 songs, had songs recorded by various up and coming artists, and pursued a recording career of her own. For several years she ran a weekly songwriter's night in Nashville known as Blue Monday and was asked to hold private auditions for television shows such as Can You Duet for which she presented the duo, Steel Magnolia who would go on to win season two. She now has her own publishing company, Hillbilly Culture, which has a new, more direct approach to music publishing that is rapidly paying dividends for new up-and-coming songwriters and artists.
Kim Williams was renowned as one of Nashville's hardest working songwriters. He overcame great adversity to pursue his passion for creating music. His friendly, no-nonsense demeanour and his readiness to assist newcomers made him the perfect partner for other writers in the 1990s, when co-writing became the norm and solo writing became the exception. He arrived for writing appointments prepared with ideas, and prepared to run with others' title and narrative notions, and he was willing to write songs that were edgier than most by-committee endeavours. Over the years he helped to write some of my favourite songs of the past 25 years or so.