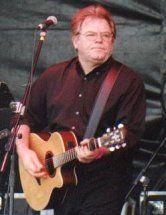 Kenny Johnson, one of the greatest voices in British country music, sadly passed away on Tuesday October 13, 2015 in Spain. One-time lead singer with the Hillsiders and later leader of his own band, Kenny Johnson & Northwind, not to mention a long stint as a radio presenter in his hometown of Liverpool, Kenny lived and breathed country music. Fiercely opinionated, he didn't suffer fools gladly, but beneath that somewhat tough exterior, was to be found a friendly, sensitive human being. I first met him back in 1967 in London and in the early 1970s booked the Hillsiders to play gigs in Kent. In the ensuing years I ran into him on several occasions, my one big
regret is that I was never able to persuade Kenny and his Northwind band to appear at any of my festivals or concerts in Kent. We came close a few times, but either the dates clashed with his other commitments or the fee for a one-off gig, though way above the norm, wasn't really financially viable for him and his band. 
Kenny was born December 11, 1939 in Liverpool. Growing up he was heavily into music, especially what we now know as 'country' music. In the mid-1950s he was playing skiffle and country music and in 1958 he formed Sonny Webb and the Country Four. Sonny Webb, was in fact Kenny, who had chosen the name Sonny Webb after two of his musical idols, Sonny James and Webb Pierce. A co-member of the band was fellow Liverpudlian musician, Joe Butler.
In 1960 Kenny left the band to form the Cascades and invited Joe along to join the band on bass guitar. In 1964 the Cascades changed their name to the Hillsiders. The following year they were invited to be the back-up band for Red Sovine for a German tour and also released their first album, THE HILLSIDERS PLAY THEIR COUNTRY HITS for Rex Records. Later that year the Hillsiders were working with Bobby Bare as back-up band in Germany. The American hit-maker was so impressed with the Hillsiders, that he persuaded Chet Atkins that the band should travel to Nashville and record an album with him. The result was 1967's THE ENGLISH COUNTRYSIDE, which entered the US country chart top twenty.
  The Hillsiders were invited on to the Grand Ole Opry in 1967, when it was held at the famous Ryman Auditorium and toured with numerous American country acts including George Hamilton IV (with whom they recorded an album in 1970), Skeeter Davis, Marty Robbins, Jerry Lee Lewis and countless others.
Having released the album with Bobby Bare on RCA, the Hillsiders subsequently recorded THE LEAVING OF LIVERPOOL for RCA in 1968 and then recorded GEORGE HAMILTON IV WITH THE HILLSIDERS, a joint album with the famed Nashville singer. Released on RCA in 1971 it marked the first time that an American country singer had recorded with a British band in the UK. The Hillsiders toured Scandinavia, Germany, Austria and Holland in 1969 with George Hamilton IV, and also joined him for the first British country music series for BBC2, that was filmed in London's Nashville Rooms in 1970. In 1972 the Hillsiders joined Polydor Records and released fan-favourite BY REQUEST. At this time they were very much at the forefront of country music in the UK regularly picking up the awards. In those days of the late 1960s and early 1970s, most British country acts were still performing and recording covers of American country tunes. It was deemed the kiss of death to be singing original, self-penned songs, but in 1973, the Hillsiders did precisely that with OUR COUNTRY, an album of all Hillsiders' originals, mainly co-writes between Joe Butler and Kenny Johnson. Also released on Polydor, some forty-odd years later that album still stands as the benchmark for all UK country acts to strive for when it comes to writing and recording original material.
  Despite the success of the Hillsiders, Kenny Johnson felt the need to move on, so in 1975 he left the band and soon formed Kenny Johnson and Northwind, which, for many years was regarded as one of the best bands on Merseyside. The following year Kenny and the band released the first of their albums, LAKESIDE HIGHWAY, on the North West Gramophone label. It was an impressive collection, mainly of cover songs, that astutely blended the contemporary with the traditional country sounds he was renowned for, with material from Jimmy Buffett, George Jones, Michael Martin Murphey, Waylon Jennings, John Fogerty and Mike Nesmith along with one self-penned song.
The following year he released what is possibly his best-known self-penned song—
City Lights
. Not to be confused with the Bill Anderson country classic, this is an exceptional lyrical song based around his beloved Liverpool. It was picked up by EMI Records for release on their EMI International label.
In the late 1970s Kenny took his love and passion for country music to the airwaves when he landed a weekly country show on BBC Radio Merseyside, which he hosted for 40 years until his retirement in June this year. A fountain of knowledge, it was an entertaining show that mixed good music, humorous chit-chat and lots of in-depth information about the music and the artists that were featured.
Alongside writing songs for himself and his band to perform, for many years Kenny worked closely with fellow Merseyside band West Virginia, providing them with original songs and also producing some of their recordings. Not a prolific songwriter, over the years he and his band released several albums and CDs including LET ME LOVE YOU ONCE, A TREE IN THE MEADOW, THE BEST OF KJ and, SUMMER NIGHTS. The latter has long been one of my favourites, as it features 16 self-penned songs, all top quality and a testament to all that Kenny Johnson stood for.
In 2003 he formed a duo with Ronnie Westhead. Originally called Johnson & Westhead, but a year later he settled for the Kenny Johnson Duo. Occasionally he would get back together with Sonny Webb and the Cascades and his band Northwind. In 2007 he was deservedly inducted into the British Country Music Hall of Fame.
Kenny Johnson—a fantastically distinctive and passionate singer, great band-leader, entertainer and radio presenter—a one of a kind human being.