Kailey Nicole - Kailey Nicole
Self-released
****
The name Kailey Nicole might not ring a bell yet, but I would like to advise you to keep her in mind. On this, her second EP, she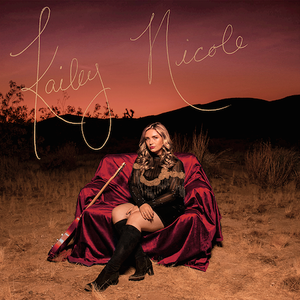 proves to anyone listening that she has a talent well beyond her years. In an era of widespread vocal sweetness in mainstream country music, Kailey has that rare blend of powerful real-life honesty in her vocals that lends instant depth and credibility to her songs. She's a technically gifted singer with the exceptional ability to utilise technique in a way that enhances emotiveness. This six-song collection is deeply rooted in trad country, with Kailey's fiercely independent voice carrying inflections of Patsy Cline, Patty Loveless and Tanya Tucker. A diverse, soulful and adventurous outing, where each song is a journey of its own, and we should all be grateful we're along for the exciting, heartfelt ride.
Kailey's been singing and writing songs for the past ten years, even though she's only in her early twenties. The oldest song here, Another Country Love Song, she wrote when she was just 15. A gentle mid-tempo ballad conceals fiery passion with intelligent, heartfelt lyrics that are far beyond her tender years. The Nevada-born singer-songwriter only moved from her California home to Nashville last year and the anticipation that she felt is all there in Tennessee. Full of a twenty-year-old's bold ambition the song rocks all the way through with gutsy bravado. A wounded love song, Save Me For A Rainy Day is filled with reverb-drenched guitar, Kailey's gorgeous soulful vocal front and centre and the unshakable sensation of hearing an artist whose songs will end up in a listener's head for days.
A brisk beat and edgy vocals disguise the break-up angst of Diamonds And Coal. Accompanied by a powerful lead guitar attack that comfortably switches power and pace, this dynamic track perfectly captures Kailey's indomitable spirit in this classic kiss-off rocker. The chugging Change My Ways is an aching confessional wrapped up in misunderstood angst for a slice of southern-swept country-soul. The one non-original is Brand New Day. Intended for Kenny Chesney, Kailey sang the pitch demo, and after Chesney passed on the song she's re-cut it for this release. It's a gem of a performance with a full, polished and edgy sound from the distinctive guitar line to the infectious chorus as Kailey's urgent vocal leads with an incredible sense of purpose.
This album is a thoughtful collection of songs, with a nod to classic country music that delivers everything from stories of love, to travelling songs, to heartbreak and rejection in the life of a twenty-something woman of today. 
January 2020