Julie Lee - Till and Mule
Self-released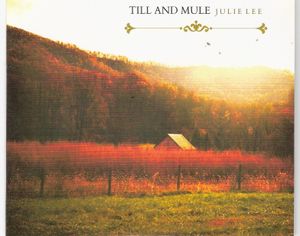 Uniting the intensely personal with the wholly universal, the latest release from versatile mezzo-soprano Julie Lee is an absorbing listening experience as she paints vivid characters and images with her lyrics and breathes life into them with her wonderful voice. It is her honest exploration of life's complexities that makes her music so heartfelt, moving and thoroughly embraceable. She draws you into her world with opener
Bravely
, a delicate song with a lyric that aches with hurt and longing that's enhanced by the exquisite musical arrangement that is not just enchanting, but heartbreakingly irresistible. Credit should be given to co-producer Aaron Roche who provides inventive guitar accompaniment, bass, vibes and string arrangements alongside Jason Goforth (lap steel, harmonica), Nathan Phillips (piano), Nicholas Zork (violin) and Abigail Doukhan (cello).
Julie Lee is neither bluegrass nor folk nor country nor any one thing in particular. She writes and sings music that is hard-to-define and carries on in her own dignified manner, making some of the most entrancing records you're ever likely to hear.
Quite simply Julie Lee writes beautiful songs, and sings them beautifully. You can't help but be touched by the gorgeous
Never Change
, a wonderful, quiet little ballad that speaks volumes and needs to connect to a whole lot more listeners than just her small, but dedicated fan base.
Painfully Clear
is a vivid emotional insight as an achingly desolate vocal distills the anguish and dislocation of loss with a grace and gravitas that go straight for the heart. Layers of thistle and honey sheathe her voice like old hay on a buckboard as the title song's potent central metaphor slowly unfolds. Much like the appeal of a quilt, Julie Lee is not afraid to let the seams show as with
Too Far Gone
, an achingly poignant yet magically affirmative song.
Not for the obvious tastes of fast-food radio listeners, this is music to stretch out and dine on with savouring attention. Julie Lee has an angelic voice capable of exploring every nuance of a lyric and definitely deserves a listen from anyone looking for fresh passionate new music. Those who love the beauty and purity of Alison Krauss' voice will absolutely fall in love with this totally absorbing album.
www.julielee.org