Johnny Cash 25 Years and CASH is still the star attraction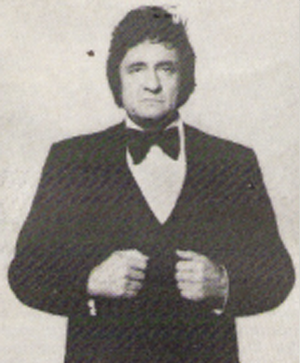 JOHNNY CASH—the country music hero of millions—returns to Britain this month for a headlining slot at Portsmouth. The response, as usual, will be tremendous. ALAN CACKETT picks up a few slices of a phenomenal career. 
Last year Johnny Cash celebrated his 25
th
anniversary in the music business. It has been a quarter of a century of great success, but also a period of problems and tribulations. Throughout the 'Man In Black' has stood tall, but now as country music is making great strides into the mass music market he is very much in the background.
Johnny Cash was born in Kingsland, Arkansas, on February 26, 1932. Following high school graduation, he worked on a Detroit assembly line and in July 1950 enlisted in the air force when America was engaged in the Korean conflict. Country music had always been part of Cash's boyhood, and while in Germany he purchased his first guitar. During the often lonely four years he spent as a military cryptographer, he read history, wrote songs and practised guitar.
Then came demobilisation with the rank of staff sergeant and he went to Memphis. He enrolled in a radio-announcing course and had to support himself by selling kitchen appliances door-to-door. He tried three times to audition with Sun Records and after a year had his wish granted. His first record was
Cry, Cry, Cry
, followed by
Folsom Prison Blues
, and initial recognition was substantiated by the haunting
I Walk In Line
.
He left the Sun label in 1958 and signed with Columbia, and continued to notch up regular top ten hits for the next fifteen years. His success on the American country charts during the past few years, though, has been spasmodic to say the least. A string of four top ten hits in 1972 suddenly marked the abrupt end of Johnny Cash's instant chart of success for each single. His next major hit didn't happen until the end of summer 1976 when he hit the top spot with the Wayne Kemp penned
One Piece At A Time
. This turned out to be an isolated success, as his singles for the next three years all floundered in 30s and 40s, through he came closer to another top ten entry with
I Would Like To See You Again
, which climbed to number 12 at the beginning of 1978. His next release, a duet with Waylon Jennings of
There Ain't No Good Chain Gang
, reached number two on the charts but Cash is still experiencing a number of problems regaining his chart status.
Although his commercial success has somewhat waned in recent times, Cash is still the public face of country music in Britain. He is one artist whose communicative powers strike deeper than the superficiality of contrived image. Over the years he has been put-down: he is not a great singer; his songs are very basic; and his records are marked by under-production. Certainly he is a country man at heart, but to dismiss his achievements and ascribe them to luck alone would be churlish and flies in the face of both facts and information.
Worse, it is ungenerous to a man who among rock and country musicians, from 1955 to today, has maintained a loyalty to fans and his musical creed almost touching in its reassuring honesty. He has never felt the need to search out crossover success, he has just continued to sing his songs in his own distinctive way, irrespective of current trends, and if he has achieved a pop smash every so often, all well and good.
Much of his best work is hidden away on albums. Along with John Stewart and Robbie Robertson (of The Band), Cash's flowing audio paintings depict an America where people overcome struggle and strife. Albums like RAGGED OLD FLAG, AMERICA, BALLADS OF THE TRUE WEST and FROM SEA TO SHINING SEA contain some of the finest examples of Cash's work. The last few years have seen a definite drop in the quality of his writing. This was bought home to all but the most dedicated Cash fans  with the album THE RAMBLER. The material and playing on this album was sometimes laboured, mostly predictable, and the lyrics banal. Lack of originality can have its charms—providing its done stylishly. This particular album was just plain embarrassing.
Recognising his shortcomings as a writer in recent times, Cash has turned more and more to other writers for his material, and this could well be the key to a continued success in the 1980s. Albums like GONE GIRL, THE LAST GUNFIGHTER BALLAD and SILVER are full of songs from contemporary writers like Rodney Crowell, Guy Clark, Billy Joe Shaver and Billy Ray Reynolds.
An old friend from the Sun years, Jack Clement, seems to be giving Cash a helping hand in finding his true niche in the country music of the 1980s. After leaving Columbia to record the gospel album A BELIEVER SINGS THE TRUTH for Cachet Records, he has now re-signed to Columbia and looks set to have more success. Though his records have lessened during the past few years, Cash in concert is still dynamic, and so regardless of the lack of recording success he has maintained his position as one of the few genuine country music superstars.
His roadshow is one of the best advertisements you'll ever see for getting across the message that country music is a viable part of the general music scene. Over the years he has attracted some of country music's most talented acts to work alongside him. In the early 1960s Tompall & The Glaser Brothers were a regular part of the Cash road-show. Then for almost ten years the incomparable Statler Brothers brought a new dimension to his shows. Rock'n'roller Carl Perkins, an often overlooked and underrated country music performer, has also worked regularly with Cash on tours, and of course there was Mother Maybelle Carter and the Carter Family, who brought a traditional feel to the shows.
It is June Carter Cash who plays a major role in Johnny's life. Together they are the king and queen of country. Johnny played guitar and sang on the Grand Ole Opry for 17 years. She has sung with Johnny in the Cash show since 1961, and of course together they have recorded numerous hit recordings.
Recently Cash has formed a new roadshow to be known as Johnny Cash and the Great Eighties Eight. Personnel in the band includes Joe Allen on bass, who replaces Marshall Grant. After 25 years with Cash, Grant is retiring to his farm to raise horses. Joe Allen is not only a noted Nashville session player, but also an outstanding songwriter, and he could prove a boon to Cash with song material. June Carter Cash continues with the show, along with band members W.S. 'Fluke' Holland, drums; Earl Ball, piano; Bob Wooten, guitar; Jerry Hensley, rhythm guitar; Marty Stuart, mandolin, banjo, guitar and vocals; and two trumpet players, Jack Hale and Bob Lewen.
Over the years Johnny Cash has proved himself capable of surprising the public. He releases a few indifferent recordings, and then out of the blue comes an album or single that just about knocks you sideways with the impact. And of course you can never be quite sure what the man has up his sleeve, which makes the wait between records all that more interesting and worthwhile.
This revamped roadshow demonstrates his determination to make his mark in the 1980s. Just what he has in mind recording-wise now that he is back with Columbia is anybody's guess. It could be built around his latest American single,
Song Of the Patriot
with Marty Robbins, which might build into his biggest single for some time, and would prove to be an ideal theme for an album. We will wait and see. 
First published in Country Music People, August 1980