John D Loudermilk - Obituary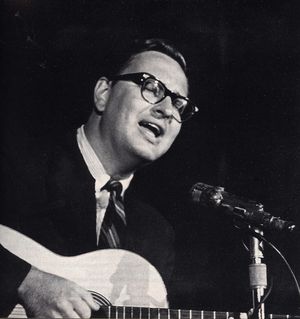 John D Loudermilk, one of my favourite singer-songwriters of the 1960s-1970s, sadly passed away on September 21, 2016 following a struggle with bone cancer. He was 82. A prolific singer-songwriter John D. Loudermilk was much more famous as a songwriter than a performer, though he recorded regularly from the late 1950s through to the early 1980s, and was a somewhat endearing and consummate entertainer, being particularly skilled on guitar. Straddling the fields of rock, pop, and country, he made his mark with catchy songs that run the gamut from the ridiculous to mildly humorous, caustic protest to romantic.
Artists as diverse as Skeeter Davis, Jefferson Airplane, Johnny Cash, Petula Clark, Tracey Ullman, George Jones, the Everly Brothers, David Lee Roth, Anne Murray, Sammie Davis Jr, Waylon Jennings, Johnny Winter, George Hamilton IV, the Allman Brothers, Sue Thompson, Rare Earth, Tim McGraw, Brenda Lee, Kanye West, George Jones, Flying Burrito Brothers, Norah Jones, Connie Smith, Nina Simone, Glen Campbell, Eddy Arnold, Little Jimmy Dickens and James Brown are amongst the dozens who recorded his songs.
His best-known songs include
Then You Can Tell Me Goodbye, Break My Mind, Tobacco Road, Abilene, Road Hog, Talk Back Trembling Lips, Indian Reservation, Paper Tiger, Bad News, This Little Bird, Google Eye, Thou Shalt Not Steal, Windy and Warm, It's My Time, Ebony Eyes
and
Waterloo.
Many of his songs were simple and uncluttered with catchy choruses as he captured the life of being a teenager in the late 1950s and early 1960s perfectly. A good number of them have stood the test of time, having been revived some 40 or 50 years after they were first written by the newer artists of the day.
John D Loudermilk was born on March 31, 1934 in Durham, North Carolina. His parents were in middle age and his two elder sisters were married and lived away from the family home, so in reality John grew up an only child. His cousins were Ira & Charlie Louvin—the Louvin Brothers. Back in the 1930s, at the tail end of the Great Depression, times were hard for many, and the Loudermilks could never be considered rich. John D senior was a carpenter by trade, and John junior recalled queuing at the local Salvation Army chapel waiting for bags of food that were handed out to the needy.
The Loudermilks were keen members of the 'Army' and John was never allowed to miss a meeting. His first musical training was with the Salvation Army Band. They were so short of members, that John soon learnt to play the trumpet, saxophone, trombone and bass guitar—almost a one-man band himself. Later, in his professional music career, that was the way that he preferred to perform on stage—just with his guitar, harmonica and foot percussion—a genuine one-man band.
In 1947 John had his own radio show in Durham—Johnny D was a half-hour programme every morning at the unearthly hour of 6am. If you're keen to break into the music business, then you'll do what it takes to get your foot in the door. To further his ambitions, as a youngster he was a shoeshine boy, grocery bagger and telegram delivery boy. Later came jobs as a janitor, door-to-door Bible salesman, sign-painter and bulldozer operator.
Following graduation from High School in Durham he gained a scholarship to the University of North Carolina the same University that George Hamilton IV attended two years later. During college vacation, he was employed by WTVD-TV as a set painter and also played upright bass in the Noon Show band. In 1955, he came to the show with a poem he had written and set to music, and got to perform it on the show. Reaction was favourable and local record label owner, Orville Campbell
,
decided it would be the ideal song for his new young singer, George Hamilton IV. A local country singer, Hamilton was not too happy about recording
A Rose And A Baby Ruth
, a somewhat sappy teen ballad. He relented, and the single, released on Colonial Records, and later picked up by ABC-Paramount, shot into the American pop charts and went on to sell in excess of a million copies.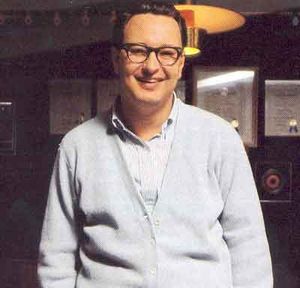 He wrote another ditty,
Sittin' In the Balcony
, and recorded it for Colonial under the name Johnny Dee. It made the top 40 pop charts in 1957, and was then covered by rock'n'roller Eddie Cochran, who took the song into the top 20. He continued to record for Colonial under the name of Ebe Sneezer as well as Johnny Dee, while still penning songs.
He had joined the local Baptist church and sang first tenor in the choir. Gwynn Cooke, the pretty church organist soon caught the eye of John D. and in the summer of 1957 they were married. John still had a desire to be involved in the music business, so at the invitation of Fred Foster, who was then working for ABC Paramount he moved to Washington. There he was booked for various show dates and continued his songwriting activities, but without much success.
In order to live he applied for a job as a ballroom dancing teacher and not only did he get the job, but eventually won a gold medal for being so proficient at both the girl and boy parts. This life though wasn't really suiting the Loudermilks, so John with his wife Gwynn and son John Junior returned to Durham, moved in with Gwynn's parents and John decided to try his luck in Nashville. He left his family with the promise: "I'll give that town one year, if I don't make it then. I'll return and settle down."
His manager and good friend Jim Denny signed him to a writer's contract with Cedarwood Publishing and during that year he wrote over 100 songs. That same year John D signed with Columbia Records and recorded five singles without any success. Meanwhile, his songwriting was beginning to pay dividends. In 1959 he scored with
Grin and Bear It
(a hit for Jimmy C. Newman) and
Half Breed
(a hit for Marvin Rainwater) whilst Little Jimmy Dickens released the single
Hey Ma! (Hide The Daughter)
. Later that year Stonewall Jackson had his biggest hit with
Waterloo
, a song that Loudermilk co-wrote with Marijohn Wilkin. The song became a number one country hit and also a number four pop-crossover success.
This led to John D Loudermilk becoming an in-demand Nashville songwriter.  Amongst his successes at this time were the Kitty Wells country hit
Amigo's Guitar
. Meanwhile, on the pop charts, Johnny Ferguson hit with
Angela Jones
(covered in the UK by Michael Cox) and Connie Francis had 1961 successes with
(He's My) Dreamboat
and
Hollywood
. Mark Dinning had a minor pop hit with
Top Forty News, Weather and Sports
and Brenda Lee placed
Weep No More My Baby
on the B-side of her 1959
Sweet Nothin's
pop hit.
Despite his lack of success with Columbia, Chet Atkins, head of a&r at RCA Nashville, was convinced that John D Loudermilk had huge potential as a recording artist. In 1960 he signed him to make records and hired him to screen songs for the label's Nashville artists. He was also used as a session musician and backup vocalist. Shortly after this he was signed as a writer with Acuff-Rose Music.
His first hit record for RCA was
The Language of Love
made in 1961, which also became a UK pop hit. He scored further minor pop hits with
Thou Shalt Not Steal, Callin' Doctor Casey
and
Road Hog
, and also scored on the country charts with
Bad News, Blue Train, Th' Wife
and
That Ain't All
. His hits as a writer proved much more profitable with the Everly Brothers (
Ebony Eyes
), Bobby Vee (the teen-themed
Stayin' In
), Sue Thompson (
Sad Movies, James, Norman
), Kris Jensen (
Torture
), Ernest Ashworth and Johnny Tillotson (
Talk Back Trembling Lips
), and George Hamilton IV (
Abilene
). Chet Atkins recorded the songwriter's
Windy and Warm
in 1961, and the instrumental version has since been recorded by many other guitarists.
Throughout the 1960s he was scoring on both the pop and country charts as a writer, and in the UK he had even more success. Pop group, the Nashville Teens
,
enjoyed top 10 success with
Tobacco Road
and
Google Eye
in 1964, and the following year Marianne Faithful hit with
Little Bird
. In America, Johnny Cash scored with
Bad News
, Sue Thompson took
Paper Tiger
into the pop charts, and Dick & DeeDee had a top 20 hit with
Thou Shalt Not Steal
.
John D Loudermik's time with RCA was mainly spent either as a session guitarist or as an album artist. He would often nurse one of his creations through the recording studios and worked together with George Hamilton IV on
Abilene, Break My Mind
and
It's My Time
, three of his well-known country songs which have become standards. George spoke of John D. as 'his best friend in the music business—a genius and one of the greatest songwriters of our time.'
His RCA albums at this time were very much a mish-mash of styles and subject matter, ranging from the most mindless, sappy pop to a hard-bitten, bluesy tune that rang with as much authentic grit as a Mississippi Delta blues classic. Despite seemingly being all over the musical map, there was always much to appreciate in a John D Loudermilk album. His first two albums, LANGUAGE OF LOVE, released in late 1961 and THE TWELVE SIDES OF JOHN D LOUDERMILK (released the following August), were both diverse sets of original songs way outside of the usual collection of pop songs released by his contemporary hit-makers.
He included his own distinctive versions of songs that had become hits for others including
The Great Snowman, Angela Jones, Little Bird, Google Eye
and
Tobacco Road
alongside his own hits
Road Hog
and
Blue Train (On the Heartbreak Line)
.
There was a four-year hiatus before he returned to the studio to release a trio of interesting albums that portrayed much more thought in his songs. The term 'thinking material' was used to describe A BIZARRE COLLECTION OF THE MOST UNUSUAL SONGS, SUBURBAN ATTITUDES IN COUNTRY VERSE and THE OPEN MIND OF JOHN D. LOUDERMILK. He wrote
No Playing In The Snow Today
after the report swept the States that snow could be affected by radioactive fallout. In fact, John D. Loudermilk was the first man in the world to build and patent an anti-fallout chamber in case of a nuclear attack.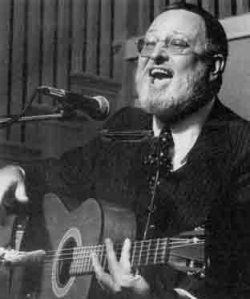 The Jones
pokes a pointing finger at the mistakes of trying to keep up with 'the Joneses;'
Lament of the Cherokee Reservation
Indian
is a beautifully composed protest song spotlighting the plight of Native Americans, especially the Cherokees, with whom John had a personal relationship. Unfortunately, with his deeper and more thoughtful lyrics, John D Loudermilk wasn't achieving the commercial success with his recordings that he deserved. His liner notes for Suburban Attitudes did win him a Grammy Award.
Although John D. Loudermilk was always happy working for RCA, I personally don't feel they gave him the scope he needed. When he made his infrequent personal appearances he always appeared with his classical guitar and harmonica strung around his neck, other musicians were not needed, John's adeptness on these instruments was so clever he created a full sound. Unfortunately, RCA never recorded John D. Loudermilk in his natural style. He was usually burdened by the obtrusive use of chorus and strings and even brass was used liberally on his recordings. The arrangements and production of his recordings cannot be entirely blamed on RCA Victor, as Loudermilk was for many years an assistant a&r man for Victor in Nashville, and as well as supervising many sessions, he was often featured as a guitarist or even back-up vocalist on recordings by people like Jim Reeves, Skeeter Davis and George Hamilton IV.
His major writing successes from the late 1960s and into the 1970s include the oft-recorded
Then You Can Tell Me Goodbye
, a country chart-topper for Eddy Arnold and pop top tenner for the Casinos and later revived by Glen Campbell;
It's My Time
another biggie for George Hamilton IV;
I Wanna Live
, a number one for Glen Campbell and
Indian Reservation (The Lament of The Cherokee Reservation Indian
), a 1969 UK pop hit for Don Fardon, and two years later a US chart-topper for Paul Revere & The Raiders.
In 1971 John D. Loudermilk left RCA Victor, and signed with Warner Brother, part of the Kinney Group. VOLUME ONE – ELLOREE, his first release on his new label had much more depth, and I feel much more of the real John D. Loudermilk than any previous recordings. Most of the songs are very well known, and of course all are from the pen of Loudermilk, but the performances are very different to the well- known 'hit' versions. The whole album has a very comfortable feel to it, with John playing classical guitar, and harmonica, assisted at times by Norman Blake (Dobro, mandolin), Beegie (Cruiser) Adair (organ) and Henry Strzelecki (upright bass). It was one of the most interesting, and even enlightening, album releases of 1971.
Not long after the album's release I met John at the Elizabethan Barn, Tunbridge Wells where he was performing for a George Hamilton IV TV series. He drew great applause from the audience for his impressive one-man performance and I had the opportunity to chat to him at length about his music and in particular his latest album. He felt at the time that he had really found his role as a performer. Certainly he had achieved great things as songwriter, but his major aim in life was to appeal to a wider audience as a recording artist and performer.
Sadly the album, though critically acclaimed, failed commercially and further volumes never materialised.  It was to be another six years before he was to release his next album, the appropriately titled JUST PASSIN' THROUGH. He had taken to travelling around the world, studying ethnomusicology, chasing hurricanes and doing research on Native American burial mounds. He continued to perform infrequently and returned to the UK occasionally, including 1984 when he recorded a TV special for BBC2.
John D Loudermilk was inducted into the Nashville Songwriters Hall of Fame in 1976. In 1981, he helped to establish the Nashville office of The Songwriters Guild, an organisation that fights for better contracts for composers. He was honoured at the Country Music Hall of Fame in 2007 in its 'Poets and Prophets' speaker series. Also in 2007, he donated approximately 2,000 items of career papers, photos, recordings and memorabilia to the Southern Folklife Collection at the University of North Carolina. He was inducted into the North Carolina Music Hall of Fame in 2011.
Following his cancer diagnosis, an all-star group gathered to honour him at The Franklin Theater in March 2016. He said he didn't want a memorial service after his death, so the Nashville music community gave him one while he was alive. Performing many of his classic hits were Rodney Crowell, Bobby Braddock, Lee Roy Parnell, Jimmy Hall, Doyle Lawson, Ricky Skaggs, The Whites, Billy Burnette, Emmylou Harris, Beth Nielsen Chapman, Marty Stuart and Deborah Allen.
John D Loudermilk's musical legacy is being maintained by his son, Michael Loudermilk, a skilled guitarist, songwriter and singer in his own right. Over the past few years he has toured or worked with many country stars including Crystal Gayle, Tracy Lawrence, John Schneider and Clarence 'Gatemouth' Brown. He has also recorded several albums, including a duet record, WILDWOOD FLOWER, with bluegrass fiddle legend Buddy Spicher. He also operates his own Nashville Sound Project House recording studio. I've met him a few times in Nashville and Michael is definitely a chip off the old block; a true southern gentleman with the same friendly decorum and a ready smile as his father.
John D Loudermilk was often referred to as being 'weird' and 'eccentric' because he followed his own muse, rather than the dictates of others. His philosophy of country music was that the music comes from the working class—when a country artist sings about heartache, it really means something. He told me many years ago: "If I feel out of touch, I'll go to the bus station and just sit and talk with some old wino awhile"—this is why John D. Loudermilk's songs have been so successful, he really associated with life.
His music has consistently stood the test of time. Over the years his own recordings have been successfully reissued on CDs and his songs have been revived by Norah Jones (
Turn Me On
), Wreckless Eric (
Break My Mind
), Tracey Ullman (
Sunglasses
), Boney M (
Sad Movies
). David Lee Roth (
Tobacco Road
), Neal McCoy (
Then You Can Tell Me Goodbye)
and Tim McGraw (
Indian Outlaw
).