Jim Photoglo - Halls Of My Heart
Grifftone Records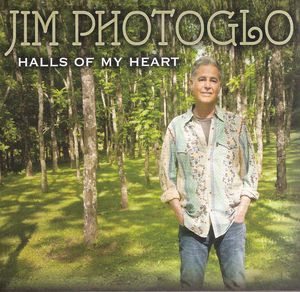 Music Row songwriter Jim Photoglo has co-written hits for everyone from Trisha Yearwood to Kenny Rogers to John Anderson to Faith Hill. The one-time member of Run C&W, enjoyed a fairly successful recording career in the early 1980s scoring on the American pop charts and gaining a sizeable following in Japan. That was followed by roadwork with Andy Gibb, Vince Gill and Dan Fogelberg. He's been based in Nashville for around 25 years. Most of that time he's been engaged in co-writing, but for his third solo album, the majority of the songs he's written alone. Like the returning sun after a long, cold winter, HALLS OF MY HEART is a warm album filled with songs about reconciliation and fresh starts.
It's a blend of many influences, not quite country, not quite pop, and not quite soul, but contains qualities of all three to create a sound all his own. This is not surprising as Jim's influences are quite varied and range from Elvis to the Beatles to the Beach Boys to the classic soul of Motown and Stax and the famed Brill Building songwriters of the late 1950s and early 1960s. He writes songs with ebullient choruses, complicated moods, literate verses, and a level of composition and craftsmanship that sits comfortably in the upper echelons of quality songwriting. He also possesses a powerfully unique singing voice, which he uses as the charismatic instrument to tell his stories. The title song is a straightforward tale that entwines Jim's personal appraisal of a trio of musical heroes that greatly influenced him—Elvis, the Beatles and the Beach Boys. It's a passionate piece of writing told with great feeling with a soft acoustic guitar accompaniment.
Brown Eyed Boy
is an up-tempo romp that celebrates the multi-national immigrants that have shaped American society, especially music. He continues that theme with
Brothers Medley
, an a cappela tribute to such soul greats as Al Green, Johnny Otis and also Levon Helm, Dan Fogelberg and other singers who were taken from this world much too soon. With its subdued soulful arrangement and instrumentation, the song sounds like a throwback to the gospel-styled soul ballads of the 1960s. Jim gets even more personal as he explores his relationship with his own family.
Liliana
is a delicate ballad dedicated to his wife with a folksy arrangement built around acoustic guitars, mandolin and accordion and a softly sung, heartfelt vocal.
My Father's Son
bridges the generation gap as Jim explores the problems of raising his own son and how tough it must have been for his own father to raise him. As you listen to this pair of songs you feel as if you're eavesdropping on deep family secrets, yet these secrets and doubts are the kind that we all experience in our lives. This is even more so with
What Do I Tell My Son
, as we watch helplessly as values and morals that we virtually took for granted seem to be changing and eroded in this modern age of greed and celebrity-driven lifestyles.
Something Of Me
features a driving full-band arrangement with a dramatic edge yet amongst the wall of vocal harmonies and rich instrumentation, the driving force behind the song remains the heartfelt lyrics which typify this whole album.
It is very much a songwriter's album that is highly recommended whatever your musical persuasion. HALLS OF MY HEART proves once again the strong songwriting that is still very much prevalent in Music City. It's almost as if Jim Photoglo has found a channel into the past and fused it with the present.
www.jimphotoglo.com