Jim Lauderdale & The Po' Ramblin' Boys - The Long And Lonesome Letting Go
Sky Crunch Records
****1/2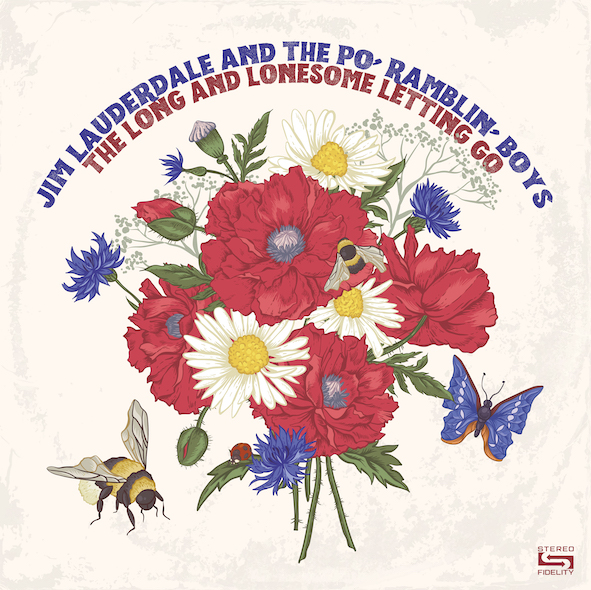 The Jim Lauderdale canon is a deep well, but four decades and 36 albums into his career, treasures still emerge from it. This collaboration with the Nashville-based Po' Ramblin' Boys is one of the best traditional bluegrass recordings I've heard this year. Listen for yourself. If you don't agree, I can hook you up with a terrific hearing specialist. There is no one dimension to Jim Lauderdale. A songwriter, solo performer, band leader, actor, and long-time co-host of the Americana Awards to boot; to say there are many sides to this man is an understatement. Jim's songwriting and his raw, emotionally stirring vocals take centre stage on most of these songs, but the soaring harmony vocals of the Po Ramblin' Boys (and girl) transform the music and lift it to another level. The band is packed with fine singers, and they all get a chance to show off here. There's also plenty of good musicianship—C.J. Lewandowski's mandolin and Jereme Brown's banjo generally are in the forefront, though there's plenty of tasteful fiddling from Laura Orshaw, and a rock-solid rhythm from Josh Rinkel (guitar) and Jasper Lorentzen (bass) backing up everything. They hit you with in-your-face fiddle, banjo, mandolin and guitar from the first few notes, and don't let up until the album's over. 
One of the marks of an exceptional artist is the ability to share stories and, in turn, hold listeners in sway. It's not enough to be a great picker or a superb singer; it's equally important to be able to paint a picture, establish a narrative, and set them to melodies that embed those songs with an indelible impression. Jim Lauderdale commands all of the above so forcefully that he's able to offer this album's most emotionally affecting moment at the very start with the title tune, on which he is joined by special guest Del McCoury. The affecting composition is the perfect vessel for two of the most moving voices in music today to blend together beautifully. It's moments like these, electrifying performances like Last Resort or Better Place', that really bring into focus the depth of Jim Lauderdale's gifts as a composer to tap into the essence of the human condition, the reverence in which he's held by his peers, and the range of the talent he's inspired. 
He rekindles the classic duet cheating song tradition with I'm Only So Good At Being Good, in which pure unbridled temptation is hard to resist as Laura joins in with her heartfelt emotional harmonies. He displays a gift for elegantly articulating and coming to terms with unimaginable loss and grief in a way that is completely devastating with Ghost Of A Rose, but also undeniably life-affirming and comforting. Mournful fiddle, forlorn guitar picking, the doleful pluck of Jerome's banjo and the dolorous vocal harmonies evoke this sad lamentation. Marrying heartbreak and loss, especially against a backdrop that's inherently toe-tapping, strikes as a conflict on paper; it's hard to be joyful through goodbyes both bittersweet and straightforwardly painful memories, yet he succeeds perfectly with the reflective That Was When We Were Together. It's not all full-on heartbreak and misery as he shows near the end, with She's The Light, to which they give a nice bluegrass treatment, allowing its positive message to shine through. The album closes with the dynamic Drop the Hammer Down, in which the Po' Ramblin' Boys sound tighter than ever, with each member playing off of each other perfectly ... play this loud enough and you'll feel your soul come back to life. Highly recommended.
August 2023